Plenty went right for the Giants in season 2019. One thing that didn't was a season-ending injury in round one to then captain Callan Ward. If he can get back to his fantasy footy best, then in 2020 we have a firm bargain pick.
PLAYER PROFILE
Name: Callan Ward
Age: 29
Club: GWS Giants
Position: Midfield

SuperCoach Price: $511,400
AFLFantasy Price: To Be Announced
AFLDreamTeam Price: $630,500
WHY IS HE RELEVANT?
Plenty went right for the Giants in season 2019. The clubs first-ever appearance in a Grand Final, retaining the services of Stephen Coniglio as well as Jeremy Cameron's success in winning Coleman Medal. One thing that didn't was a season-ending injury in round one to then captain Callan Ward. If he can get back to his fantasy footy best, then in 2020 we have a firm bargain pick.
Before his ACL injury in the opening minutes of the year, the former GWS co-captain was among the most consistent performers in all formats of the game.
In SuperCoach since 2012 only twice has a failed to average 100 or more, with his lowest seasonal average being 97.3. Most recently since 2015, he hadn't missed a game and his lowest tally of hundreds in a season was twelve back in 2016. As a visual, here's how consistent he has been as a scoring option.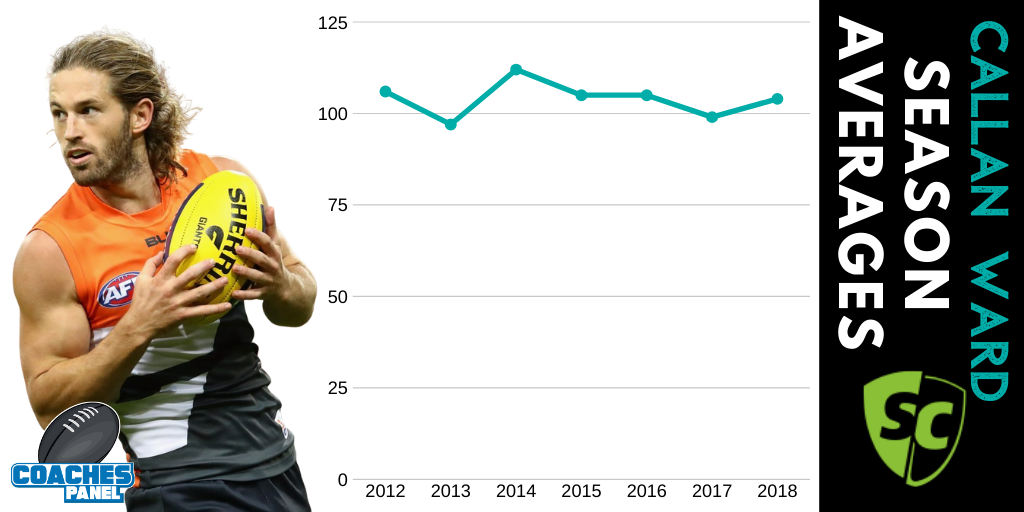 In AFLFantasy/DreamTeam he hasn't been as prominent over the 100 marker average per season but has still been incredibly consistent. From 2012-2018 his lowest seasonal average was 93.5, including a personal best year averaging 100 on 2015.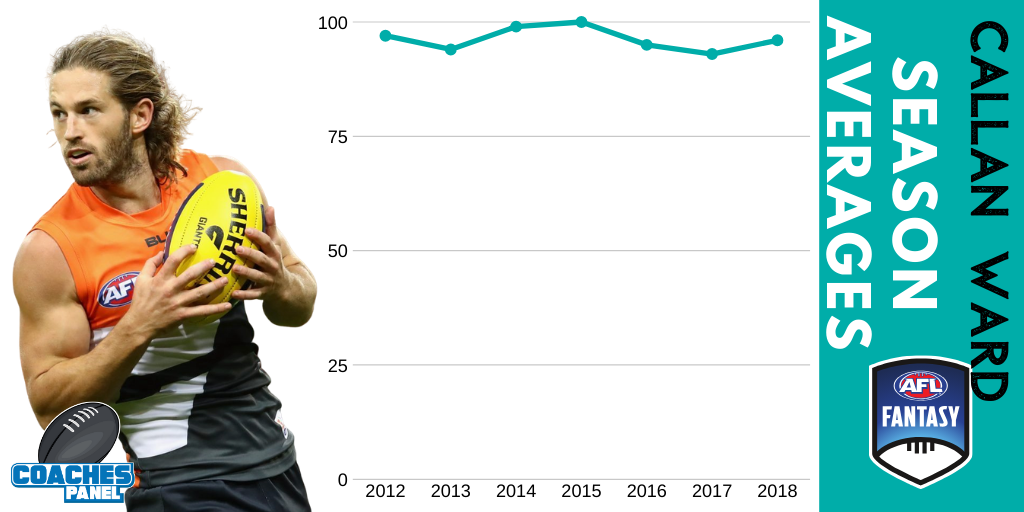 With a discount across all formats of the game, you're no longer paying 'top dollar' for him. If in previous seasons he's been a player of interest to you then you need to factor him into your calculations given his discount.
The big difference between Ward and others at his price point is that he's a proven performer over a number of years and isn't someone that offers unproven potential. He offers fantastic value based on the price investment and could very well be the 2020 version of Rory Sloane in SuperCoach. By that I mean to be someone who's averaged 100 before, offers value due to an injury impacted previous season and ends up being someone you keep as your final on-field midfielder.
MY TAKE
The injury to Callan Ward was a horrific start to the yeat for the Giants. However, the loss of Ward was minimized with the emergence of a new set of s from GWS. Tim Taranto raised his game to a new level. He elevated his AFLFantasy average up 22 points to 110 and SuperCoach average up 14 points to 102. Lachie Whitfield was already a star of the competition but took his game and fantasy outputs to new heights. He averaged 113 in AFLFantasy/DreamTeam and 111 in SuperCoach. Even the human bull Jacob Hopper had his average leap 15 points per game in all formats.
What impact does his return have on his and the other GWS Giants midfielders? Does he even move straight back into the midfield full time or will he be eased back in by the coaching staff? If he does returns through the midfield (which he should), it'd be more likely the second and third-tier options have their minutes affected. Players like Harry Perryman, Adam Kennedy, Daniel Lloyd and even Toby Greene will barely be required to roll through the guts of a fully fit midfield unit. I forecast the GWS midfield unit to be built Josh Kelly, Stephen Coniglio, Callan Ward, Lachie Whitfield, Tim Taranto, Zac Williams and Matt de Boer.
The other key variable is how well does he score, even with the role coming off an ACL injury? The data suggests that most players don't start scoring at the same pace in the opening few months as they take their time getting back into the full riggers of AFL.
While he has received a discount, he is awkwardly priced, especially in the more limited trade formats of the game. In DreamTeam he's priced around options like Angus Brayshaw. While for SuperCoach the new captain of the Giants Stephen Coniglio is only $40,000 more expensive. At his price point in these formats to select him you'll be hoping he turns into someone to hold for the season more likely than a stepping stone.
For me, in the limited trade formats, I'm likely to approach the midfield with premium and cash cow options so midprice or stepping stone selections don't work for me. So Callan Ward won't be selected. For AFLFantasy I'll consider him as he could easily score well over the opening 5-6 weeks and do enough to make a quick trade to a bottomed-out premium.
Regardless, he needs to be on your watchlist because even if he isn't someone your keen on, his arrival back into the Giants midfield may impact a player you are keen on.
DRAFT DECISION
Every scoring format of drafts requires a different strategy. Where you'll be able to draft Ward in SuperCoach will likely be significantly earlier than if you play AFL Fantasy scoring. Previously you'd be parting with as high as an M3 draft selection. However, with question marks about how he returned from injury and will he now be someone who slides and be likely available a few rounds later and is someone I'd consider from M5-M6.
JOIN THE CONVERSATION
Do you believe he is fantasy relevant?
Will you be starting with him?
Have your say at our Facebook, Twitter or Instagram.
WANT EARLY ACCESS?
Want access 24 hours early to the 50 Most Relevant podcasts? Join our Patreon and get ahead of the Crowd!
NEXT UP…
Tune into our Facebook page at 9pmEDST for a clue