After a quiet first six weeks of the season, Josh Kelly stormed home to deliver his usual high output. With some potential value built into his price, is he set to be a top 10 midfielder in 2022?
PLAYER PROFILE
Name: Josh Kelly
Age: 26
Club: GWS Giants
Position: Midfield
2021 Highest Score:
152 Vs North Melbourne (AFLFantasy)
148 Vs Richmond (SuperCoach)
Career Highest Score:
166 Vs Gold Coast | AFLFantasy (2018)
205 Vs Carlton| SuperCoach (2018)
2021 Average:
103.7 (AFLFantasy)
106.9 (SuperCoach)
SuperCoach Price: $582,200
AFLFantasy Price: $922,000
AFLDreamTeam Price: $884,300
Embed from Getty Images
WHY IS HE RELEVANT?
Long time followers of the Coaches Panel will be well familiar with my fondness for Josh Kelly. For multiple years he's been one of 'my boys', and I've owned him more times in every format than I probably care to admit. In 2021, that love for Josh was tested, but it ended happily ever after like a good romantic comedy.
Despite the rocky start, he still finished an underrated 10th for tackles in the AFL, 14th for inside '50s, 20th for metres gained and averaged 26 possessions a game. The primary reason for the sluggish start was a role change. Rather than playing as the preferred inside/outside pure midfielder, he found himself playing as a high half-forward. Kelly spent so much time inside forward 50 that Champion Data allocated MID/FWD DPP status in AFLFantasy after round six.
The trigger for the initial role move seemed to be linked to the absence of Lachie Whitfield. The moment Lachie returned to the side, he moved to the pure midfield role. However, in the opening six weeks, he averaged 85 in AFLFantasy and 90 in SuperCoach and failed to register zero AFLFantasy tons and just one in SuperCoach.
From then on till the season ended in AFLFantasy, he averaged 111 and scored twelve tons with just three over 120, but they included a 152 and a 141. From these final 15 games, he just had one score below 96. Similarly, in SuperCoach, from round seven onwards, he scored 12 tons, six of them over 120 and averaged 113. It included a run of ten consecutive hundreds from rounds 7-17.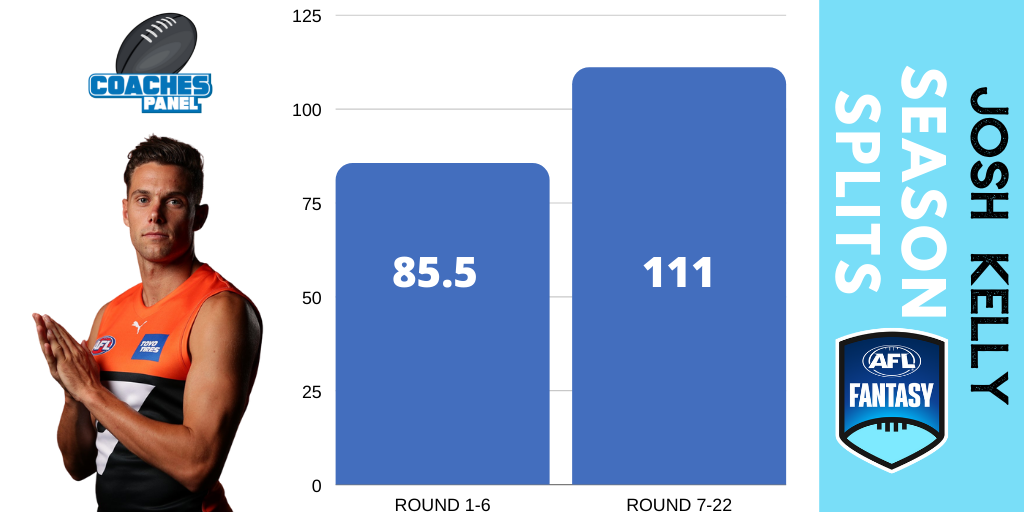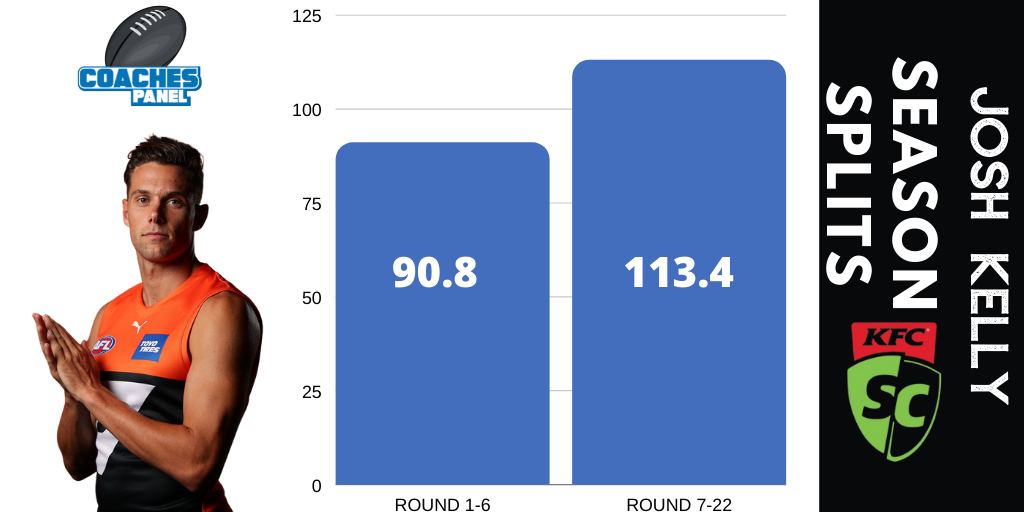 The last 15 games of the season across the formats are reflective of what he's done ever since the 2017 season. Over the past five seasons in AFLFantasy, he's averaged: 113, 108, 116, 106 (adjusted) & last year, the 104. The scoring line for averages is better in SuperCoach with 113, 113, 117, 114 & 107.
If you've played fantasy footy over the past five seasons, you'd be familiar with his scoring consistency. That should never really be a concern. Instead, it'd been his durability. But with him playing 21 games last year, can that 'excuse' be used anymore? Kelly did miss the match with the Giants coming off a five-day break and the club being ultra-conservative with him.
For the better part of 100 games, he's proven he's a 110+ premium consistently. He's now shown his durability. So is 2022 the season his ownership rightly heading back to the high percentages he belongs?
Embed from Getty Images
MY TAKE
Twelve months ago, the concern around Josh Kelly was around his durability. But after a near faultless season in terms of games played, that can no longer be a viable argument against starting him. However, a different concern has emerged—the GWS Giants midfield mix. In reality, Kelly is the Rolls Royce of the Giants and should never be too far gone from the midfield. But in the past season, we've learnt a lot about Leron Cameron and his happiness to make drastic structure adjustments.
In 2021 Tim Taranto spent significant time in the back quarter of the season as a forward. Stephen Coniglio spent nearly complete games inside forward 50 often. Lachie Ash was trialled as a defensive midfielder. Harry Perryman was used in every possible crevice of the ground while Nick Haynes was experimented with on a wing. Oh, and don't forget the aforementioned move of Josh himself to playing high half-forward. Is Kelly positionally safe? The later three quarters of last year should give us the confidence to suggest 'yes.' But there is some cause for concern in reality. Is his midfield minutes linked to the health of Lachie Whitfield? If it is, that's some cause for second thoughts.
Whenever a premium performer has some queries regarding role security, that can often be enough cause to disregard them as a starter in our fantasy football sides. But in reality, if the Giants are to go deep into finals footy again, they'll need him to be centre stage and starring through the midfield. As strong as his support cast is, GWS cannot play finals, let alone win them, without him being a significant piece of the success.
How confident are you that he can deliver a season averaging 110 or, in reality, 115? Last season in AFLFantasy, we had ten midfielders average 110 or higher and fifteen in SuperCoach over 115. Kelly was none of these? Do you believe he's a top 10 midfielder? With a stacked Giants midfield, can he average 110+? Can he do it if Stephen Coniglio is fit alongside a midfield role for Tim Taranto, Jacob Hopper, and the cast of thousands rolling through? If you're not convinced, then he's an upgrade target.
With GWS having the round twelve byes, he could be the perfect upgrade target during the multi bye rounds. Especially if you already own multiples of Jack Steele, Sam Walsh or Zach Merrett who share the same week off. Speaking of those three premium midfielders, where do you rank him against them? That alone might be the telltale sign of the correct approach for you.
Over the past few days in the 50 most relevant, we've discussed Callum Mills and Rory Laird. Both are coming off seasons with averages higher than Kelly, so why is he higher? Simple, Kelly's delivered 110+ seasons multiple times over while they have done it just once. Yes, the past scores don't count in 2022, but I have greater confidence that he could not only push scoring again past 110-115+ can but be a captaincy consideration with a greater frequency of 130+ scores.
I believe Josh Kelly is a clear potential 115-120 scoring option across the formats. And given we have potentially ten growth points on his starting price, he looms as a viable underpriced starting option. Additionally, if you look into his 2021 numbers, there isn't the frequency of 125+ games, but in 2017-2020 they exist. So I'm strongly considering starting him across all formats of the game.
By starting him, I remove the risk of loss of games to injury. By starting him, I get the value of his starting price. By starting him, I get the maximization of him being unique. By starting, I optimize my enjoyment of owning him. So I'm calling it now, Kelly to average 115+ across the formats and be a top-five midfielder.
DRAFT DECISION
On your draft day, whoever selects Josh Kelly could get some serious early draft value. As discussed throughout this article, his year in totality was closer to his regular 110+ seasonal averages. Someone will select him as an M2, possibly even M3, if they draft midfield positions heavy but get M1 value. I'd be shocked if someone picked him inside the first two rounds. I'd certainly be happy to pick him in the third round, and should he slide to the fourth, I wouldn't be able to click the 'draft' button quick enough.
The biggest hesitation historically on getting Kelly was around his injury history. But after delivering near faultless season in 2021, will coaches be more confident to jump on? Josh Kelly is one of the most enjoyable players to own in drafts when fit and firing. Hopefully, if you draft him, he will deliver another great year.
JOIN THE CONVERSATION
Do you believe he is fantasy relevant?
Will you be starting with him?
Have your say at our Facebook, Twitter or Instagram.
WANT EARLY ACCESS?
Want access 24 hours early to the 50 Most Relevant podcasts? Join our Patreon and get ahead of the Crowd