In 2021 Rory Laird was the best defender of the season. Entering into a new year he may have lost his defensive status but his scoring power shows no signs of disappearing. 'The Desk' could one of the best low ownership stars of 2022.
PLAYER PROFILE
Name: Rory Laird
Age: 28
Club: Adelaide Crows
Position: Midfield
2021 Highest Score:
142 Vs Hawthorn (AFLFantasy)
178 Vs Hawthorn (SuperCoach)
Career Highest Score:
142 Vs Hawthorn | AFLFantasy (2021)
185 Vs Collingwood| SuperCoach (2020)
2021 Average:
111.6 (AFLFantasy)
116.2 (SuperCoach)
SuperCoach Price: $632,600
AFLFantasy Price: $937,000
AFLDreamTeam Price: $952,300
Embed from Getty Images
WHY IS HE RELEVANT?
Was the move of Rory Laird into the Adelaide midfield in 2020 just a one-off experiment? Hardly! Laird took the skills honed as a defender and translated them into a top-level midfielder. Per game, he ranked second in the league for handbells, third for contested possessions, fourth for disposals, sixth for effective disposals, and seventh for stoppage clearances. This statistical dominance translated into him becoming one of the best performers last year. And despite being available as a midfielder, his numbers hold up against many big boys in fantasy footy.
In AFLFantasy/DreamTeam last year, scored 18 tons from 22 games played, including 11 consecutive to end the year. Of these tons, 6 were above 120, and two monsters of 140+. That's scoring a ton in 81% of games last year. That more 100's than Ollie Wines, Zach Merrett, Sam Walsh and Jarryd Lyons were also top 10 scoring midfielders the previous year. To go with his consistency of tons is his high scoring basement. Just once all year did his scoring fall beneath 90. That's something, not even last years top performing player Jack Steele can boast about. He ranked seventh for both total averages and points scored in the competition for these formats.
His scoring was similarly dominant in SuperCoach with 18 tons, 11 consecutive to wind up the year and 10 of those tons 120 or higher, including a 144, 149 and a seasonal high 179. Like in AFLFantasy, he had just one score below 90 all season. He ranked 10th overall for total points and averages ranked 11th and outperformed Brownlow Medalist Ollie Wines and Norm Smith Medalist Christian Petracca. Of course, some of us are more 'visual' learners than others. So for those more like me, here's a visual representation of his strong scoring 2021 across formats.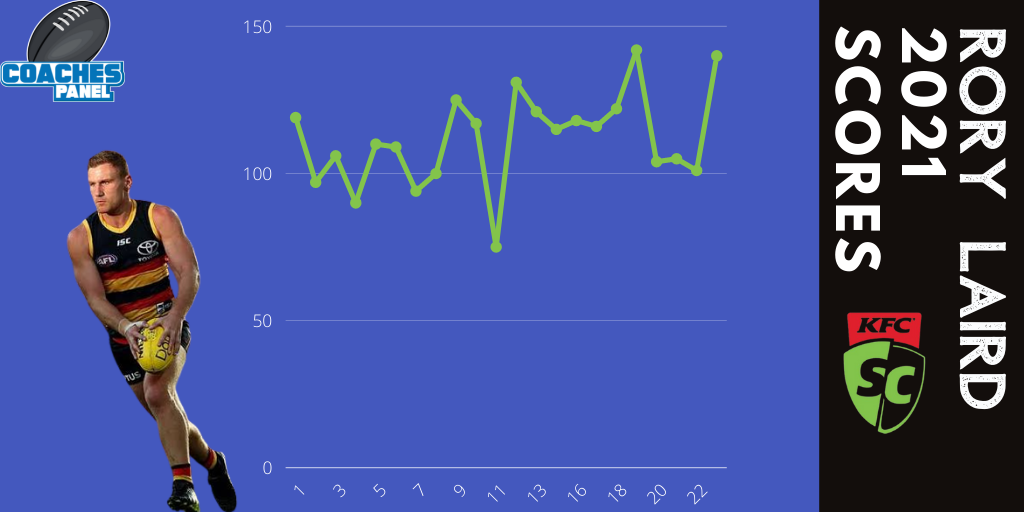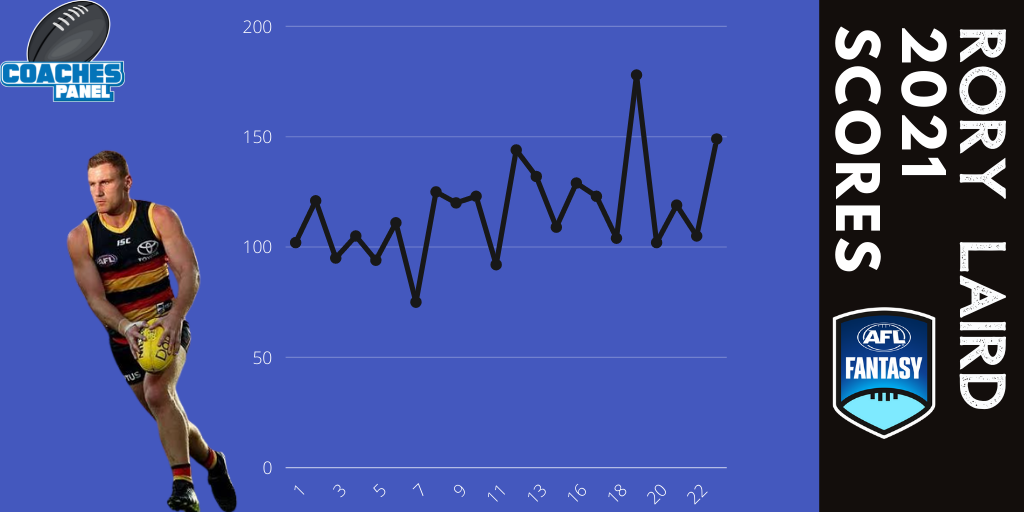 If you've played any formats of fantasy footy beyond twelve months, you'd know the scoring pedigree of Laird. What matters isn't his accomplishments across half-back. What he's done since being a midfielder does. In 2020, after his move into the Crows midfield in round nine, he averaged 118 in SuperCoach and 89 in AFLFantasy. If you want to play the 'adjusted' averages game due to the shorter quarters, then, in reality, it's a 112.
When selecting a premium, three of the most critical factors are scoring consistency, scoring ceiling, and games available. Of course, the scoring and consistency are on show for all now. But Laird's availability is equally as impressive. In the past five seasons, he's missed just two games of AFL. And since 2019, he's played every game possible.
Over the past thirty games, between 2020-2021, he's shown as a 110+ performer in AFLFantasy/DreamTeam and a 115+ in SuperCoach. The evidence is irrefutable; Laird is a top tier scoring option. Given his low ownership due to a loss of defensive status, he could be the perfect differential in your starting squad or upgrade plans.
Given that he's only played the midfield role for 30 games, there's a line of argument that suggests he could be getting better in the position. However, based on his 11 consecutive tons to round out the season, that thought process might have some grounds for consideration.
Embed from Getty Images
MY TAKE
One word can define an AFL player and his career. When you say 'premierships', you think of the Grand Final day heroics of players like Luke Hodge, Dustin Martin and more recently, Christian Petracca. All were difference makers in helping their team win a flag. However, the word that comes to mind when I think of Rory Laird is 'consistent.' His effort, workrate, ball winning, defensive pressure and fantasy scoring is just consistent. Undoubtedly, over the last 30 games of AFL is among the most consistently high performing midfielders in the AFL.
If you look over the past few years, whenever someone loses defender or forward status and become just a midfielder, they often get underrated and under owned. Currently, AFLFantasy is the only format open to the public, and there he's owned by just 3% of coaches. Madness right? Possibly, but for me, I have a few question marks around Laird.
The primary concern is not so much around Rory but more around the impending return of Matt Crouch. What impact (if any) will he have on Laird's scoring ceiling and capacity? Granted, Crouch is yet to return to full training, but when fit, he's best 22 and knows how to find plenty of footy. Between 2016-2019 Crouch averaged over 30 possessions per game and went at 26 in the shorter quarters of 2020. That's plenty of ball winning that could skim the ceiling off Laird's top end numbers.
We did get nine games in 2020 where they played together in these midfield roles. It was the final nine games of the season. Laird averaged 118 in SuperCoach and 89 in AFLFantasy. If you want to play the 'adjusted' averages game due to the shorter quarters, then, in reality, it's a 112. Crouch also won plenty of the ball in this time. While that's positive vibes, the Crows midfield and game style has adjusted drastically since then. Harry Schoenberg has become a centre bounce regular, Luke Pedlar and Sam Berry has been added to the midfield stocks via the draft, and they've traded in a gun recruit, Jordan Dawson.
In short, the team has changed and for the better. I don't think Crouch's return can be safely assumed to have little or no impact on Laird's game. To start the year with Rory is going to cost plenty of coins. He's among the top group of expensive midfielders in the games. When you are forking out this much cash of your salary cap on a player, you cannot do it when they still pose significant question marks. The return of Matt Crouch is substantial. You must wait and see the impact before jumping on.
There are parallels between him and Callum Mills, who we wrote about here a few days ago? But is Laird a better pick than Mills? In my eyes, yes, and for a straightforward reason. Laird's got a significant frequency of translating 100's to 120+ scores. Both are good reliable, and consistent performers, but the historical ceiling means you must place Rory over Callum in all ranks.
Can Laird get better? Arguably his basement can't get any stronger. With just one game beneath 90, all season is insane. So if you believe he's going to score better, he must add to his disposal count. But averaging 32 touches a game, six tackles and nearly four marks, I'm not sure I see colossal growth avenues. I think he's at top dollar, and unless he can outperform his points per game by 10+ over the first six weeks, he will drop in value. Combining this and the chance to 'watch and see' the possible Crouch impact makes him the perfect upgrade option.
The only justifiable reason to start him is that you believe he can get better, and if he is to improve, you're picking him as one of your weekly captaincy candidates. If you don't think he can be a VC/C for you over the first six weeks, then he's not a starter for you. That's why for me, Laird is an upgrade target. He'll be a reliable and consistent performer, but you remove all potential elements of risk by waiting on him. I'll be certainly looking to him as a possible early premium upgrade.
DRAFT DECISION
When a player losses defender or forward status and become just midfielders, they can slide later in drafts than where they should. In reality, based on Rory Laird's ceiling, consistency and durability, he is a legitimate M1/M2 and a candidate for a pick as early as the second round. However, some might be a little turned off and try to load up on either another positional line or a legacy name midfielder.
His range will be anywhere from the middle of the second round right through to the mid fourth on draft day. I'd be shocked to see him still on the draft board entering into the fifth. He's too good to pass up on even with some uncertainties around the flagged Matt Crouch impact. Regardless I still see him as a top 10-15 midfielder for 2022.
JOIN THE CONVERSATION
Do you believe he is fantasy relevant?
Will you be starting with him?
Have your say at our Facebook, Twitter or Instagram.
WANT EARLY ACCESS?
Want access 24 hours early to the 50 Most Relevant podcasts? Join our Patreon and get ahead of the Crowd