Now and then, we're gifted a player in our forward lines that are just a walk-up in our starting squads. In 2022 we've been given Mitch Duncan as a MID/FWD. Is he as obvious a selection as he appears? Or are there some underlying signs we need to be scared of?
PLAYER PROFILE
Name: Mitch Duncan
Age: 30
Club: Geelong Cats
Position: Midfield/Forward
2021 Highest Score:
146 Vs West Coast (AFLFantasy)
149 Vs West Coast (SuperCoach)
Career Highest Score:
169 Vs Western Bulldogs | AFLFantasy (2017)
156 Vs Collingwood | SuperCoach (2020)
2021 Average:
100.3 (AFLFantasy)
99.2 (SuperCoach)
SuperCoach Price: $540,000
AFLFantasy Price: $841,000
AFLDreamTeam Price: $855,200
Embed from Getty Images
WHY IS HE RELEVANT?
For the past few seasons, Mitch Duncan has been one of the secret weapons of coaches in fantasy footy. With a solid historical ceiling, coaches would often look to him to be a point of difference in their sides. However, Duncan's ability to be the perfect modern midfielder is damaging. He has no issues winning the contested footy or getting his hands on the ball for a clearance. But it's when allowed to find space he becomes one of the most damaging midfielders in the game.
He ranked ninth in the league for marks by averages, fifteenth for score involvements and sixteenth for uncontested possessions. Of course, with no context or understanding, these averages may mean little to you. But what they show is Mitch's fantastic ability to get into damaging open spaces on the ground and then capitalise in those moments by turning them into scoreboard impacts for his Cats.
It was a frustrating season for Duncan with just ten games, but he still displayed his fantasy pedigree within those matches. In AFLFantasy/DreamTeam, he scored six tons, four of them over 130 and only one score under 80 that wasn't injury impacted. In round 14, he played just 6% time on the ground. If we removed just that match his average balloons up to 110.5. Higher than Zach Merrett, Callum Mills and Sam Walsh. Yet, even without any 'manipulation' of the numbers, he's still the clear number two ranked midfielder based on his average.
For SuperCoach, he ended the season with an average of 99.2. Then, using the same 'manipulation' of deducting that Bulldogs clash, his average jumps a further ten points per game to 109.1. Last year he posted five tons, four of them over 120 and two over 130. He's also the second-highest ranked forward in this format, but this time behind Josh Dunkley.
2021 isn't an out of the box scoring season. Mitch Duncan, for years, has been one of the most reliable 100+ performing midfielders. Since 2017 in AFLFantasy/DreamTeam, he's averaged 112.5, 101.8, 105.6, an adjusted 105.8 and 1003 last season. While in SuperCoach in the same five-year stretch, he's averaged 109.8, 106.2, 103.2 & 99.2. So his average over the past five years is 104.4 in SuperCoach and 105.2 in AFLFantasy from the past 89 home and away games. So from a visual perspective, it looks like this.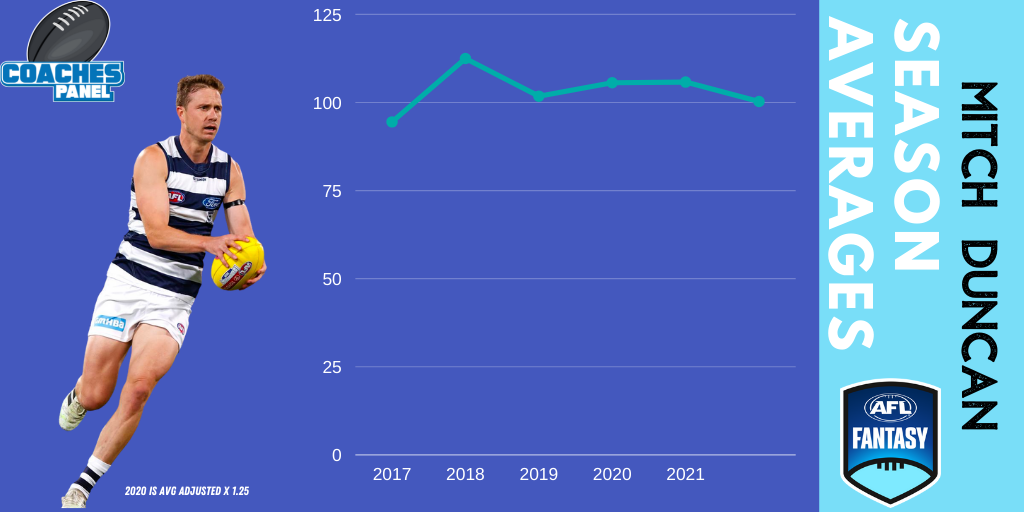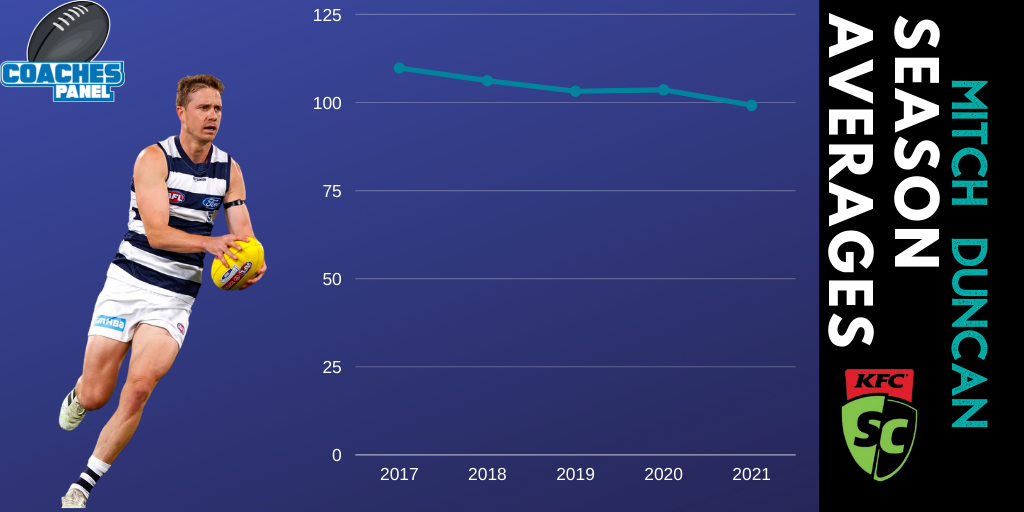 Embed from Getty Images
MY TAKE
So much of the storyline around Mitch Duncan is that he's injury-prone. However, is it a trend that's been building over the past few seasons or is it a relatively new trend? Between 2016-2020 Duncan had missed just four games and had never missed more than two matches in a single season. While he did miss twelve games last year, three separate issues were the primary cause of missing bulk games:
His preseason and ultimately the season was ruined by a nagging calf injury.
A PCL injury was sustained against the Bulldogs that kept him out for two months.
He also did have a concussion in round ten against Gold Coast.
However, beyond last year he's been relatively durable. So what's caused the 'injury' tag outside of three separate issues the previous year? Beyond recency bias, it's actually that there are three distinct 'in game' injuries in the past twenty home and away games. Two of them last year and one in 2020. These early injuries further compound the notion that he's injury-prone, as he's gone down early in the matches on all occasions.
The reality is the only genuine case for not selecting Mitch Duncan is around the growing injury history. I see no evidence to suggest his scoring will dry up. Equally, The Geelong squad is entirely primed for now, so while I expect some tweaks to the game style, I don't see a drastic overhaul. That means the Geelong possession heavy game will be here to stay.
A players injury history is a relevant piece, but it's not a certainty that it continues. There are numerous times players have had a poor injury but then get to a point in their career and turn it around. The best most recent example is Josh Kelly. He delivers after years of failing to play 20+ games in a season. The way you offset the history is by starting the player in question. That way, you bank the player's points on the field for the maximum amount of weeks possible. And should an injury occur, it'll only cost you the one trade out of your team.
However, if you opt to go against a player in your starting squad, I always encourage coaches to commit to that thought process and stay away for the season? Why? Because with every completed game, the variable of injury only further increases. Therefore, if you trade into the player and go down injured, the move is costing you two trades, not one.
I can justify any coach not choosing to start with him because he suffers some form of injury setback in the final few weeks before round one. As potentially valid as that risk is, you also have an inverse risk with Duncan. If you opt to go against him early, you could be getting burnt by weeks of a player scoring 110+. I have zero concerns or questions about his scoring abilities. Therefore, starting Mitch Duncan is one of the simplest starting squad options I can advocate for in 2022.
DRAFT DECISION
I've been clear throughout this series that I think the first three forwards off the board will be Josh Dunkley, Tim Taranto, and Mitch Duncan in drafts. Of course, coaches might have a personal preference on who they'd take first. But the range for each will be similar from the middle portion of the first round right through the middle of the second.
JOIN THE CONVERSATION
Do you believe he is fantasy relevant?
Will you be starting with him?
Have your say at our Facebook, Twitter or Instagram.
WANT EARLY ACCESS?
Want access 24 hours early to the 50 Most Relevant podcasts? Join our Patreon and get ahead of the Crowd