2021 was a season of two split experiences for Josh Dunkley and fantasy coaches. Over the opening six weeks, he was among the best players in the game. However, once he came back from injury, he was being outperformed by cash cows. So what does 2022 hold for this Western Bulldog?
PLAYER PROFILE
Name: Josh Dunkley
Age: 25
Club: Western Bulldogs
Position: Midfield/Forward
2021 Highest Score:
151 Vs Gold Coast (AFLFantasy)
148 Vs Gold Coast (SuperCoach)
Career Highest Score:
189 Vs Melbourne | AFLFantasy (2019)
202 Vs Melbourne | SuperCoach (2019)
2021 Average:
91.5 (AFLFantasy)
102.5 (SuperCoach)
SuperCoach Price: $558,200
AFLFantasy Price: $767,000
AFLDreamTeam Price: $780,600
Embed from Getty Images
WHY IS HE RELEVANT?
Josh Dunkley is one of the most enjoyable players to own in fantasy footy. The reason being is he finds a way to score through every column imaginable. In reality, he is one of the most well-rounded midfielders in the game. Dunks can win the contested ball, applies high defensive pressure, is a strong tackler, gets into space to win the uncontested ball and is a super overhead mark for his size.
Over the opening six weeks of 2021, Josh was one of the best premiums in fantasy footy. And had it not been for a dislocated shoulder, the scoring trend and midfield dominance would've continued. While it was frustrating at the time, it has created a silver lining in 2022. As a result of the injury, Dunks was eased back into the Bulldogs side with a heavy forward role. The result is he has held his MID/FWD DPP for yet another season.
In totality over the season, Dunkley averaged 91.5 in AFLFantasy/DreamTeam and 102.5 in SuperCoach. These overall averages make him one of the highest-scoring capacity forwards. However, the reality is the birds-eye view of his season doesn't do his year justice. In the first six rounds of the season, he hadn't had a score dip below 100 in any format and was averaging 115 in AFLFantasy/DreamTeam and an insane 129 in SuperCoach.
I don't care what anyone says; that's insane scoring capacity. If you owned him during these six weeks, you knew that your season was getting an early injection of points that many couldn't. And for those without him, you were scampering, finding ways to bring him in before his price got too unattainable.
From the moment he suffered his dislocated shoulder, things went pearshaped. He spent months on the sidelines recovering, only to, upon his return, play one match before a two-week stint in isolation due to covid protocols. Throw in a heavy forward role designed to get game time and confidence into his body; it's safe to say things didn't go to plan for Josh over the final portion of the season. Positively, in the AFL Finals, things started to trend back to pre-injury scoring capacities. Visually, here are the critical elements of what Dunkley's season looked like.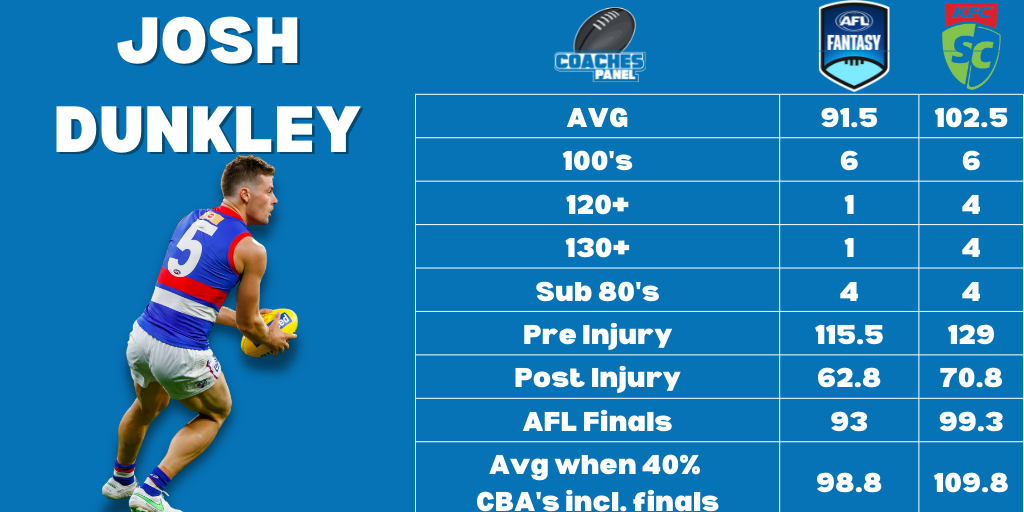 2020 was a crazy year for Josh Dunkley. First, he could find himself playing as a defensive forward from an on-field perspective, then a ball-winning midfielder and even as a pinch-hitting ruckman.
Despite the role rollercoaster ride of his position, his SuperCoach season as a whole held firm. He opened the season with a three-game average of 108, including two scores over 128. Then, however, Dunks was sidelined with a severe ankle injury until round ten.
Upon his return, he played the remaining eight games, scored 3 tons, including a 151 and delivered the lowest score of 87. From a seasonal perspective, he ended the year averaging 104. Not bad for a guy whose role would change constantly. The positive for SuperCoachers is that Josh finds a way to score well regardless of the role he's asked to execute.
I don't even need to go into his historical data trends because you get the idea. When given ample midfield time, Josh Dunkley can end the season as not just the #1 fantasy football forward but the top-scoring player overall in all formats of the game.
Embed from Getty Images
MY TAKE
One of the things that helped the Dogs win them the premiership in 2016 was versatility and flexibility. The negative for fantasy coaches is that when players are used unpredictably in multiple roles, it can be challenging to have confidence in selecting a player, especially if one of those secondary roles isn't fantasy-friendly.
Even if Dunkley is one of the Bulldogs caught up in the midfielder merry-go-round with a rotation or two impacted, he still can add forward pressure and convert on the scoreboard, which makes him a damaging option when needed inside forward 50. Just look back at his debut season of 2016. He posted eight scores north of 8, including 4 tons in AFLFantasy, and five times scoring 80+ including a 99 in SuperCoach. So regardless of the role he is needed to fill, Josh will achieve. But will it be in and around the '90s? Or will it be somewhere north of 110?
Dunkley offers something unique to the midfield options of Tom Liberatore, Adam Treloar, Jackson Macrae, Bailey Smith and Marcus Bontempelli. As an individual, he boasts a high-end defensive workrate, but not at the cost of ball-winning. No other Bulldogs midfielder has that skill combination of Josh. It's why I believe that the move for him playing him in a more forward heavy role later in the year was linked towards building his fitness than about the best need for the club.
Whenever a player misses multiple months of footy through injury, it always takes time to get back to their peak physically. We also saw that with players like Dylan Shiel and Matt Rowell last year. However, long term injuries are hard to come back from, so the fact Dunkley even got back is a testament to his workrate and commitment.
Selecting Josh, or any other player for that matter, does have an element of risk in the selection. And like any risk, it can be viewed from both perspectives. One angle of viewing the risk is that given the bounty of midfield options the Bulldogs have, you have zero confidence in his role, and thus his scoring variation could yo-yo weekly. The 180-degree perspective is that if Josh Dunkley does have enough midfield minutes, he's got the scoring ceiling to match it with the best in the game. After 4-6 rounds of him going 120+, you'd have to adjust strategies to bring him in drastically.
Last year at round six, he averaged 115 in AFLFantasy/DreamTeam and 129 in SuperCoach. If you didn't own him, it was just luck that stopped him running away with your season. He's got the scoring capability within him. I'd be encouraging you to use hindsight to help.
The risk of him 'failing' and going an 85-90 at his price point is of minimal impact to your end of season results. Frustrating? Absolutely, but not a year killer. Going against him and having him pop a 110+ run of games can be season destroying. That's why I'm starting him everywhere. I think the risk of him failing as a selection is as accurate as the potential of him smashing it. For me, I'd instead lean on the side of the ceiling upside with the knowledge that his downside isn't as catastrophic as many believe. Others, however, will be different and see the same things but take a different conclusion.
That's what I love about fantasy footy. We can all see the same data but justifiably come to different conclusions. That's what the preseason is about, starting a conversation, looking at possibilities and then backing your gut and doing what you believe is suitable for you.
DRAFT DECISION
The drafting range of Josh Dunkley is fascinating to me. In some leagues, he's a later first-round selection. Others believe the risk of insufficient midfield time isn't worth jumping inside the first few rounds. Ultimately if you want to own Dunkley, you'll be spending a top 10-25 selection on him. However, his potential scoring linked to the lack of top-end forwards means he's someone many will consider strongly early.
JOIN THE CONVERSATION
Do you believe he is fantasy relevant?
Will you be starting with him?
Have your say at our Facebook, Twitter or Instagram.
WANT EARLY ACCESS?
Want access 24 hours early to the 50 Most Relevant podcasts? Join our Patreon and get ahead of the Crowd