The Blues stormed home in 2019. Can it continue in 2020? And which Blues are on our preseason radar?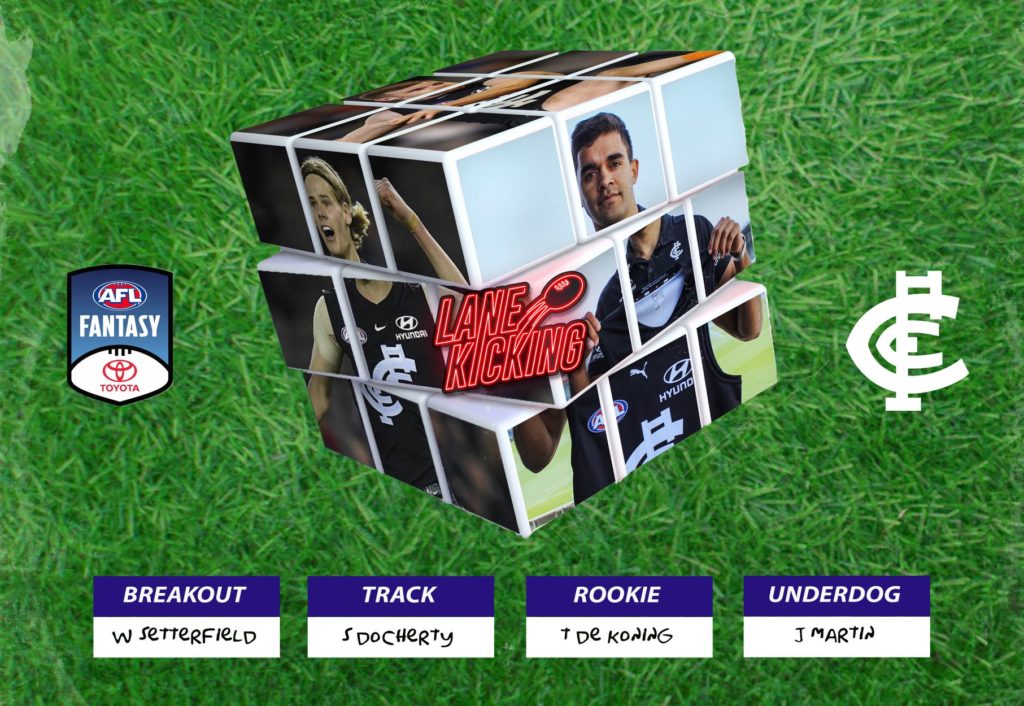 BREAKOUT: Will Setterfield – $498,000 (MID)
Was one of the most selected players last season, and while he didn't quite live up to the hype, we feel people might be quick to judge the young 21 years old coming off an ACL with only 2 prior games under his belt. From all pre-season reports, Setterfield has regained strength in the knee, and has now been able to put on a lot of upper body weight and looks set for a move into the midfield alongside Patrick Cripps.
Carlton has been desperate to find another tall, big-bodied midfield beast to take some of the heat off Cripps, and at 192cm Will Setterfield fits that frame. He is a little awkwardly priced, and probably not a candidate to be a keeper in your midfield, but we definitely reckon he will add at least 10-15 points onto his 2019 average of 67 so could be a very handy cash cow
TRACK: Sam Docherty – $563,000 (DEF)
Going to be one of the most watched players of this pre-season. Coming off two ACLs, Docherty hasn't played since 2017 where he averaged 116.8. Now priced at an average of just 76, if he can get to Round 1 unscathed he should start the season as one of the most selected players in the competition.

ROOKIE: Tom DeKoning – $190,000 (RUC)
We don't think he will set the world on fire scoring-wise, but with the injury clouds floating around Matthew Kruezer, Harry McKay and Charlie Curnow, there could be a bit of game time on the table for the versatile 200cm big man in his third season.
The ruck bench spot has for a long time been a free for all, but with the breakout of Reilly O'Brien last year and seeing how much coin he made as a cash cow, it might be handy to find a cheap rookie ruckman who is set to play a few games
UNDERDOG: Jack Martin – $619,000 (FWD/MID)
There are a few hoping the change of scenery will do Jack Martin a world of good this year. A very highly touted youngster, he has been at the top level for 6 years now, almost 100 games to his name but still yet to deliver a whole lot to the fantasy world.
Was averaging 88 before the bye last year when he fell out of favour with Gold Coast, will be interesting to see how Carlton use him. The addition of Eddie Betts hopefully allows Jack to play up the ground but if he gets stuck in a forward pocket his scoring might struggle