Lewy & Checkers from Lane Kicking are back with their take on some Fremantle Dockers on their AFLFantasy watchlist.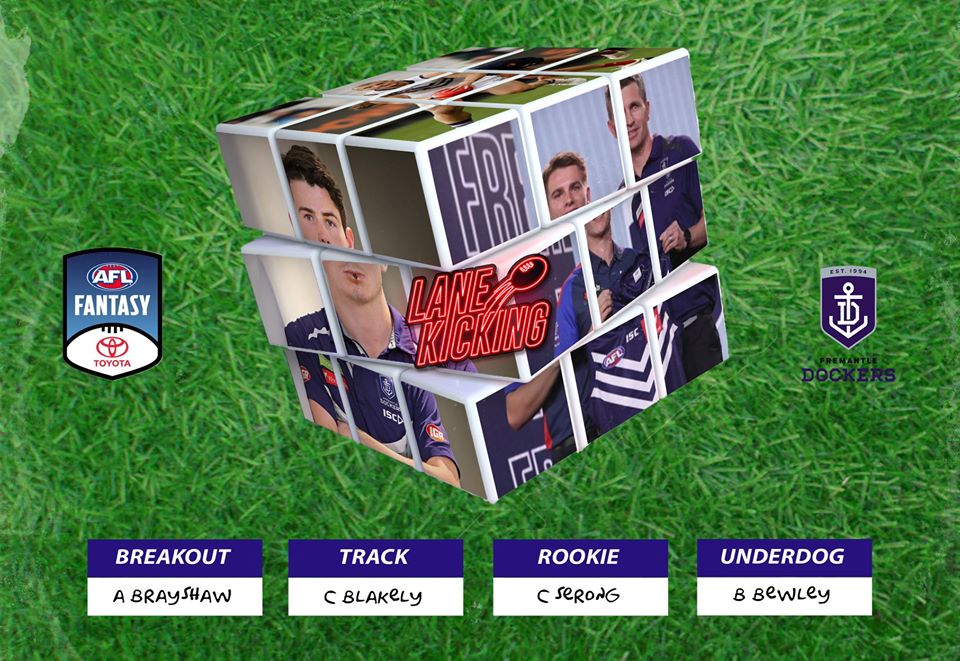 BREAKOUT: Andrew Brayshaw – $516,000 (MID/FWD)
Third year for the former Pick 2, we are hoping he can show a similar break out to his brother Angus who went from a 77 average to 105 back in 2018. Averaged 25 touches at U/18 level, has posted averages of 67 and 70 in his first two seasons and we are hoping some more midfield will allow a player of his talent reach his true potential. Having FWD DPP puts him very high on our potential break out list and could be a dangerous one to snare in draft leagues
TRACK: Connor Blakely – $555,000 (DEF)
Was set to be one of the most selected defenders last year after posting back to back averages of 91 in 2017 and 2018, but a high grade hamstring tear early in the pre-season kept him on the sidelines until Round 9. We are hoping with a full pre-season under his belt, Blakely can resume his position on the half back flank and get his average back up into the 90s and be a very handy under-priced premium. Just keep an eye on his position during the pre-season as he was rotated in the midfield in 2019 which did see a drop in his scoring, but the natural development of young mids Brayshaw, Cerra and Banfield will hopefully see him back in defence.
ROOKIE: Caleb Serong – $256,000 (MID)
While we expect all three of the Dockers first round draftees to have some impact this year, Serong holds the most fantasy value in his game. His ability to play on the ball, as well as rotate forward and impact the scoreboard should see him get some early game time. He averaged 24 touches and 100 fantasy points at U/18 level last year so he could be a handy little money maker
UNDERDOG: Brett Bewley – $367,000 (FWD)
Normally if anything we see a drop off in numbers from the mature aged draftees in their second year, but keep a close eye on Bewley. Priced at an average of just 54, he played most of his first year on the half forward flank, but looks primed to move up the ground and hopefully take up the vacant wing position left by Ed Langdon. Was racking up very tidy numbers in the WAFL, is known around the club as one of the hardest workers on the track and has taken out both 2km time trials this pre-season. We think if given time on the wing he could get his average up and above the 80s which would make him a very handy cash cow for your F5 or F6