Lewy & Checkers from Lane Kicking are back with their take on the Gold Coast Suns. Take a look to see who is on their AFLFantasy watchlist.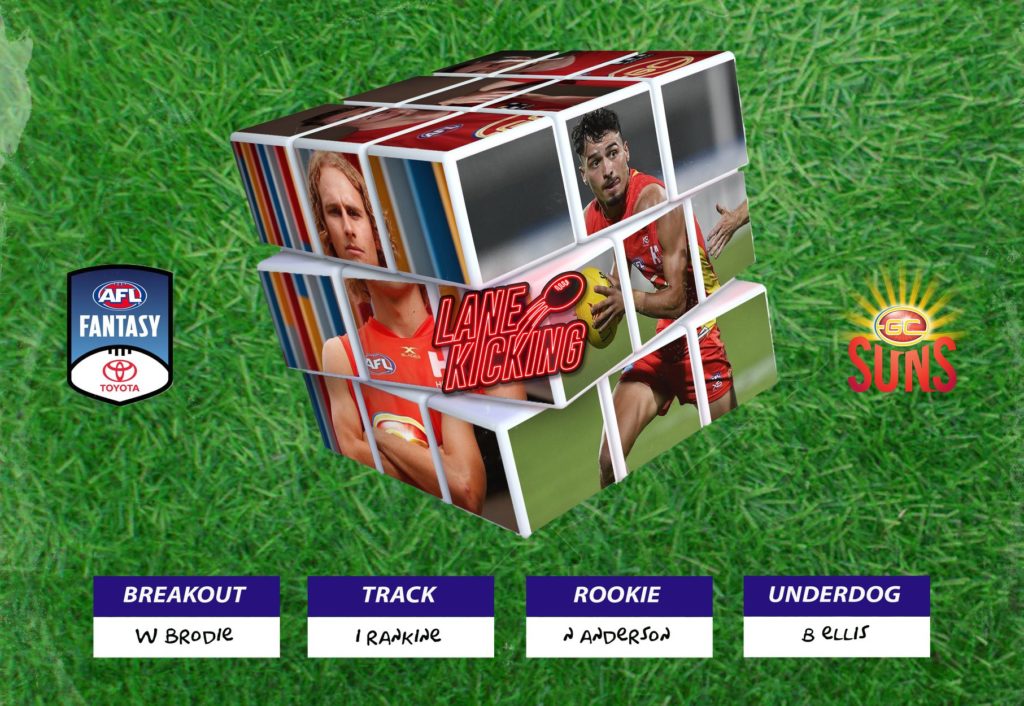 BREAKOUT: Will Brodie – $612,000 (MID)
It's going to be really hard to pick a bloke at 600K+ who has only ever played a best of 8 games in a season, but here goes. If Brodie can crack the Sun's midfield there is upside galore about this young fantasy jet who showed just some of his talent with 29 disposals, 9 tackles and 142 fantasy points against North Melbourne in Round 12.
At 189 cm, he is the prototype of the modern-day (fantasy) midfielder, a tall, big-bodied inside mid who is good overhead, finds plenty of contested ball and loves to tackle. Sounds a lot like Patrick Cripps doesn't it? While he struggled to get a good crack at it last year, he was doing everything he could to prove his case in the NEAFL averaging 33 disposals, 5 marks and 4 tackles a game.
Coming into his fourth year, the fantasy potential is obviously there, we are just hoping Stewy Dew gives the former Pick 9 some time in the middle.

TRACK: Izak Rankine – $170,000 (FWD)
This young and exciting forward was labelled a once in a generation player in his draft year, only to spend his first season at the Suns on cotton wool after a hamstring tear in the pre-season. Coming off back to back All Australian honours at U/18 level, plus spending two seasons in the West Adelaide SANFL side, we can now add an entire season in the AFL system to his resume, you would be hard-pressed to find a young 19 year old more prepared to play his first game of AFL.
He made his senior SANFL debut at just 16, kicking 2 goals on debut, and averaged 14 disposals and 1.5 goals per game in 2018. His ability to make something out of nothing and break open games is something that will come in really handy for the young team at Gold Coast. In the Under 18 State Championship Final, he had kicked 3 goals in the first 5 minutes of the match and ended up with 5 goals and 17 disposals as a crumbing forward.
While his role up forward can be a little restrictive for fantasy scoring, where we see Izak being handy is his potential high ceiling, and the fact he might be able to kick a few bags of goals which would do wonders for the breakeven of a rookie priced player. He has the talent and he has played against the bigger bodies and held his own for 3 years now, we just want to track his first few pre-season games and make sure his body is all good to go for Round 1
ROOKIE: Noah Anderson – $268,000 (MID)
Every man and his dog is so hot on Number 1 Pick Matt Rowell, we thought we would do our write up on his best mate who comes in 2k cheaper. Noah's 191cm frame should help him make an impact at AFL level from Round 1, and his ability to rotate up forward as a third tall (Think Dangerfield/Bontempelli) should mean he sees a fair bit of game time in his first year.
While he only averaged the 84.5 points at the U/18 champs, he did average 107 for the season in the TAC Cup including a 155 point game where he had 44 touches (26 kicks, 18 handballs), including 20 contested, and kicked 2 goals, showing his AFL Fantasy Potential.
It's going to be a line call if you start Anderson or Rowell, starting both would be hard setting you back $538k, so we are very keen to see what they can dish up in the Marsh Community games.

UNDERDOG: Brandon Ellis – $629,000 (MID)
Other than being a MID only in 2020, the toughest task for Brandon will be seeing if he can maintain or even improve his 84 average from last year. Track record is against him, as we have seen in the past with players who have come to the Suns, they generally drop off in scoring, and while I don't have the stats to prove why I would like to think it would be due to probably losing a few more games than they win.
Pearce Hanley dropped 11 points in his first year at the Suns, while George Horlin Smith and Jordan Murdoch dropped 16 and 15 points off their averages last year after swapping across from the Cats.
The upside for picking Ellis is he has been rumoured to be playing a midfield role, where he averaged 102.5 back in 2015. Will be one to watch, if he can get back up to those numbers, or even high 90s, he will be a steal in draft leagues.