With Hours to go until the opening round of AFL gets underway, I've decided to share with you my current AFLFantasy side.
Please note, this team could drastically change should the number of games in season or game length change.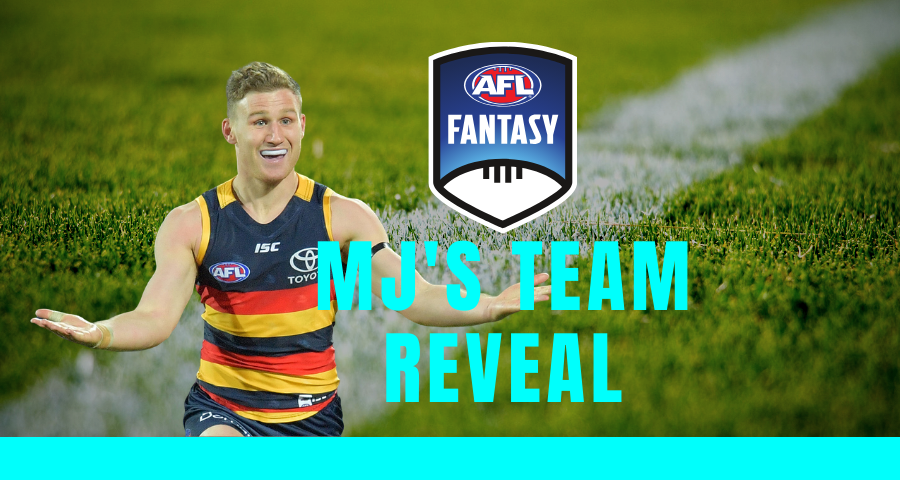 Defenders
One thing was clear for me during the Marsh Community Series. The Adelaide Crows are playing a high possession game style. Players like Rory Laird should pick up plenty of 'plus six' scores as the club look to retain possession of the ball. The remainder of the backline seems very similar to others. Dan Houston and Sam Docherty present way too much value to go against the grain. While Cumming, Roberton and Zeeeeeerk Thathcerrrrr (that Rids) all look to be named round one and should score well above their price point.
Midfield
Jack Macrae is a gun! It was a toss of a coin between him and Josh Dunkley for M1, but I've decided on Macrae as my default captain if needed. Matt Crouch is a point per minute machine, and with less than 2% of coaches owning him, his uniqueness is insane. Should the games shrink quarters, Matt's less likely to need a rest, bring on the points! Stephen Coniglio is an absurd value. Tom Mitchell's scoring potential, price point and ownership numbers make him a 'must-have.'
All preseason I've been keen on Jack Viney and his preseason games further highlighted why. Sadly he's gone from 1% ownership to nearly 7% in the past three weeks. The remaining three cash cows on the field are relatively common and obvious.
Rucks
Brodie Grundy isn't just the clear #1 ruckman he's also a captaincy option. However, as we discussed on a recent podcast, the 'top-priced players' could drastically have their scoring ceiling impacted should quarters shrink. No guarantee to start if they do.
Sam Naismith is there as a cash generation option, the handcuffing him with Jon Ceglar means if one (or both picks) fail to deliver the scores needed I can adjust quickly and fix the structure.
Forwards
Lachie Whitfield, much like Grundy in the ruck division is far ahead of the next best selection. You can build the case that even with a shorter quarter, he still presents a selection that is almost impossible to pass on.
Dustin Martin will honestly get the chop if the AFL decide to decrease the length of quarters. His splits between midfield and forward arguably won't change much, but his scoring will dip if game time does.
Jon Ceglar presents supreme value if he stays as the first choice ruck. The fact is he averaged mid 70's last as the second ruck showcases his scoring. With less than 2% of coaches on him, I'm thrilled at how unique he is. He's pushing that average 10 points easily higher. Andy Brayshaw needs no explanation while the cash cows will change based on team selection.