We all want to own the players that are firing in their available lines. So I decided to see who are the top performers over the past three weeks. This is a quick look at which players are running hot in fantasy football.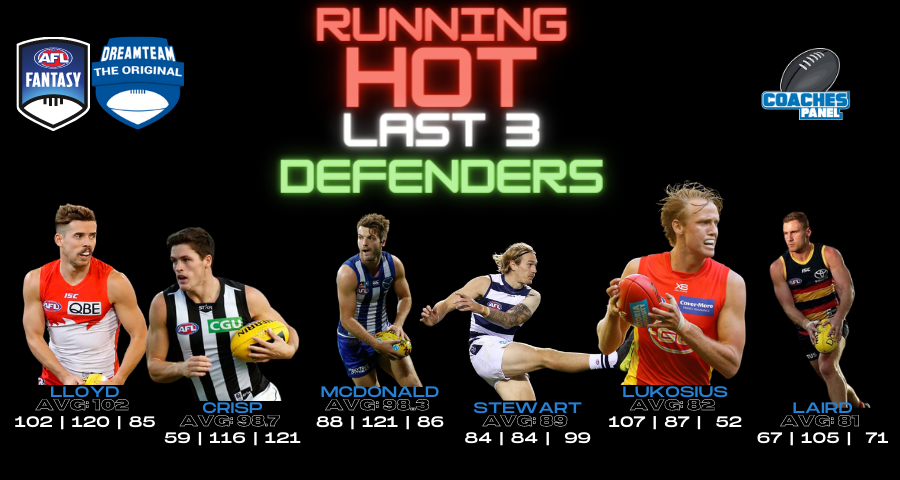 Nobody should be surprised to see Jake Lloyd or Luke McDonald near the top of the tree for defenders. Both have been in sublime form for an extended period in 2020. Given the role they play for their respective team, I think the weekly scores of 85-120 will continue to roll on. Jack Crisp has had a relatively low 2020 season so far. Coming off a career-high 97.7 average, expectations were high in the fantasy community, but sadly his year has been well below this. Up until a fortnight ago, he'd managed just two scores over 80. However, a 116 and 121 over the last two weeks not only has seen him join the top 3 for defenders but now looms as a high ceiling target for coaches after his bye.
Tom Stewart continues to be Mr Consistent in defensive and will prove to be one of the great buys of the year given what he would've cost coaches about a month ago. While Jack Lukosious has been solid this season, he has got a nice little scoring bump for his round 12 and 13 scores. Beyond this 107 and 87, he's got only two additional scores above 70. So for me, he's not a trade target for the final few rounds of the year. Rory Laird is thriving in the midfield, while he's still only got two scores over 100 for the year he's the proud owner of the highest defensive score of the year, a 139 against Collingwood.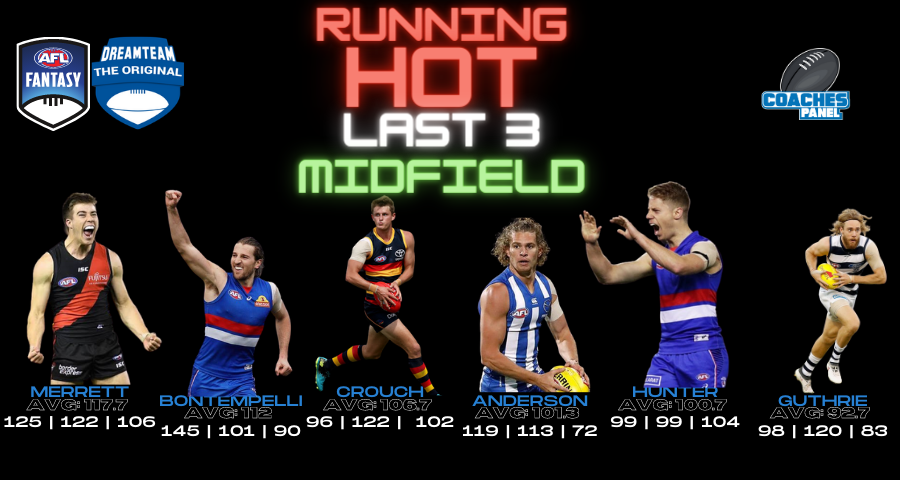 A mixture of big names and surprises round out the most form midfielders in AFLFantasy/DreamTeam. When Zach Merrett gets into a hot run of form he's among the best scoring players in the game. Right now, Zach's turning it on and with games against Geelong, Port Adelaide and Melbourne it does look like a tough run. Thankfully, neither of these teams play a tagger so current and future owners will be hoping for his current run of 100's to continue. Bulldog pair Marcus Bontempelli and Lachie Hunter are thriving off of the midfield time and shortened quarters. Bont's numbers are certainly boosted by his 145 against the Crows but despite it, he's still a decent option if his midfield rotations stay tight.
On form, Matt Crouch looks like a must-have on the run home, and on the first reflection, I'd be tempted to agree with you. Scores of 91, 103, 96, 122 and 102 in his last five are fantastic from these short quarters. My only flag for chasing him is that over the next two weeks Crouch is the #1 tag target from the opposition. This round he should get the dreaded Matt DeBoer tag, while the week following it'll be Ed Curnow. Just finally on Matt, he does loom as an excellent Grand Final round option a matchup against the Tigers smells like a 120+ score to me.
Jed Anderson and Cam Guthrie round out the top six midfielders. Both are thriving off the extra midfield responsibility given injuries have opened up opportunities for both. I'm all for a unique player in your team, but whether it because they lack 'name brand' or there are better options cheaper (nudge nudge) I couldn't advocate trading for either.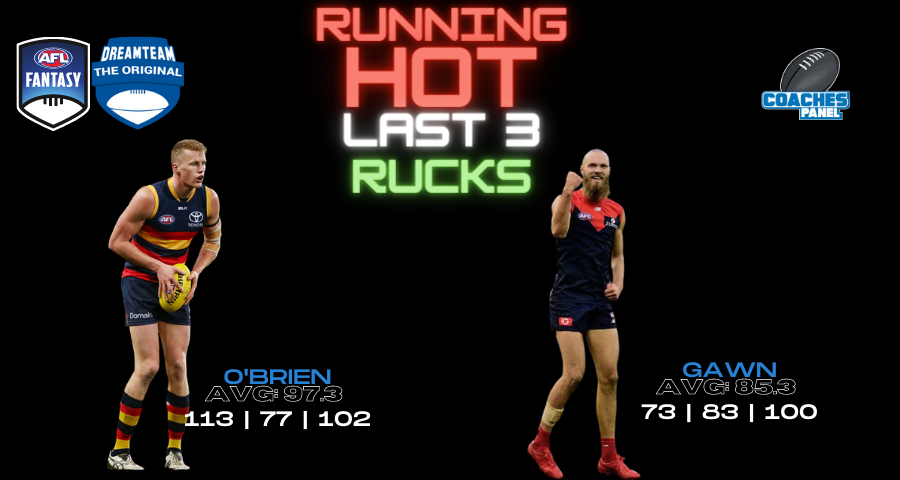 The numbers here are a little misleading. Max Gawn has missed several games over the past month. If it were to be a pure 'played every game' in the last three weeks then Rowan Marshall creeps into second. The Saint big man is still have a strong season even ruck sharing with Paddy Ryder. Since round eight his lowest score is 75 and he's currently averaging 84.3 in the last three.
'ROB' AKA Reilly O'Brien is having a stunning season and now needs to be seen as the third-best DT/AF ruckman in the game behind Grundy and Gawn. He's scored four tons across the year so far and has the Giants, Blues and Tigers for a final three matchups. For rucks that's as good as it can get.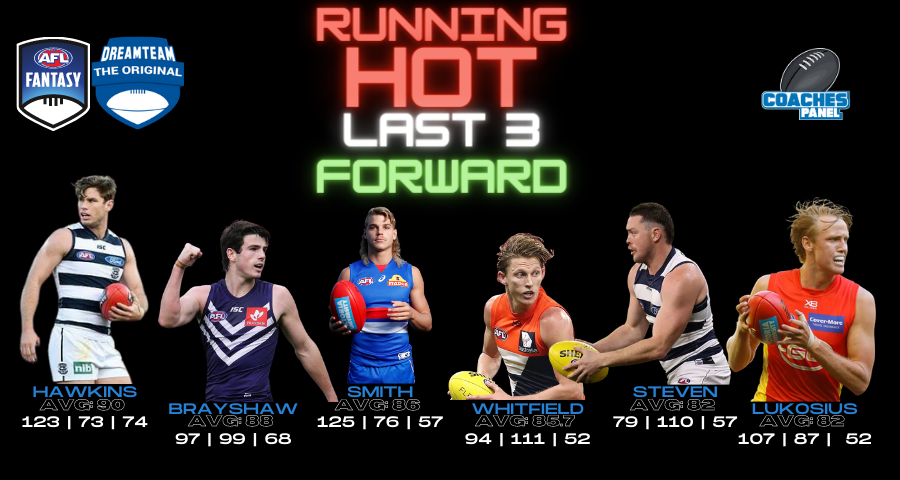 Gosh, the forwards have had a rough few weeks. Tom Hawkins is only on the list because a month ago he destroyed Port Adelaide. New teammate Jack Steven had a good thumping score against the Crows (110) only to see him nearly half score the following round against the Western Bulldogs. Speaking of the Bulldogs, Bailey Smith like Steven feasted against the Crows (125), but it's also been his only score over 80 since round eight. Only Andrew Brayshaw and Lachie Whitfield genuinely are among the safe, top tier forwards, but as last weeks scores for both reminded us. Nobody is truly safe from a stinker.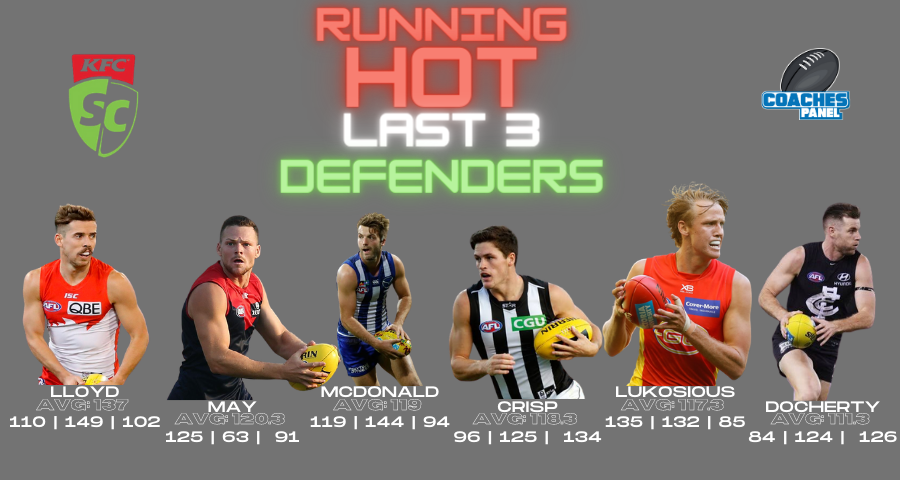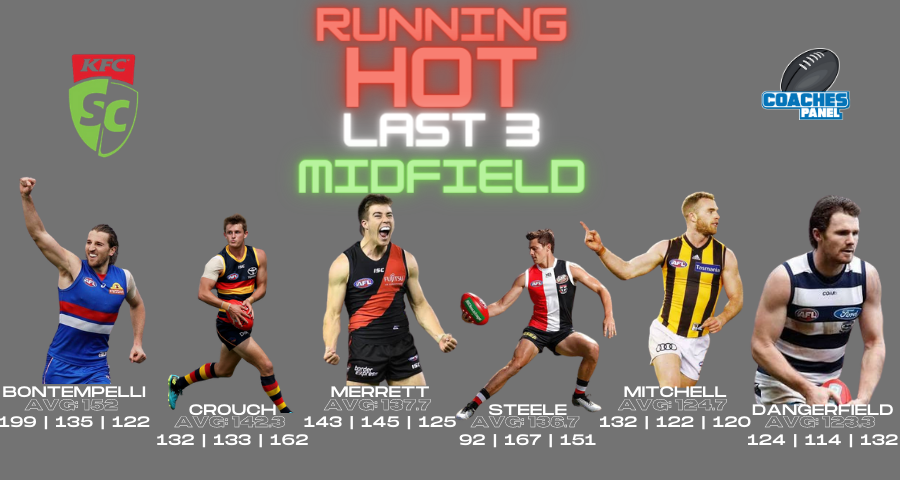 A few future hall of fame SuperCoach performers and a couple of up and coming talents are in the top six. Marcus Bontempelli's dismantling of the Crows (199) has propelled him towards the top-performing midfielder. However, his last two of 135 & 122 are genuine captaincy option scores. I've already spoken about my concerns about Matt Crouch for the next fortnight above, but I want one thing to be clear. He's been phenomenal since coming back from being dropped. His work rate, ball use and ball-winning have been elite—a genuine underpriced option in 2021.
Zach Merrett is on his annual SuperCoach scoring run, while Jack Steele has been arguably the best value midfielder of the year! Well done if you had the courage to jump on him at any point during the season. Tom Mitchell and Patrick Dangerfield are just guns, plain and simple.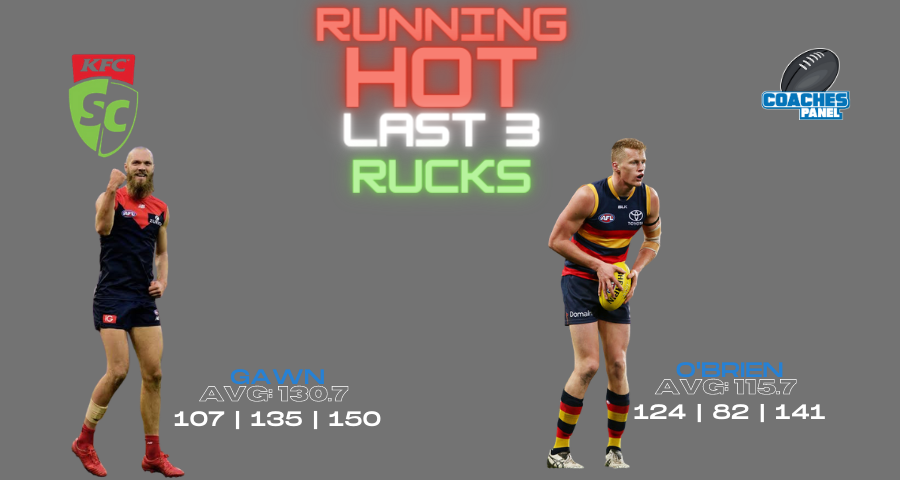 It's the same two rucks dominating both formats at the moment. But just like in AFLFantasy/DreamTeam the numbers are misleading. The leader by average is Gawn but he missed round 11-13 while the second place is Peter Ladhams but he has missed two matches already due to a club imposed suspension.
The real numbers would indicate that Reilly O'Brien and Rowan Marshall are the form of big men of the competition. While both are nice unique for the run home, it's only 'ROB' that I could advocate for out of the two as a trade target, and that's only if you don't want to spend the coin on Max Gawn.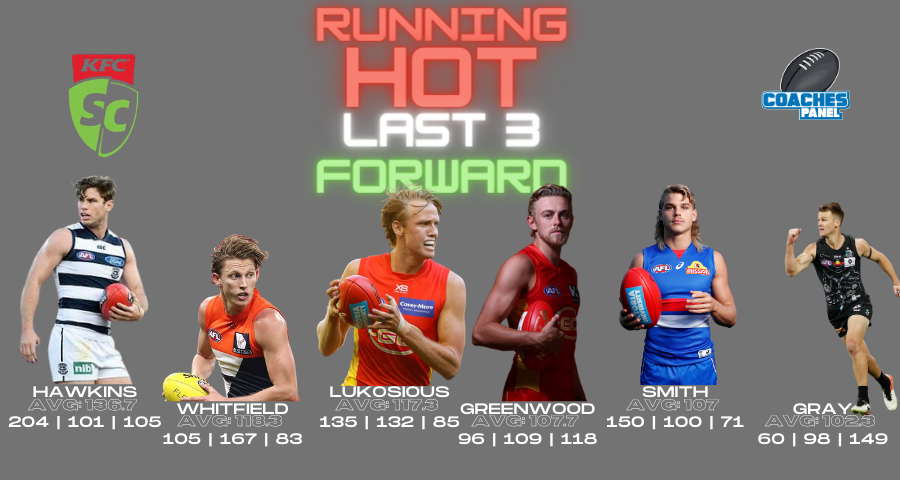 Tom Hawkins does this every year, he runs hot, and if you can time it right, you'll find yourself rocketing up the rankings. His 204 against the Power was insane, and he's followed it up nicely with a pair of low tons. After a slow start, Lachie Whitfield has been precisely what we expected, a top tier forward who can present us with weeks that make him a captaincy option. Hugh Greenwood has thrived at Gold Coast being allowed to play through the midfield. Next year he's a certainty of being a listed only as a midfielder, so if you've ever wanted to get on the Hugh Greenwood train, these next three weeks are the only time I'd endorse it.
Bailey Smith has been a star this year. He makes this list due to a friendly matchup against the Crows (150) but has been a reliable performer most weeks. I don't see that changing over the final few rounds. Lastly, If ever there was a point of difference you could get behind then Robbie Gray. For years the Power superstar has shown that in this format of the game he's capable of putting multiple 120+ scores together. A match against the terrible Kangaroos followed up against the injury-depleted Bombers and Pies is a tempting proposition.