Over the weekend members of The Coaches Panel and some fantasy, footy community friends got together to participate in a mock draft. This wasn't like any other mock. Rather it came with a twist. Instead of letting coaches draft 'whoever' they wanted, they were forced to pick with a tactic in mind.
So, we created the Ultimate Mock Draft
Embed from Getty Images
Six different tactics were handed out to the ten coaches. The tactics were:
Load up on midfielders
Draft a top ten scoring defender and forward in the opening five rounds
Attempt to start a draft 'run' of a certain position
Draft who you believe is best available
Place low value in the forward line. Look to maximize the waiver wire in the season to play forwards with ceiling
Get versatility and flexibility in your team with ensuring you maximize DPP in your side.
Below is a summary of what each coach did with their tactic, how it impacted their draft
Jordox| Pick #1
Tactic allocated: Attempt to 'force a run' of other coaches picking a position.
How it impacted my draft: Having pick 1 meant the rest of my selections would be taken back to back giving me a stronger chance of pulling this tactic off and because I only grabbed 1 midfielder in the first 3 rounds, I wanted to use this tactic to keep some of the left over mids available for me later.
I decided to try and pull this off with my 4th and 5th picks which were taken back to back. Knowing that only 7 of the 39 picks already taken were forwards, I took two forwards (Jack Martin and Tom Lynch) in the hope this would start a run of others picking forwards. If this worked, it would mean my next two picks would land me two decent mids after already banking two of the best forwards.
Would you recommend this approach: Based on my experience in this draft, certainly not. The tactic didn't work at all with only 1 forward being drafted in the next two rounds, and consequently meant I missed out on some decent midfielders with the likes of Rockcliff, Sidebottom, Worpel, Ross and Adams all being taken before my next pick.
First round pick and why: I flirted with going against the norm and not taking Grundy with pick 1 but in the end, I just couldn't see any way I could snob the big man. Clearly the number 1 player in the game with no reason to suggest he will drop off this year.
Fav pick and why: There were plenty of bargains in JackSteven at pick 80 and Andrew McGrath at pick 121 but my favourite has to be grabbing Docherty at the top of the 3rd round with pick 21. He may take a few weeks to warm up but once he does, he'll be putting up midfielder like numbers as he did before his knee injuries. I'll be surprised if he's not top 10 in most Drafts in 2021.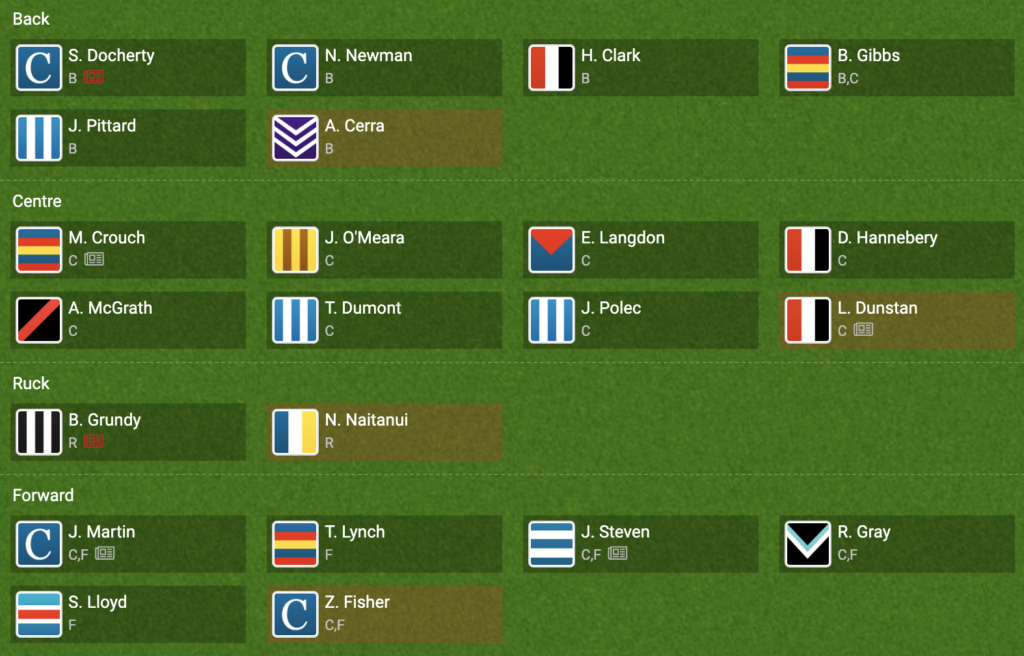 Lewy| Pick #2
Tactic Allocated: Pick best available
How it impacted your draft: It didn't, it was just a regular draft given my tactic.
Would you recommend this approach: Definitely although it's completely variable on who you consider best available. It gives you the flexibility to go hard in certain positions if you personally deem them the best available pick in their position (def, mid, fwd, ruc). Ie a Taylor Adams type may go 100+ in the midfield but if a bloke like Heeney who traditionally is a 90 type guy in the forward line is still available, and given there's a lot of midfielders that can push high 90s, it's probably wiser to take the fwd first.
First round pick and why: Jackson Macrae. Selection speaks for itself – a bloke who has shown insane ceiling and an even more impressive consistency to push 120s week in, week out. Durability has never been an issue and because the dogs midfield is one of the best engine rooms in the comp, MacRae is often second in line for a tag behind Bontempelli. Wins the footy inside and out, running around taking plenty of marks, there's not a lot not to like about Jackson Macrae's fantasy football pedigree and his potential in 2020.
Favorite pick and why: Christian Petracca has always been an absolute jet but unfortunately for coaches and footy fans alike, it's been here and there and often in small glimpses as he's been anchored down as a forward who occasionally pushes into the midfield. This has been a hindrance on his fantasy scoring as a bit like Chad Wingard – he is just so valuable up forward.
However, it seems Simon Goodwin has handed Petracca the keys to the inside mid role and as his marsh performances have shown so far in 2020, he's ready to take it with both hands. Ultimately – Christian Petracca is my favourite pick based on watching him as a general player but also because I believe 2020 will finally be the year we see him build, and potentially even reach, his full potential as both a player and fantasy gun.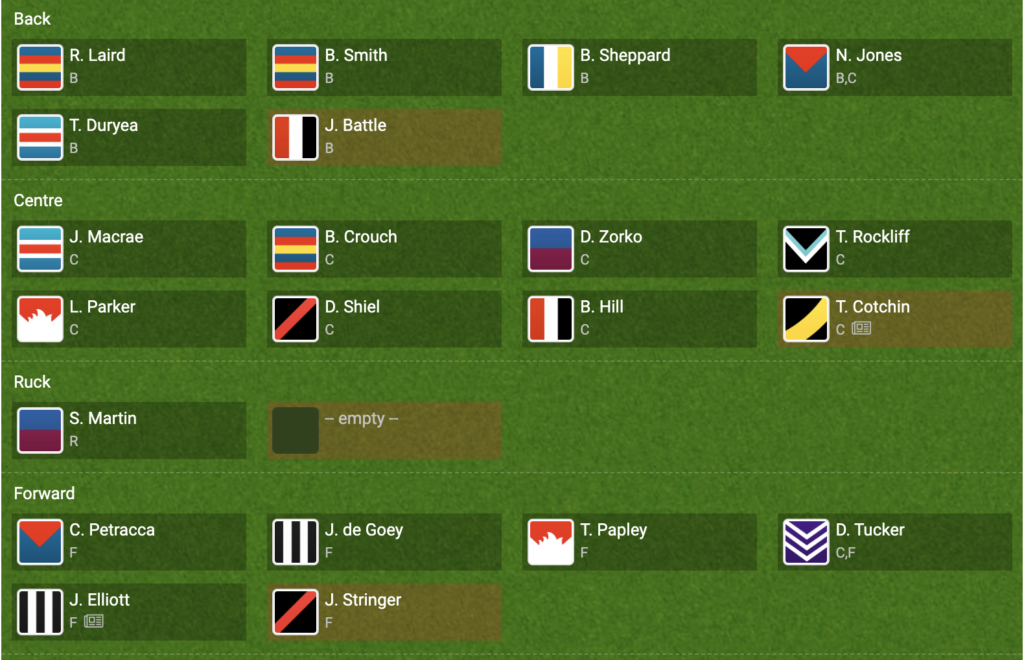 JimBob | Pick #3
Tactic Allocated: I was encouraged to draft a squad with as much flexibility as possible with DPP. While I adopted this strategy, I also try to target players that have recently lost DPP Like Callum Mills (B only) and James Harmes (C only) in hope it may be returned during the season.
How it impacted your draft: There are DPP's littered throughout the rankings, so a player was never too far away as the best available, so not a great deal. I probably reached a little on a couple of players like Jordan Dawson (pick 38) and Houston (43, but am confident they will deliver as D1s, and may be a solid mid short in trying to reach for some extra DPPs
Would you recommend this approach: It's probably not needed in a general 5/7/1/5 10-12 team league where waivers are active. Placing a higher value on DPPs in a league that goes 400+ deep, where waiver picks are limited or where your evil commissioner makes you play through the byes would definitely be a great tactic.
First round pick and why:Lachie Whitfield is one of the premier DPPs available this season and would have been in consideration at pick 3 anyway. A no brainer really.
Fav pick(s) and why Chris Mayne at 158 with defender eligibility could be one of the steals of the draft with numerous injuries to the back six of Collingwood and their naturally high possession game.
BUT – If the 12th highest averaging forward from last year can get anywhere near that again, Matt Tabener in the 15th round (143) is absolutely criminal and I should go to jail without passing go and collecting $200.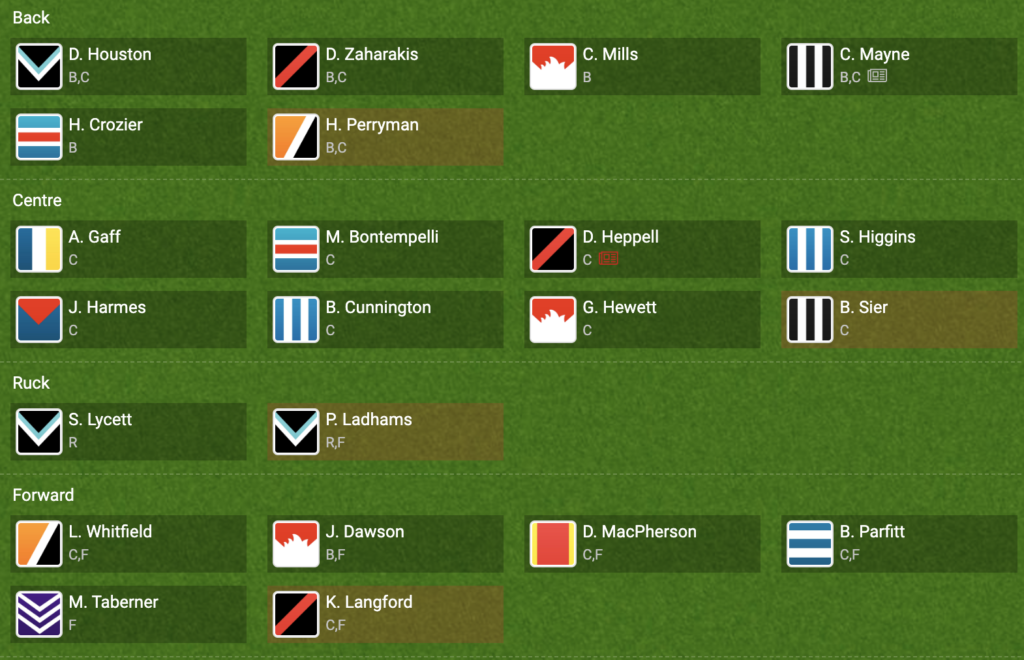 McRath | Pick #4
Tactic Allocated: Draft top 5 ranked defender and forward in first five picks
How it impacted your draft: I was really happy taking two genuine gun mids in Kelly/Neale to start, then O'Brien was someone I always wanted to target. That left me needing to bring in the best back and forward at Rounds 4 and 5. Stewart should be a safe top 5 defender, and Greenwood is someone that I believe could comfortably slip into that top five mix as the Suns improve.
Would you recommend this approach? I've always been about a fair bit of balance in the opening half of your draft, employing a similar tactic over the past few years. This tactic does insure you against going too light in a particular area, but also can restrict you somewhat if a few sliding gun midfielders fall your way. So I would recommend this approach, but in conjunction with an open-minded perspective to read the draft as it falls.
First round pick & why: With my first pick, my goal was to get the guy I thought would deliver the highest scores across the season. In the absence of the obvious Macrae, Grundy and Whitfield, Kelly is someone I'm extremely high on. He's fit and firing and set to have a career-year. From Round 3 to Round 15 last year, Kelly tonned up in every single game – with 6 (consecutive) scores of 120+ from Round 9. He's a jet and should dominate in 2020.
Favourite pick & why: Jack Steele is a young mid that I was keen to target and all too happy to take him in the sixth round. Freed up from defensive duties, his ball magnet pedigree could see him push the echelons of a 110 average in 2020.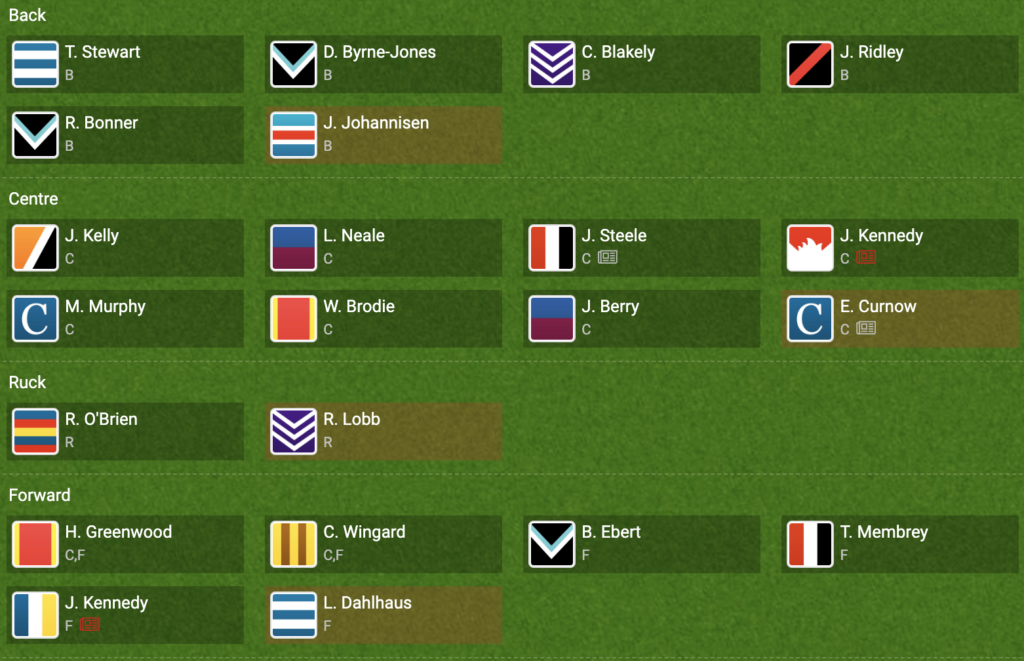 MJ | Pick #5
Tactic allocated: Load up on midfielders
How it impacted your draft: Honestly, hitting the draft heavy for midfielders is a fairly common tactic I use. That said, after doing multiple mock drafts ahead of this, I knew that if I didn't lock a top tier forward early, I'd find myself too thin to be a threat.
After landing Dunkley and Oliver with my first two selections, I had to take Michael Walters with my third selection at #25. From then it was Pendlebury (#36), Sidebottom (#45), Gus Brayshaw (#56), Prestia (#76) Lyons (#85) and Liam Shiels (#95) to round out the midfield and bench spot.
From then it was about securing as many breakout candidates and fallen historical scorers to attempt to bump my scoring up.
Would you recommenced this approach: For the most part, yes, but with one disclaimer. Don't go so heavy in the midfield that you do it at the cost of thinning other lines. While I'm happy with my side, I do know some coaches were forced to change their intuitive style of drafting to model a tactical approach. Had they'd been freed to draft 'uninhibited' my backs and forwards could look much worse.
First Round pick & why: Given my tactic brief, was to drive strong into the draft for midfielders pick five gave me a great starting position. After McRath took Josh Kelly at four, it was down to either Dunkley or Mitchell.
Both have an element of risk, Titch with managing his workload, Dunkley with role change. However, I'm bullish on Dunkley and decided that he was the one for me. His ceiling is nearly unmatched.
Favourite pick & why: I had a few, but far and above it was the selection of my first defender in James Sicily. Locking away a D1 at pick 65 (7th round) with his calibre of scoring was a huge win. Especially considering I hit the draft hard chasing midfielders. The other is probably Andrew Brayshaw in the 10th round, on a current trend he looks like he's pumping an average of 90 this year. To get that from a forward midway through the draft is a bargain!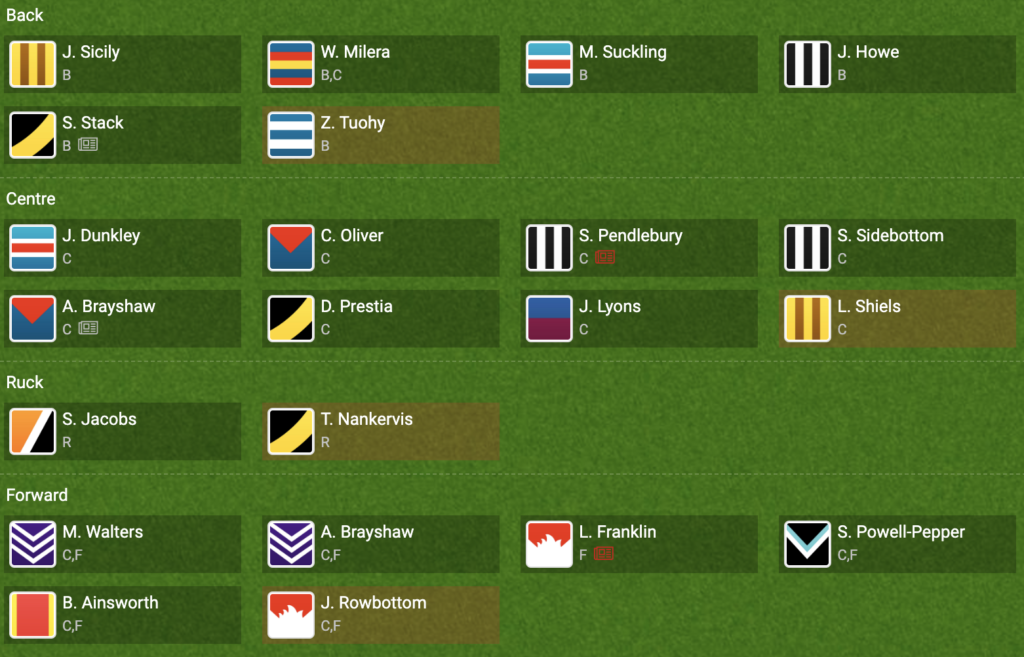 Kane | Pick #6
Tactic allocated: Draft a top 10 back and forward in the first five rounds.
How it impacted your draft: This tactic didn't impact me at all. With Jake Lloyd falling into my lap at 15 I had no hesitation locking him in as an elite defender and similarly with Devon Smith at 35. After that I was free to react to what the draft was giving me.
Would you recommenced this approach: I would definitely recommend this approach of locking away a top tier back and forward in the first five rounds as it provides your team with a solid foundation for the rest of the draft and allows you to take the best available as opposed to drafting a position of need player to early out of necessity.
First Round pick & why: Tom Mitchell (Pick 6): With Grundy, Macrae, Whitfield, Kelly and Dunkley off the board it was between Mitchell and Gawn for my first pick. I can't go past a player with the potential to be the highest scorer in the league and was confident I could find ruck value later on.
Fav pick & why: Nick Haynes (Pick 146): Finished 2019 on fire averaging 91 from his last eight games including four finals and looks to have carried that same role into 2020. I selected him in the 15th round which for a guy who has the potential to average in the 86-90 range I feel is incredible value.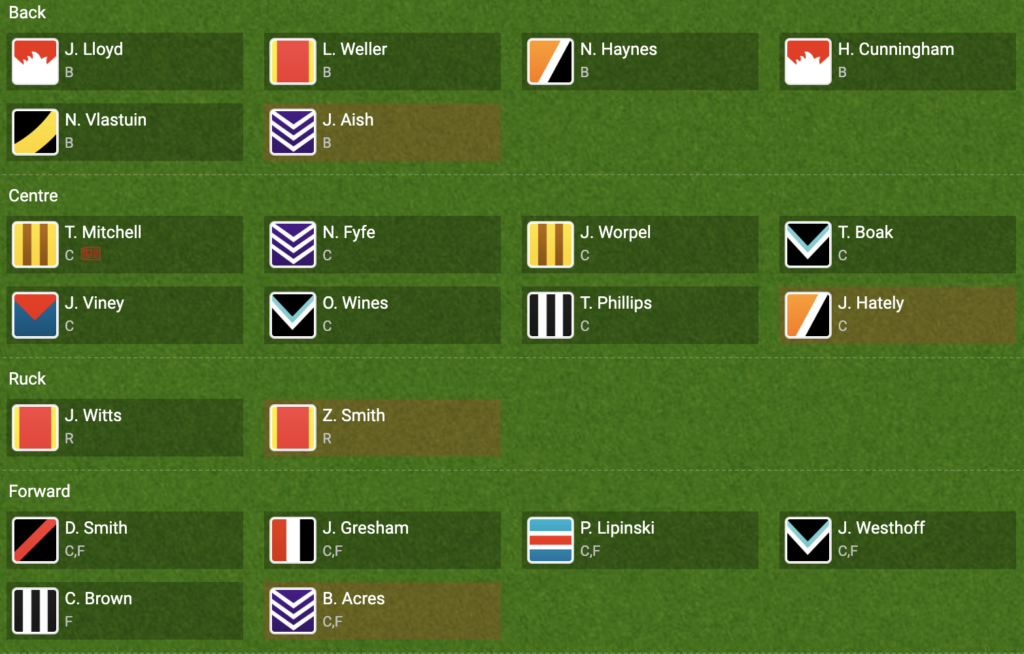 Tim | Pick #7
Tactic allocated: Take the best available.
How it impacted your draft: I took this to mean the best available player left in the pool, ignoring any thoughts of positional scarcity or my structure to date. Generally, it worked quite well, although the lack of depth in the forwards resulted in me not taking enough forwards until the very end (as after a certain point he forwards just never were the 'best available' anymore).
Would you recommend this approach? Generally, yes, it worked quite well. I've also seen absent players in drafts before end up with quite a solid 'consensus best pick' team from what is essentially this strategy (paired with the wisdom of the crowd). Factoring in some awareness of positional scarcity should also improve it.
First round pick and why: Max Gawn. I had him as the best player left in the draft at that point & it was 'take best available' so I did.
Favourite pick and why: Adam Treloar at pick 14. Prior to his recent hamstring injury, I'm sure he would've been going first round – he's been consistently a 110 mid in recent years and no reason for that to change now. I feel his injury's overplayed and he'll likely just miss one match.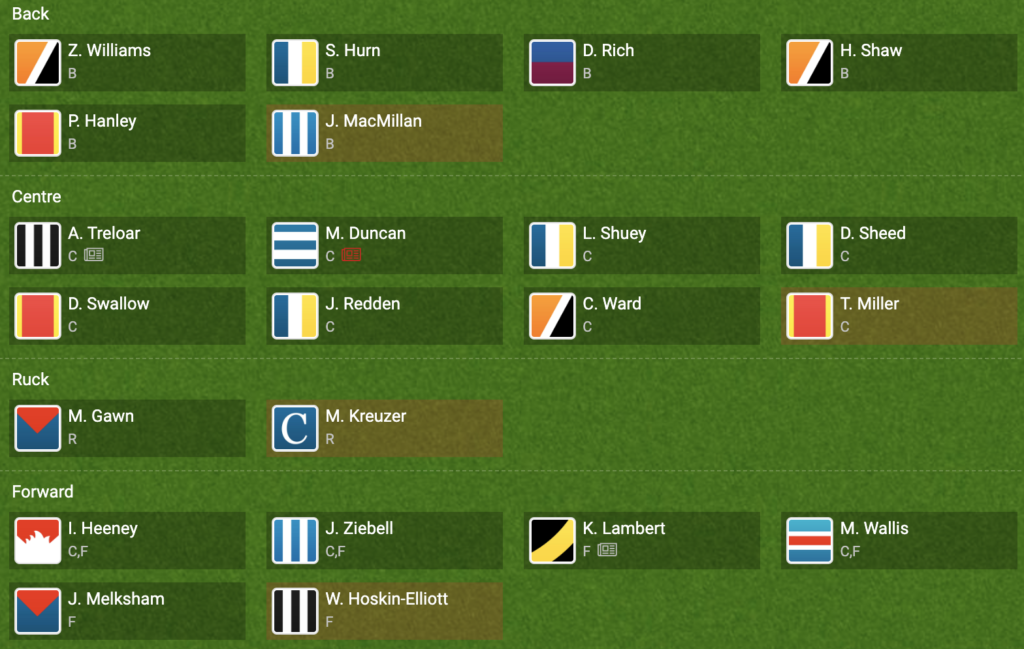 Fish | Pick #8
Tactic allocated: Load up on midfielders
How it impacted your draft: With limited elite options on other lines I felt compromised chasing mids. I also felt with the later 1st rd pick that all of the uber mids were gone by #8. This would have been the perfect time to take a top 2-3 fwd or see. The mids that I was able to select were solid, but not the type to be overly excited about. Compared to other teams my mids look very similar and I don't really have the 1-2 punch on the fwd and see lines.
Would you recommend this approach: I wouldn't recommend the tactic with a late 1st round pick, but do feel that it might work a little better with a pick in the 2-5 range. Hopefully, others would take fwds, def or rucks in a standard draft with their swing picks and a few more elite mids slip through.
First round pick and why: First pick was Zac Merrett at #8. Merrett still averaged 108 last year and this was with 2 games that had below-par scores due to injury. I felt he was the best option available with the uncertainty around the injury of Adam Treloar to start the season.
Favourite pick and why: Was probably Christian Salem at 73 in the 8th rd. Has the potential to average 95 .Given my tactic of loading up on mids, it was a surprise to find him still sitting there when it was time to start looking at other lines.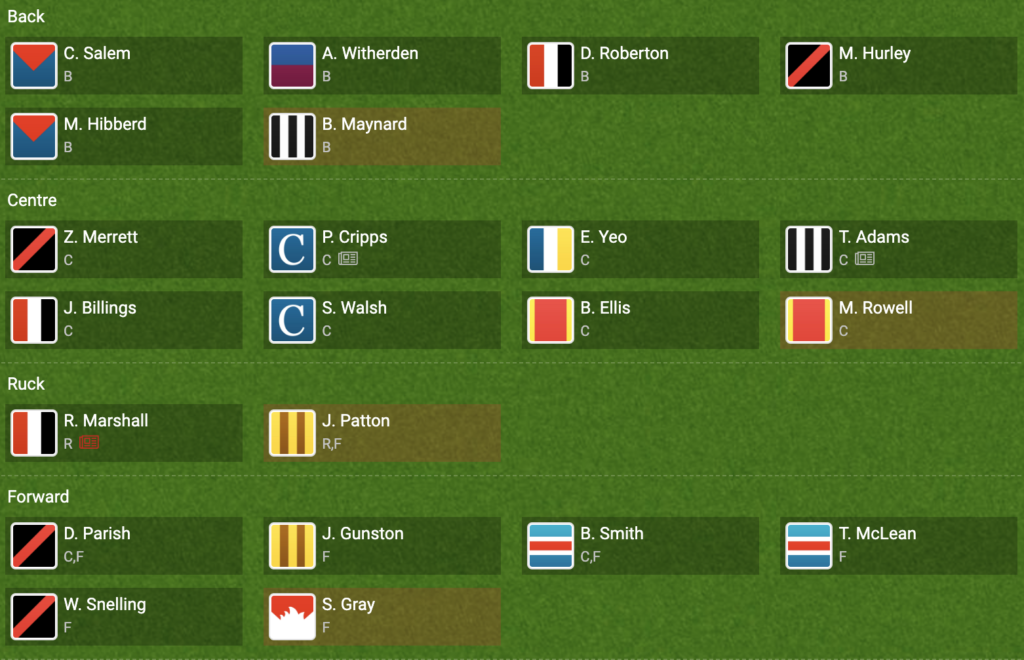 Rainman | Pick #9
Tactic Allocated: Streaming forwards
How it impacted your draft: It is how I would normally draft to be honest and I feel like put me in the box seat. Meant I could focus on quality mids and defenders and I feel like my side reflects that.
Would you recommend this approach: Fwds are generally the most readily available and lowest scoring. This means that there is generally a plethora available outside of the too 5-6 that will score within 5-10 points if each other. Additionally means you can stream to suit match ups.
First round pick and why: Dangerfield at pick 9. Best available Mid and thought that I could get Coniglio on the way back.
Favorite pick and why: I have 3. McCluggage in round 6. I think he will explode this year Goldstein in Round 12. Top 5 ruckman that late was a bonus. Bailey Williams in the second last round. I think he is best 22 at the dogs and can score very well with the right role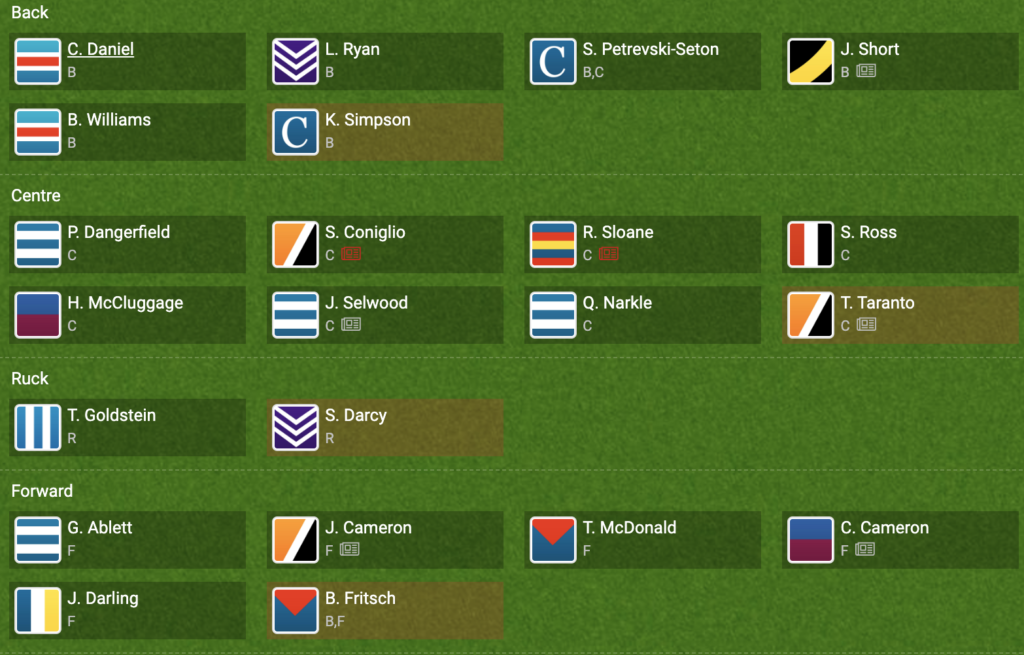 Jimmy | Pick #10
Tactic allocated: Attempt to create a run on player types
How it impacted your draft: I took the opportunity of having a double pick on the turn each round (started from pick ten) to often pick two players from the same line to try start/continue a run on players from a certain line. First up I took Dustin Martin and reached for Toby Greene, later I took Tim English and Jon Ceglar, and at various other points took two forwards, defenders or midfielders especially when one or two had been taken just before me. This had a profound impact on my own draft as it often meant not taking my first choice of player to try impact other coaches' selections instead. In this mock draft, it failed completely for three primary reasons: • The other coaches all had their own strict briefs to stick with rather than getting sucked into a run • These coaches are smarter than the average bears and wouldn't often get sucked in anyway if there was a better option available regardless of perceived scarcity • And lastly, I really think there is a strong sense of value deep on every line this year so there's no need to panic when 80pt defenders and forwards are disappearing.
Would you recommend this approach: Yes and no. I do think it's crucial when drafting to look after your own backyard first. If there is an opportunity to create some chaos then by all means load up, but not at the expense of building a team you really love. With that said, I also think this is the year to pick to Ceglar as your second ruck, to play him forward and as backup, and doing so can create the run if there is a scarcity of decent available ruckmen. Beyond that it's all about timing and perhaps banter in your draft's chat box to try con your fellow coaches into panic selections.
First round pick and why: Dustin Martin with pick ten. I wanted to see what happened if I picked the two best forwards off the bat (Whitfield excluded) however per above, the other coaches mostly just went about their business picking midfielders. Given the sharp drop-off, this also makes sense as why would you pick a second-rate forward when there are still elite midfielders and defenders on the board?
Favourite pick and why: I loved the English/Ceglar double at picks 90 & 91. I'd expect both to average 90+ this year and this was at a time when there were few other players available who could achieve that mark. It didn't spark a run but I'm happy with that choice regardless – and that is the key point. Listeners may also know that I freaking love Jack Lukosios so was stoked to pick him up at pick 190. Aaron Hall at 230 might just answer my midfield woes if he can get back to his best.