After rounds 3, 6, 9 & 12 the drafting format of Ultimate Footy awards additional player positions to players that have had a role change in the season. As always players are required to have played a minimum of 3 games to be eligible and to be playing the new position as their primary role in the side. Let's look at who they are and their relevance to your draft sides and leagues.
Embed from Getty Images
Scott Pendlebury | ADD BACK
I'm not surprised that Scott Pendlebury has back status. But I didn't think we'd get it just yet. Histrocially, UF have been on the more conservative side in allocating DPP, especially in forwards or backs. So while I thought he'd get it in round six, his owners will be thrilled with this allocation now. His average of 88 places him now inside the top 20 backs by averages and should be coaches D1 or D2 on field.
Jordan Clark | ADD BACK
Another good addition for coaches. As a centre, only Jordan Clark, an average of 72.7, is only just rosterable for most leagues. However, he becomes a genuine on-field option or an emergency in deeper leagues as a back. He's already owned by 83% of leagues, but that number will push into the '90s now that he's gained DPP.
Become a Patron!
Bailey Scott | ADD BACK
The most significant value that Bailey Scott currently offers in draft leagues is his forward status. And presently, he's in just 15% of teams. So the DPP is a good addition, but the value he offers to coaches is minimal.
Nick Daicos | ADD BACK
The Magpie rookie has been superb across halfback so far for Collingwood and will be a certainty to gain back status on Wednesday. He moves from a bench/emergency coverage in the midfield line to being a player you can place on the ground with confidence. Who knows, he might even be some teams D1.
Embed from Getty Images
Sam Petrevski-Seton | ADD CENTRE
Dan Houston | ADD CENTRE
Jordan Dawson | ADD CENTRE
I've chosen to do just one summary for all three of these players, as the key point is the same. Gaining centre staus adds squad flexibility, not so much a player's relevance.
Become a Patron!
Embed from Getty Images
Noah Balta | ADD FWD
The Tigers have started to have an eye to the future, and it's clear that Noah Balta as a forward is something the club like the look of. An average of 60 isn't horrible, but it won't be something to celebrate even in a weakened forward line in many leagues. However, it could add some handy squad flexibility in the category scoring leagues or deeper dynasty leagues.
Tom De Koning | ADD FWD
Category scoring leagues will be thrilled with this addition. Hitouts from a forward are a premium win. Tom De Koning is the future ruck of the Blues, but right now, he's split with Marc Piitonet. The benefit of him getting forward is that IF the split starts to become more favourable with him in the ruck than forward, this could be a considerable gain.
Todd Goldstein | ADD FWD
The rebuild of the Kangaroos is well underway. As a result, some of the club elders are stepping back into the shadows. In the ruck division, the emergence of Tristan Xerri has allowed them to use Todd Goldstein as the relief ruck and more predominantly inside forward 50. With an ADP of 91.5, he's in the gun for many coaches as a 'bust.' But the season is still young.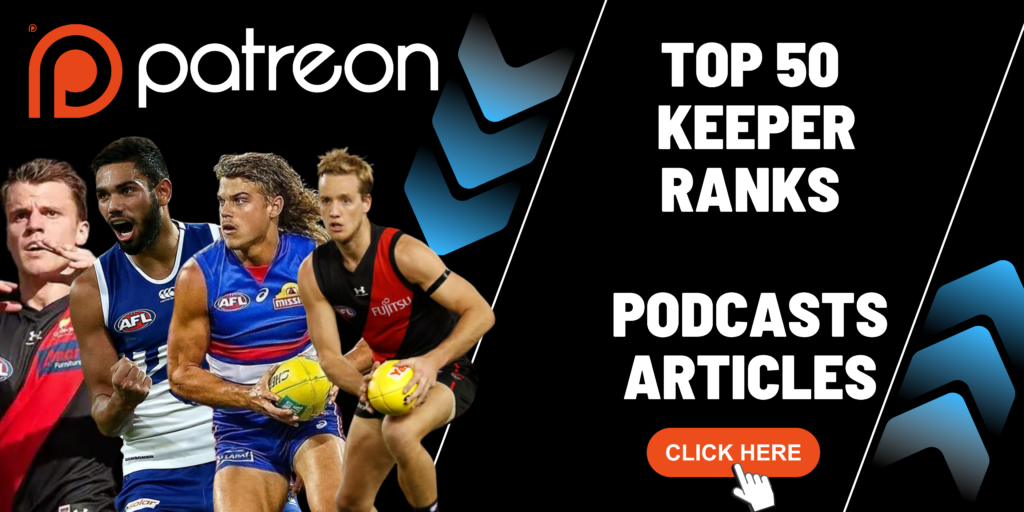 Awaiting More Data
The biggest names coaches were angling for were Angus Brayshaw and Dayne Zoko to get back status. However, UltimateFooty has opted to get more game data before adding the staus. And given both are averaging strongly enough to be on the field in our centre line. So keep an eye out for the round 6 allocations.
Podcast
Tune in as MJ & Jimmy discuss all the players that have picked up DPP!