We're finally here! The #1 player in my 50 Most Relevant is revealed, it's GWS Giants superstar Lachie Whitfield.
PLAYER PROFILE
Name: Lachie Whitfield
Age: 25
Club: GWS Giants
Position: Midfield/Forward

2019 Highest Score: 
190 Vs Carlton (AFLFantasy)
170 Vs Carlton (SuperCoach)

2019 Average: 
113.7 (AFLFantasy)
111.2 (SuperCoach)
SuperCoach Price: $604,100
AFLFantasy Price: $844,000
AFLDreamTeam Price: $822,300
Embed from Getty Images
WHY IS HE RELEVANT?
Christmas came early for the fantasy footy community when the team at Champion Data determined that Lachie Whitfield was awarded dual position status. For some, it was a surprise, but for me, it was something I thought was a sneaky chance to happen.
Across 2019 it was an interrupted season for the GWS superstar, but despite playing just 16 matches, he still showed his value to the team and to fantasy coaches who owned him. Last year he averaged 26 possesions, 19 of them were uncontested. He averaged eight marks, three tackles, four inside '50s, three clearances and three inside '50s.
In the entire league, he averaged fifth for marks per game, 10th for kicks, 11th for uncontested possessions and 14th for metres gained.
In SuperCoach he finished the season with an average of 111.2 which had just the three scores below 90 all year, with one of them an injury-affected score. From his 16 games, he scored 11 tons with five over 120 and three over 150 including a personal best 170 against the Blues.
In AFLFantasy he averaged 113 across the year and had only three games where he didn't reach triple figures. From his 13 tons across 2019, 6 of them were above 120 and 2 over 160 including his career-high 190.
He's a visual of what his season looks like, check out the ceiling on some of these scores.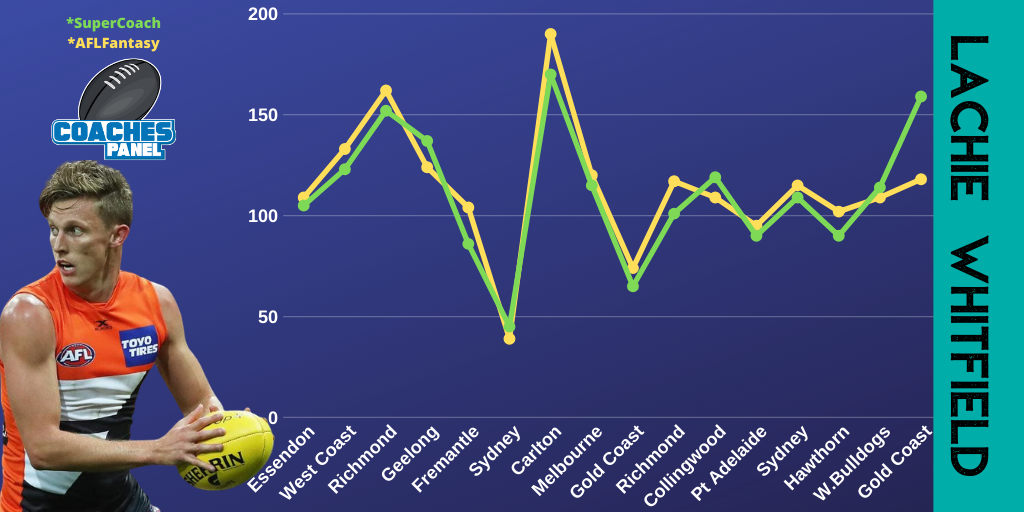 2019 was a personal best from Whitfield on terms of scoring average, but it was far from an aberration. During 2018 season in AFLFantasy/DreamTeam he scored twelve tons, half of those were over 120 while in SuperCoach he posted eleven tons and three of the tons above 120.
One of the very few reasons people might have a sour taste in their mouth regarding Whitfield is around the number of injuries he suffered during 2019. From an injury to his thigh, appendicitis to requiring surgery on his collarbone we saw Lachie miss multiple games through injury.
What might further dampen coaches enthusiasm is that during the offseason, he underwent ankle surgery. While it isn't the perfect preseason from him, what is pleasing is that he's currently in full training and has been for the past four weeks.
'Four unrelated injuries in 12 months might be enough to put a line through him in some eyes, but before that, he's been a profoundly reliable performer. In 2018 he played every game, while in 2017 he missed the opening few months of the season due to a drug ban. Indeed, the past 12 months have presented challenges, but in the broader context, I'd suggest he's been more unlikely with different unrelated injuries rather than an injury 'prone' player.
Embed from Getty Images
MY TAKE
Let's get to the crunch, why do I believe Lachie Whitfield is the most relevant player in all formats of fantasy footy this season? It's relatively simple, in his scoring line (forwards) he sits supreme in terms of averages. More than any other line I believe has the biggest' gap' between his potential output compared to whoever lands second place.
All other lines, I can build a relatively compelling case that across all formats, that multiple players should be within a handful of average points as the leader in each line. Maybe you can, but looking at it across all formats I can't do that in the forwards.
During the change of seasons, we have lost almost all of last seasons best options. Patrick Dangerfield, Jack Billings, Tim Kelly, Josh Dunkley, Rowan Marshall and Travis Boak to name a few are all gone from this line. While the addition of Lachie Whitfield is a welcome one, it leaves us with a relatively large gap between what he averaged in 2019 and what the second-ranked forward did.
In AFLFantasy he's currently got an average that which is 15 points per game higher than Toby Greene in second place. In SuperCoach the distance between Whitfield's scoring is 11 points per game higher than Michael Walters who's ranked second. While these are just historic averages, it highlights just how far ahead of the pack, his scoring is compared to the next batch. When it comes to the forwards, Whitfield is in a scoring tier of his own.
Even with a possible dip of a hypothetical 5-8 points per game I still believe he's a clear five points on average better than the next best forward.
Every time I try actively to build a case to come up and go 'against him' i create a paper-thin line of argument. But if I was to summarise the concerns, it comes down to three. Firstly, is last year an aberration or an establishment of a new normal? Second, will there be enough points to go around in a bursting Giants midfield? And finally, is he now the #1 tag target at GWS?
Let's deal with each of these seperately. First, is 2019's scores a one-off? Honestly only hindsight will reveal that, but there is nothing to suggest it was, or that his scoring will fall away. Yes, his marks and disposals did bump up on average 2 each per game. But in the same case, his tackles dipped too. Given that the Giants game style is a high possession style of footy barring a dramatic game style overhaul I can't forecast a dip significant enough not to start him.
Is the GWS midfield too stacked to keep his scoring high? Honestly, no! Whitfield is a more outside style of player and given his high athletic ability his ability to get into space and get those uncontested marks and possesions.
Finally, what about the tag, he's shown a propensity to struggle under it. Is he now the #1 target? For some opposition sides yes, while for others they may determine Josh Kelly the one they are more likely to be able to quell the influence of. Could he get some down scores due to top a tag, potentially? But given the high calibre of players in the Giants midfield and Whitfield's supreme running capacity, I don't see it making a drastic difference to his seasonal output.
Sometimes you can over-complicate fantasy football because I can see no benefit to choosing to start without him. At worst he maintains his current output which still makes him the likely #1 forward for the year. Best case scenario he avoids his injury history, and his scoring numbers could genuinely push him to be a candidate for the #1 scoring player overall.
With his ownership percentage being among the top of all formats, I don't see anything to gain should you go against him. Even if he dips his scoring or worse cops an injury, you obtain almost nothing. Given his price point, he can easily be traded to any forward you wish with cash still to play with.
He has the highest-scoring ceiling and frequency of all our forwards this year. And while I encourage everyone to do their own thing. I cannot advocate for anyone going against him.
While you can't win your league or overall rankings glory in the first few weeks, you can make it near on impossible to succeed if you get 'too cute' and start the most bankable starting squad option in years.
I'm starting him everywhere, and I'm yet to hear a compelling and coherent argument not to start him. Save the pain, do it, pick Whitfield!
DRAFT DECISION
In drafts, he's undoubtedly in the conversation as one of the first picked. If you have a top-three selection, he must be in play, as I believe he is by far the best forward available to us in 2020. I do think Brodie Grundy is the safest #1 pick in drafts, and I wouldn't be opposed to the strategy of drafting Whitfield first given the lack of genuine forward depth we have. 
JOIN THE CONVERSATION
Do you believe he is fantasy relevant?
Will you be starting with him?
Have your say at our Facebook, Twitter or Instagram.