Not many have the proven scoring history that can match it with Josh Kelly. So why is his ownership numbers so low? It's for one simple reason.
PLAYER PROFILE
Name: Josh Kelly
Age: 25
Club: GWS Giants
Position: Midfield
2020 Highest Score:
119 Vs Richmond (AFLFantasy)
195 Vs Richmond (SuperCoach)
Career Highest Score:
166 Vs Gold Coast | AFLFantasy (2018)
205 Vs Carlton | SuperCoach (2018)
2020 Average:
84.7 (AFLFantasy) | 105.87 (Adjusted Average)
114.5 (SuperCoach)
SuperCoach Price: $615,600
AFLFantasy Price: $809,000
AFLDreamTeam Price: $782,900
Embed from Getty Images
WHY IS HE RELEVANT?
Josh Kelly is the complete package. A strong inside the contest, damaging on the outside. Whether it's dancing around players at stoppages or using his silky skills on the outside to finish the game off, he is one of the modern-day greats in the AFL.
With the shortened quarters he still averaged 22 possessions, going 70% disposal efficiency. He also averaged 5 score involvements, 4 tackles, 4 clerances, 4 inside '50s and 3 marks per game.
From an AFLFantasy/DreamTeam perspective, he averaged 84.7 (adjusted 105) including 4 scores of 100+, 3 additional scores between 90-99 and another score over 80.
Kelly's SuperCoach average of 114.5 consisted of 10 tons, 5 of them over 120 including that 195 against Richmond. On top of this high ceiling, is a strong scoring floor with just one score under 80 all year.
His 2019 in AFLFantasy/DreamTeam he averaged of 115.9. It was made up of 12 scores of 100 or more, 7 of them were over 120, and between round 9-15, his lowest score was 120. Added on top of this only twice last year did he fail to reach triple figures.
His SuperCoach numbers were very similar. A seasonal average of 117 consisted of 11 tons, with six of them 120 or higher. His lowest score was 82, and he failed to register the ton in only three games.
Kelly's scoring consistency is elite over the previous four seasons. On SuperCoach he's averaged 113+ for SuperCoach each year while averaging between 105-115 in AFLFantasy/DreamTeam.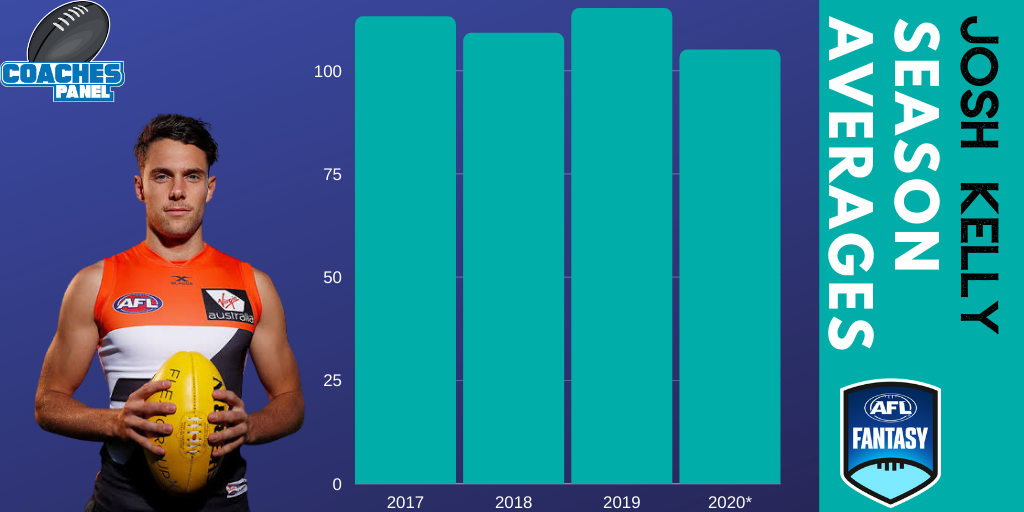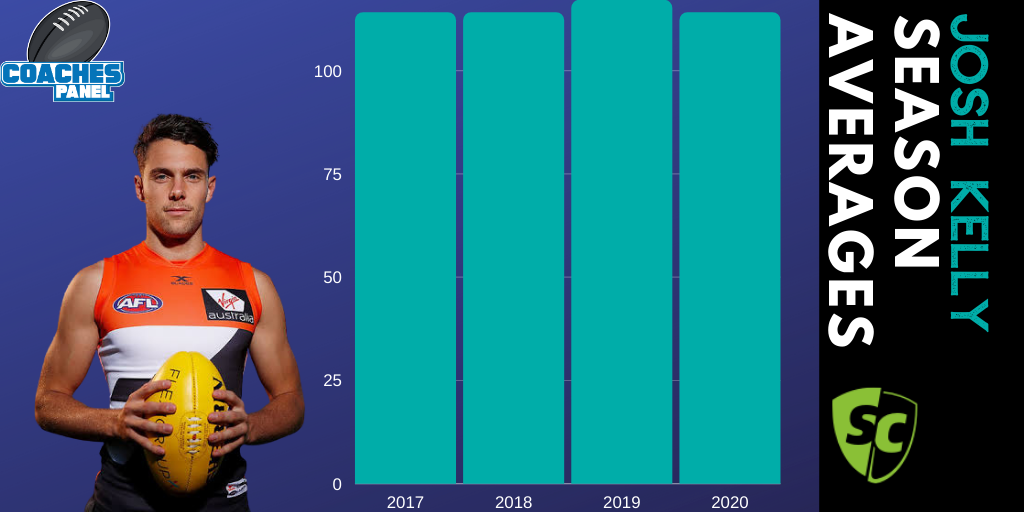 Games played in the past 4 seasons he's returned 43 tons in AFLFantasy/DreamTeam which is a hundred in 67% of games. Likewise in SuperCoach, he's scored 44 tons and returning a hundred plus score in 68% of games
Over the preseason, GWS and Josh have emphasised the strength and conditioning of his body. If the Giants are to pivot back into the top 8 this season, lots will depend on the output of their star players like Josh. If you've been following the preseason news, you'll be familiar with the story that he's flying in the preseason. So much so he won the 2km time trials for the club.
The concern isn't around his scoring potential. The query is around games played. While those concerns are valid (and we'll talk about them soon), he is in the rare territory of midfield premiums that has shown multiple years averaging well over 110 in the past three seasons.
Embed from Getty Images
MY TAKE
Nobody would question that Josh Kelly is one of the elite midfielders in the AFL. Nor would anyone challenge if he's a genuine uber premium in SuperCoach or AFLFantasy. What makes people uncertain about him is the fact that only twice in his six AFL seasons has he played 20 twenty games or more.
Those that do pick Kelly need to factor in based on the previous history the high likelihood that he will not play 22 games. The past gives us an understanding that he and the club are yet to get his body cherry ripe. The thing is that history doesn't always repeat itself with these 'injury-prone' players.
Before 2019, Brad Crouch had struggled to play a full season and yet was able to for the Crows and the fantasy coaches who selected him. Before the 2018 season, Devon Smith had never played a full season but didn't miss a game in 2018. The same thing happened to Taylor Adams in 2017, after never played more than 18 games in a year he played all 22 that year.
History shows, 22 games could be unlikely it's far from a guarantee. We've seen plenty of examples of players overcoming history, learning how to manage themselves to play out a full season.
If you're considering Josh Kelly, you need to view him as a starting squad player or ignore him for the 2021 season. Players with a notoriously poor history must be starting squad targets. That way you maximise the available games played to be in your fantasy side.
Can you target him as an upgrade target even with injury concerns? Of course, you can, but history suggests the likelihood of him missing a game only increases with each game played.
Now it's a different story if his injury history isn't the reason you pass on him in your starting squad. Perhaps you're chasing more 'value' premiums. Or you too heavy with round 12 bye premiums. The point being, if you're worried about injuries occurring in the season, it's either a pass completely or a starting squad option.
He's too good of a player not to be the centrepiece of their midfield. He is equally as damaging when on the inside or outside of the contest. Unlike many other premiums midfielders discussed in the 50 most relevant, Josh has no role concerns.
A players ownership percentage should never be the only factor for selecting a player. Still, currently, across formats, Kelly is criminally low given what his potential is if you've found yourself split between him and another premium midfielder it could be the determining factor in picking him.
Right now in SuperCoach, he's in 7% of teams, 8% of DreamTeam's and 3% in AFLFantasy. I'm helping hold that percentage across all three formats as I'm starting him in all versions of the game.

Why so unique given the scoring upside? Simple. He's left many coaches wary of selecting him after being burned by injuries over previous seasons. Even though It's happened to me before, I'm choosing to bank in his scoring output for as many games as possible. That might be 5-6 weeks or potentially even 22 rounds.
DRAFT DECISION
In every mock draft I've either done or seen on The Draft Doctors Mock Draft Simulator, I see minimal midfielders get picked in the opening round. Josh Kelly is an M1 selection, but depending on how heavy the other lines coaches go, it will determine which round he goes. Personally, I think he's a perfect second round pick, who might even slide in the odd draft into the third round.
JOIN THE CONVERSATION
Do you believe he is fantasy relevant?
Will you be starting with him?
Have your say at our Facebook, Twitter or Instagram.
WANT EARLY ACCESS?
Want access 24 hours early to the 50 Most Relevant podcasts? Join our Patreon and get ahead of the Crowd!
Become a Patron!