Matt Crouch provided owners with a rollercoaster season. He went from being dropped by the club to being one of the top performing fantasy players in the game. What does 2021 hold for the midfield star?
PLAYER PROFILE
Name: Matt Crouch
Age: 25
Club: Adelaide Crows
Position: Midfield
2020 Highest Score:
125 Vs GWS Giants (AFLFantasy)
162 Vs Hawthorn (SuperCoach)
Career Highest Score:
151 Vs West Coast | AFLFantasy (2019)
162 Vs Hawthorn | SuperCoach (2020)
2020 Average:
88.3 (AFLFantasy) | 110 (Adjusted Average)
110.6 (SuperCoach)
SuperCoach Price: $594,700
AFLFantasy Price: $844,000
AFLDreamTeam Price: $816,000
Embed from Getty Images
WHY IS HE RELEVANT?
If you owned Matt Crouch over the entire of the season it felt like a soap opera drama. There were ups, downs and even a week he didn't play after being dropped in round four. Despite this, he ended the year as one of the most dominant fantasy midfielders across all formats.
He ended 2020 averaging 26 possessions, almost three marks and a career high 4.6 tackles per game. Impressive given the decreased length of quarters. Across the league per game he ranked 1st for handballs, 5th for disposals, 6th for uncontested possessions and 7th for effective disposals.
Before getting dropped in round four, Crouch was averaging 64.3 (80 adjusted) in AFLFantasy and had a top score of 72. When he returned in round five he scored 4 tons, 4 additional scores over 90, 2 over 80 and had the lowest score of 75. In these final 13 matches, he averaged 93.9 (adjusted 117) in AFLFantasy/DreamTeam
By seasons end Matt averaged 88.3 (adjusted 110) ranked 19th for total points scored (remember that's with him missing a game) and ranked 14th for averages. That's higher than Andrew Gaff, Adam Treloar and Christian Petracca.
In SuperCoach over the first three weeks, he was averaging 88. However, over the final 13 games, he averaged 115 including 10 tons, five of them over 120 including a career high 162. After the home and away season he ended the year averaging 110 and having just two scores under 90 all year.
It wasn't just his fantasy output that took a dramatic turn, but it was also his workrate off the ball and defensive efforts. In his first 102 games of AFL only in 2 matches, he returned a tackle count of 10 tackles or more. However, in two of his final five matches this year, he handed out a 12 in one game and 14 tackles in another. Easily the two highest of his career.
The season earlier in 2019 Matt averaged 106 in AFLFantasy/DreamTeam. It included 13 tons, five of them over 120 and two over 150. Added to this he had only 2 scores below 89 all season. While in SuperCoach he averaged 104, scored 10 tons including three over 130. Across his 19 games played he had just 3 matches that he failed to score 90 or higher.
Over the past four seasons, Matt Crouch has proven he is a reliable midfield premium who boasts a low scoring floor and an ever-increasing ceiling.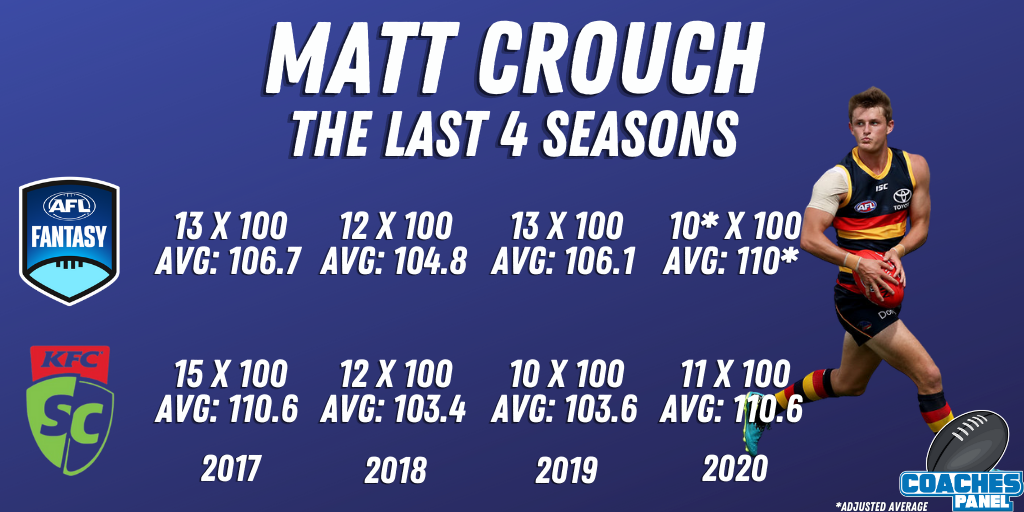 Embed from Getty Images
MY TAKE
The big question for prospective owners of Matt Crouch is this? Was it 'just another' hot streak? Or is it a sign of things to come? Multiple times over the past four seasons Crouch has gone on 'hot stretches' of games where he's averaged well north of 110 AFLFantasty and 120 SuperCoach. What's different about the 2020 run?
I'd suggest that the most dynamic change was around his tackle count and defensive efforts. His 2017-2019 possession count shows that his reality in full games he averages 32-33 possessions. If he maintains that with a full year + holds that increased tackle count, this becomes not only the area of scoring growth but the way he becomes a genuine top tier fantasy player.
With his brother Brad Crouch departing for St Kilda, it does effect the clubs midfield structure, but not Matt's role. He's as pure a midfielder in the game as you can get. So unlike some other midfield premiums we've discussed in this series he has zero role concerns.
During the offseason Matt Crouch had some minor surgery done, but the good news is he has resumed training. He underwent arthroscopic surgery on his hip in the off-season. While I'm not a doctor, it's on the lower end of things to be worried about. The club believes he'll be cherry ripe for the AAMI Community series match.
What's the downside of selecting Matt? Honestly, not much. The downside is he holds as a 105 style scorer who doesn't offer you enough to be a genuine captaincy candidate. The upside? Is he pushes himself into the top 5 AFLFantasy and top 10 SuperCoach players in the game? Whether he averaged over 115 or held at 105, neither would surprise me.
Probably the biggest downside for Crouch as an option is he's apart of the dreaded round 14 bye. With plenty of stars on all lines, especially the rucks, it looms as a potentially difficult week to navigate. It's why, for some, they might choose to target another player with a similar range of outcomes that helps their structure more. That said, I'm starting him in DreamTeam and will keep a close eye on him across all other formats.
DRAFT DECISION
In every mock draft I've either done or seen on The Draft Doctors Mock Draft Simulator, I see minimal midfielders get picked in the opening round. Matt Crouch is an M1 selection, but depending on how heavy the other lines coaches go, it will determine which round he goes. It'll like range between an early second round or very late second round pick in AFLFantasy scoring formats. While for SuperCoach, I see a world where he can drift out into the third round. Not much beyond that, though.
JOIN THE CONVERSATION
Do you believe he is fantasy relevant?
Will you be starting with him?
Have your say at our Facebook, Twitter or Instagram.
WANT EARLY ACCESS?
Want access 24 hours early to the 50 Most Relevant podcasts? Join our Patreon and get ahead of the Crowd!
Become a Patron!