Last year it was the Tom Mitchell of old. But under a new coaching regime, will his best scoring days be behind him or are they still ahead of him?
PLAYER PROFILE
Name: Tom Mitchell
Age: 28
Club: Hawthorn Hawks
Position: Midfield
2021 Highest Score: 
171 Vs Melbourne (AFLFantasy)
157 Vs Collingwood (SuperCoach)
Career Highest Score: 
195 Vs GWS | AFLFantasy (2018)
192 Vs Carlton | SuperCoach (2018)
2021 Average: 
115.5 (AFLFantasy)
117.2 (SuperCoach)
SuperCoach Price: $638,100
AFLFantasy Price: $969,000
AFLDreamTeam Price: $985,600
Embed from Getty Images
WHY IS HE RELEVANT?
Ever since Tom Mitchell made his debut in 2013 at Sydney, we got a glimpse at his fantasy pedigree. That season he averaged 90in AFLFantasy/DreamTeam and 86 in SuperCoach. Since then, he's been one of the most prolific fantasy players of the modern era. By the time his AFL career comes to a close, he'll be remembered just as fondly as Gary Ablett, Dane Swan and Tom Rockliff as one of the greats of this game.
In 2021 we saw the full reemergence of 'Titch' back to his former glory as a fantasy footballer and a dominant midfielder. Last year in the league, he ranked first for handballs, disposals, effective disposals and uncontested possessions per game. He's not only one of the most dominant ball-winning midfielders, but he's also one of the most nerve-racking players to come up against in a league match if he's unique against you.
His AFLFantasy season was brilliant in totality but spectacular when you look into the more refined timing. Over the year, he scored nineteen tons, ten of them above 120 and five over 130. He had just three scores under 100 all year and nothing dropping below 71. Before the Hawks bye round, he averaged 105.1. However, in the final eleven games of the year, he averaged 126 and didn't let his scores fall below 105. He's ranked fifth overall for averages and points, with only Jack Steele, Touk Miller, Jarryd Lyons and Jack Macrae.
This scoring pattern is similar in SuperCoach. He ranked eighth for total points and ninth for averages last year. It consisted of seventeen tons; nine were over 120, eight over 130 and a season-high score of 171. Entering into the Hawks round twelve byes, he'd scored just six tons and was going at an average of 105. From round thirteen onwards, he averaged 128.6, and his lowest score was 110.
What has got coaches so excited is that these final eleven games of the year reflect what he did back in 2018, where he averaged 129 across the formats and set fantasy footy records. Since 2015 he's averaged between 106-129 in AFLFantasy/DreamTeam and 103-129 in SuperCoach. So from a visual perspective, it looks like this.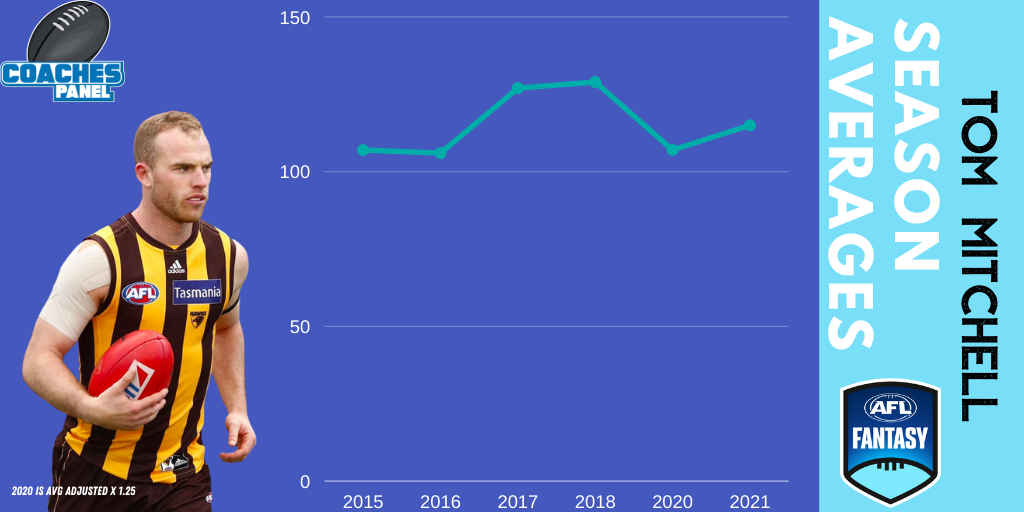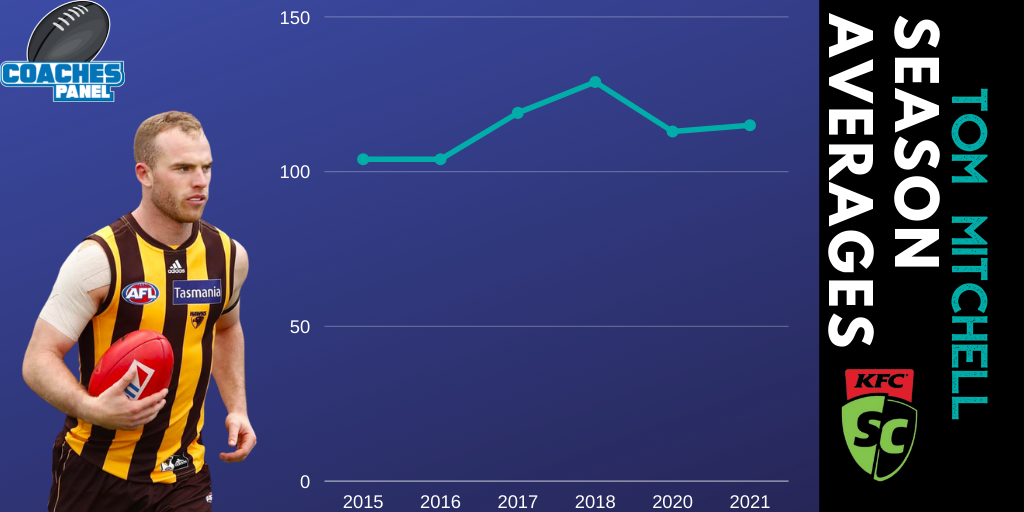 Can he get back to this 2018 scoring for 2022? He did for 50% of the year just gone. Because if he can climb back anywhere near that, not only is he ten points per game of value, he'll also end up as the top-scoring option in every format comfortably.
Embed from Getty Images
MY TAKE
You don't have to be among the best fantasy football coaches to recognise that Tom Mitchell's scoring ability across formats is unrivalled. For multiple years and at clubs, he's shown just how destructive a player he can be. When we consider fantasy footballers, they can destroy your season if you don't own them. 'Titch' is a certainty in that category. It's for that very reason that coaches will agonise right up until around one about whether or not they start him in their side. Getting on the wrong side of the equation will be a season ruining move. While being on the right side will set you up for immediate success.
For the first time since joining the Hawks, Hawthorn has some serious uncertainties. Both in the cattle used and the clubs game style. A team's style is refined under any new coach, and some players are used in different ways. But, at the same time, others find favour in the eyes of a new coach and get opportunities that weren't previously afforded to them.
Does the midfield mix at Hawthorn get drastically turned over? And to what extent? Under Sam Mitchell, will it be a full blooding of the kids like Jai Newcombe, James Worpel, Josh Ward, Finn Maginness and Connor MacDonald? If that's the case scoring regression for Titch is almost imminent.
Will Tom Mitchell still be allowed to roam and get plenty of uncontested ball? Or does the Hawks adjust the style of play and look for a more direct avenue to ball movement? Sadly, with only one practice match and one community series clash, we'll get limited games against the opposition to understand better. Furthermore, teams in these games often don't apply the same defensive pressure and emphasis. So even with what we do get to see, it might be an entree to what the season proper holds.
I have zero doubts that his run of triple-figure averages will cease; even with a proposed regression, he still will get enough of the pill to be a fantasy premium. I'm also convinced that he will still be a primary piece in the midfield. In reality, it's where he's at his best, and it's in Hawthorn's best interest to allow him to play there. If you purchase him at his starting price, he must average 115-120 for the season to be a selection worth taking early on?
What's his upside? He goes back to being the best scoring player in the game. What's the downside? He slides back to a 110 averaging player. That's not much of a downside, If I'm being honest. I'm starting in DreamTeam, considering starting in AFLFantasy and upgrading target in SuperCoach.
DRAFT DECISION
The format you draft in might not alter his M1 status, but it might determine where you could select him on draft day. For example, in AFLFantasy scoring drafts, I forecast Tom Mitchell will be selected inside the first handful of selections. In SuperCoach leagues, he could find himself sliding to as late as an early second-round pick, but he is still someone I see as a popular first-round pick, even if it's later in the opening round.
JOIN THE CONVERSATION
Do you believe he is fantasy relevant?
Will you be starting with him?
Have your say at our Facebook, Twitter or Instagram.
WANT EARLY ACCESS?
Want access 24 hours early to the 50 Most Relevant podcasts? Join our Patreon and get ahead of the Crowd