One of the most notable new additions was Tim Taranto into the forward line when champion data announced the new positions. He was seen as someone you had to own from day one. Now the conversation is evolving. Is he still the must start player we all expected?
PLAYER PROFILE
Name: Tim Taranto
Age: 24
Club: GWS Giants
Position: MID/FWD
2021 Highest Score:
145 Vs Carlton (AFLFantasy)
139 Vs Adelaide (SuperCoach)
Career Highest Score:
156 Vs North Melbourne | AFLFantasy (2019)
144 Vs Carlton | SuperCoach (2019)
2021 Average:
107.7 (AFLFantasy)
97.3 (SuperCoach)
SuperCoach Price: $529,700
AFLFantasy Price: $904,000
AFLDreamTeam Price: $919,000
Embed from Getty Images
WHY IS HE RELEVANT?
It's rare that we consider relevant in every season in fantasy football circles across your entire AFL career. But, to date, you can argue Tim Taranto is certainly delivering on that so far. He was a handy rookie in his debut season in 2017, but it was 2018 when he became a breakout star as a MID/FWD. That year he averaged 90.9 in AFLFantasy/DreamTeam and 88.7 in SuperCoach.
What makes 'TT' so fantasy relevant is he's a prolific ball winner, contested ball winner and clearance beast. He also applies high defensive pressure through powerful tackles, and his workrate gets him into space to be an option for the outlet kicks. In short, he's got one of the most complete fantasy games going around. If he tidied up some of his disposal efficiency he'd have a case for being one of the best fantasy players of the current era.
Last year in AFLFantasy/DreamTeam, he averaged 107.7. That places him as the highest averaging forward and a clear top points performer. He scored fourteen tons, seven of them were above 120, and in an additional five games, he scored 90 or above. That's him scoring 90+ in 86% of matches. By the closing of the year, he's ranked 15th for total points. That's more points than Darcy Parish, Jack Crisp, Cam Guthrie and my boy Josh Kelly.
For SuperCoach, his year returned twelve tons, three of the. over 120 and an additional four scores over 90. Positively, one of his most significant scores came when he played a 100% forward role and scored a 130+ against the Tigers.
As strong as the season was in totality, he was a more dominant performer both the bye than after it. Check out this graphic that helps unpack more of the story.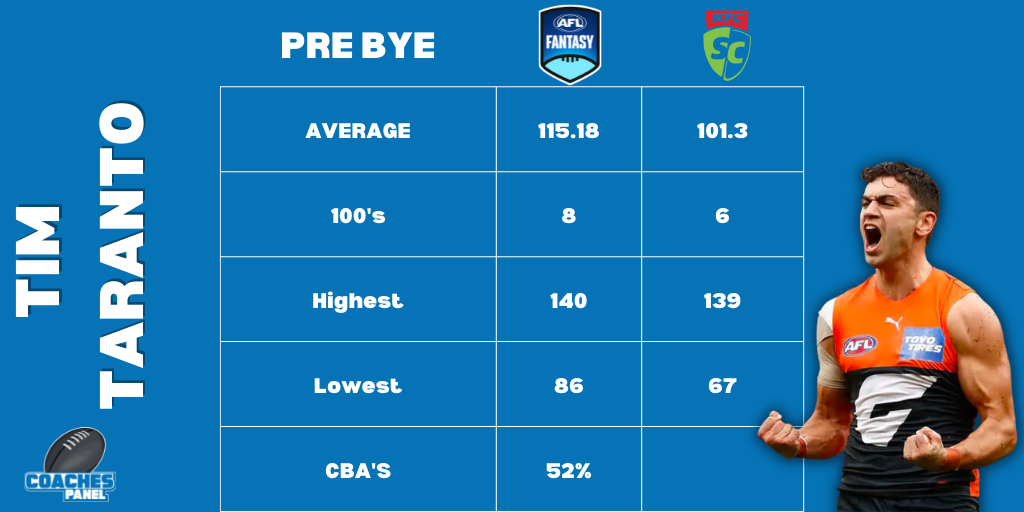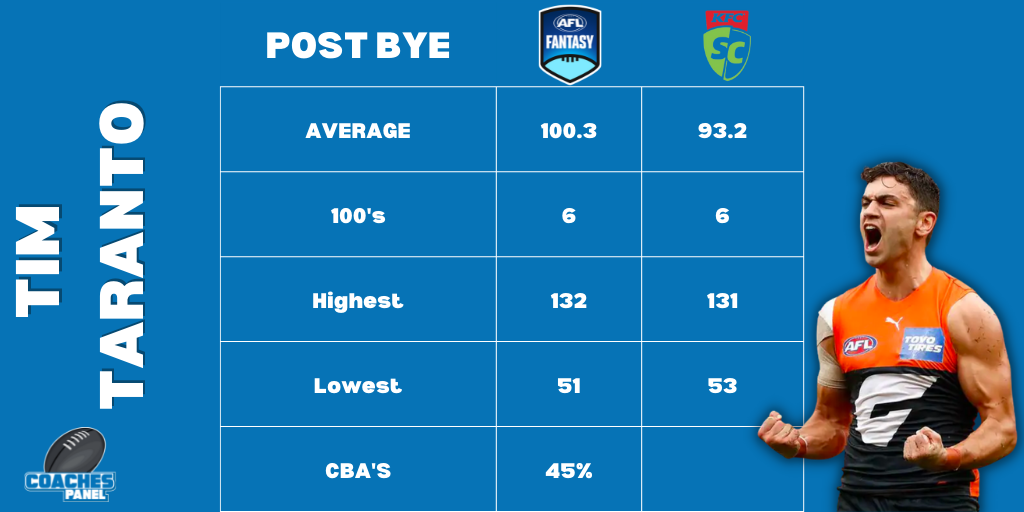 In isolation, those post-bye numbers are acceptable. Not great, but okay. However, it's the pre bye numbers that has coaches excited. To get genuine topline premium midfielder scores out of the forward division is a Godsend.
Embed from Getty Images
MY TAKE
When talking about Tim Taranto, the elephant in the room is regarding the late-season role change in 2021. In rounds 19, 20 and 22, the Giants moved Tim out of his natural environment as a midfielder to cover Toby Greene inside forward 50. From a fantasy footy perspective, it was a total disaster, but it worked in a pure footy sense.
And herein lies the significant problem; Taranto did such a great job at being a damaging forward presence that as the Giants look to cover the suspended Greene long term, he does become a genuine candidate. Recently, Leon Cameron told news.com.au that 'he's so flexible, Tim. He hits the scoreboard, but, equally, he is just as powerful in the midfield, so sometimes you're robbing Peter to pay Paul'. It's not damning him to the forward line, but it does leave the door ajar. Furthermore, forward Brent Daniels suffered a fracture to the Lisfranc joint in his foot during pre-season training. This just further muddies already murky water.
Toby Greene is due to return to the side in round six. This is off the back of his suspension for touching an umpire. Given how successfully Taranto covered for him last year and the possible lack of cover for Daniels, it's rightly so that fantasy coaches have some serious reservations about starting with him.
As daunting as it may sound, it was only three games last year where Taranto was significantly out of the midfield. Beyond rounds 19, 20 & 22, he held a strong variation of centre bounce attendances. As a pure inside midfielder without these CBA's, his scoring does nosedive. In these three rounds, he attended 11%, 7% and 0% CBA's and had an average of 69.6 in AFLFantasy/DreamTeam and 80.3 in SuperCoach. If you remove these three matches, his average rebounds drastically to 100 in SuperCoach and 113.78 in AFLFantasy/DreamTeam. The data makes the equation very clear and very simple.
I'm not starting with Taranto in any format. I'm prepared to take him on and cop whatever potential big scores he might deliver over the first few weeks. Why? Indeed because of the uncertainty of role. But also because of the player pricing structure. At the start of the season, the magic number that helps determine a players pricing is at its highest point, meaning if upper-priced premiums don't outperform their average by a solid margin, they'll still regress in price. So even if he goes at his average of 108 in AFLFantasy and 98 in SuperCoach, he's still losing dollars. This will be even more evident if he starts slowly due to a heavy forward role.
Please make no mistake; I'm not prepared to take him on for the full 22 games. I want him on my finished side. So rather than start, I'll watch with a keen eye on a combination of his breakeven and the return of Toby Greene. That will likely inform the timing of when I jump on Taranto in 2022.
DRAFT DECISION
Forwards that have the proven ability to match it with the best midfielders don't last long on draft day. Tim Taranto won't last long on draft day, even with some role speculation. In AFLFantasy scoring formats, he's being picked at an ADP of 9 on the Draft Doctors Mock draft simulator. And that feels about as late as you'll get him. IF you want him, it's a mid-late first-round selection. While in SuperCoach, he's a second-round pick. 
JOIN THE CONVERSATION
Do you believe he is fantasy relevant?
Will you be starting with him?
Have your say at our Facebook, Twitter or Instagram.
WANT EARLY ACCESS?
Want access 24 hours early to the 50 Most Relevant podcasts? Join our Patreon and get ahead of the Crowd