Entering 2021, Max Gawn was coming off the back of a sensational season. He was viewed as the must-have player in every starting squad. The conversation has turned marginally this preseason, with many still unsure about what his season will hold. For me, Gawn is still one of the most relevant players in 2022.
PLAYER PROFILE
Name: Max Gawn
Age: 30
Club: Melbourne Demons
Position: Ruck
2021 Highest Score:
145 Vs Geelong (AFLFantasy)
172 Vs Hawthorn (SuperCoach)
Career Highest Score:
154 Vs North Melbourne | AFLFantasy (2019)
212 Vs North Melbourne | SuperCoach (2019)
2021 Average:
108.5 (AFLFantasy)
120.7 (SuperCoach)
SuperCoach Price: $657,400
AFLFantasy Price: $911,000
AFLDreamTeam Price: $925,900
Embed from Getty Images
WHY IS HE RELEVANT?
Even if it wasn't the best fantasy football season for Max Gawn, it's safe to say that it's a year that he and the Demons faithful will never forget. The reigning premiership captain was superb in 2021, and his stats, along with his premiership medallion, are proof of this. He averaged a career-high 18.4 possessions and marks 5.2. While his hitouts declined as the year went on, that's less of the 'Luke Jackson' effect.
From his 22 games last year, Gawn delivered fifteen AFLFantasy/DreamTeam tons, five of them over 120 and four over 130. To go with his scoring frequency of tons is one of the best scoring basements in the game, all year, he had just three matches that he failed to go 90 or higher. By the end of the year, he was the clear ruck top ruck by average and total points. And while he wasn't as dominant in this format as prior seasons, he ended the season ranked twelfth for overall points and sixteenth by averages. Not a bad season for a guy that many considered a 'good' but 'not great' fantasy season.
Historically big Max has always been a better SuperCoach performer, and he didn't disappoint coaches during the year. He scored 18 tons; that's 81% of games last year he hit the triple figures. Of those tons, eleven were over 120, four higher than 140 and an insane three were 159+. His strong scoring basement was on display in this format too. He had just one score below 90 all year. He ended the year as the best ruckmen by averages and by points, but he ranked fourth for total points fifth for averages, including all positions.
In his 2020 AFLFantasy/DreamTeam season, he averaged 98.9 (123 adjusted) for the season. It included 7 tons, 2 of which were over 120 and an additional five scores between 80 and 99. Due to the shorter quarters, scores of 80 were considered an equivalent 100 of previous seasons. Meaning 12 of his 14 games met that scoring threshold.
Last season in that format, he averaged a career-high of 139.9. To put that in perspective, hall of fame SuperCoach players Dane Swan and Scott Pendlebury has never averaged over 130; Tom Rockliff's revered 2014 was an average of 131. Only Gary Ablett has a higher historical SuperCoach average than him. 2020 consisted of 12 tons, 11 of them over 120, 7 over in 150 and his lowest score of the year was 87. He ranked first across the league by average and is ranked 17 points per game ahead of Jack Steele, ranked third. Despite missing three games, he still ranked 9th for overall SuperCoach points.
To go with this high scoring basement and the nearly unmatched ceiling in the rucks is historical durability. Even though he missed three games this season with a PCL, he's missed just four games over the last four seasons. Given what we'll need to pay to get him, you want some security that he'll play. Based on his recent history, you can have confidence in his availability.
Since 2015/2016, Max Gawn has been a staple of our fantasy sides, and some may look for some reasons to discount considering him (which we'll address). But one thing is for sure; you'd sleep easier at night having him in your side at some stage during the year. So even if you choose to have him as an upgrade target, it'd take a brave (maybe even crazy) coach to rule out Gawn in 2022 altogether.
MY TAKE
The familiar story I hear in the preseason I hear surrounding Max Gawn is that he'll regress on the back of Luke Jackson, picking up more centre bounce moments as he continues his strong progression. While that might be the case, I am baffled to see some suggestions that means Gawn falls so far back to the pack that he's not a supreme option.
Both statistically snd practically, the trend is already happening that Jackson will keep picking up more ruck minutes. But I do not believe it will be as significant as some have suggested. I've seen some suggest a 50/50 split or worse, Jackson takes the lead ruck role, and Gawn transitions more as the second. in two seasons times; that's perhaps the case, but not now. Gawn is the best ruckman in the league. He has four consecutive All Australian honours, including the reigning skipper as proof.
I don't doubt that Jackson will continue his emergence. But the split trend will only move from a 75/25 split to a maximum 65/35 if both parties are fit. This split percentage was on show during the Demons successful finals run.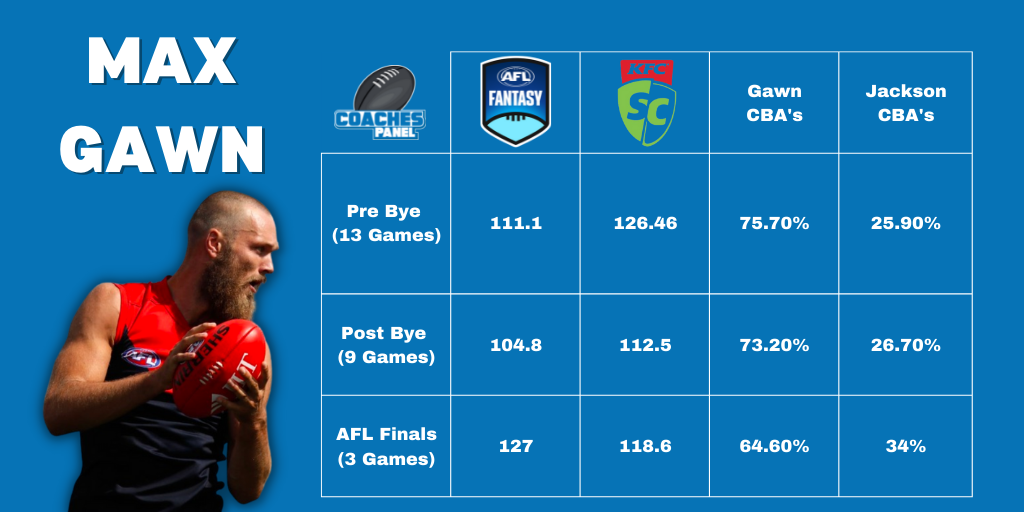 One new factor to consider is that with multiple midseason DPP's now happening in all formats, we might see significant changes to the trading game. Historically, we've had AFLFantasy and champion data both go on record to say that when a player has 35% in a secondary role, that's enough to consider the DPP addition. Especially if that position happens when a centre bounce is underway right now, it might look a longshot. Still, if the Jackson percentage does push up to the AFL Finals levels or higher, then it's a possibility.
I believe the ruck division is the most simple of all the lines to choose from. It's a premium ruck, in my opinion, that's one of Gawn or Grundy. You'll learn later through the 50 who I think is the right choice, but I think a one premium ruck set-up is the right play across formats. I cannot endorse a 'set & forget' ruck structure this year. Historically, the only reason for doing that is that the best rucks are so far, and you lock them in above the others.
This isn't the case in 2022. We've already looked at viable candidates that could push the top two through this 50 most relevant series like Sean Darcy & even a Reilly O'Brien. This, combined with the fact we've got some crazy value R2 & R3 options. It makes the decision clear as day for me.
It's here we need to split the formats into two distinct conversations. For SuperCoach, it's different. There, his best is just as good as anyone in the competition and last year only further enhanced that. He can be a starting squad consideration. His midfield beats of Clayton Oliver & Christian Petracca allow him to have the rare combination of hitouts to advantage, contested possessions and score involvements. I won't start with Max, but I will undoubtedly target him as my second premium ruck option as a midseason trade target.
While AFLFantasy/DreamTeam, I still view him as a great option, but the decrease in scoring ceiling is a concern. Last year he had rive scores over 120. However, the combination of fewer hitouts for all rucks competition wide due to a stoppage decreases designed by the AFL's' stand' rule and the arrival of Luke Jackson has cut his top-end of scores off. That's why he's an upgrade target in these formats and not a starter.
DRAFT DECISION
If you hope to own Max Gawn this season in drafts, you'd previously need one of the first picks in the draft. However, depending on the format you play, he could go the latest he has on draft day in the past few seasons. In SuperCoach, he's still going to get picked in the early to middle range of the first round. While in AFLFantasy scoring, his range could be from the late first into the mid-second round.
JOIN THE CONVERSATION
Do you believe he is fantasy relevant?
Will you be starting with him?
Have your say at our Facebook, Twitter or Instagram.
WANT EARLY ACCESS?
Want access 24 hours early to the 50 Most Relevant podcasts? Join our Patreon and get ahead of the Crowd