Every season people lament missing out on owning Clayton Oliver. They promise themselves that the next season will be different, and they'll start with him. Then, the year happens, and they never get to own him, continuing the cycle. Is this the year you break the cycle and get on Clarry?
PLAYER PROFILE
Name: Clayton Oliver
Age: 24
Club: Melbourne
Position: Midfield
2021 Highest Score:
155 Vs Adelaide (AFLFantasy)
204 Vs Adelaide (SuperCoach)
Career Highest Score:
161 Vs Gold Coast | AFLFantasy (2019)
205 Vs Adelaide| SuperCoach (202)
2021 Average:
108.6 (AFLFantasy)
123.4 (SuperCoach)
SuperCoach Price: $672,000
AFLFantasy Price: $912,000
AFLDreamTeam Price: $926,700
Embed from Getty Images
WHY IS HE RELEVANT?
What another stunning season from Clayton Oliver he dominated in every possible way in 2021! He ranked first for contested possessions by game averages, second for stoppage clearances, sixth for disposals, ninth for score involvements, and tenth for effective disposals. No wonder he delivered such a premium performance in 2021.
Last year Clarry was yet again one of the best premium midfielders in AFLFantasy/DreamTeam he was ranked eleventh for total points and his average of 108.3 has him ranked fifteenth in the format. This season consisted of fifteen scores of 100+, eight of these were over 120 which only further dismisses the myth that he's only SuperCoach relevant. In fact, when he does hit the ton, his average score is 119. And he had one monster against the Crows a 155. To go with this high frequency of tons is a low scoring deviation. He had just five games all season where he didn't score over 90, and he had just one score beneath 80.
His season was even stronger in SuperCoach, from his twenty-two games he scored seventeen tons, eleven of these were over 120 while a monster five were 140+ including scoring his second score over 200 in twelve months, both against the Adelaide Crows. It's in this format he certainly excels, and from his seventeen games, he did ton-up his average score was 133, that's well beyond the levels needed to view him as a safe VC/C in most matchups.
His average of 123.4 is the fourth highest in the game with only Touk Miller, Jack Steele and Jack Macrae higher than him. He's also ranked third for total points and is just ranked 3rd for total points. Visually his year looked like this across AFLFantasy/DreamTeam and SuperCoach.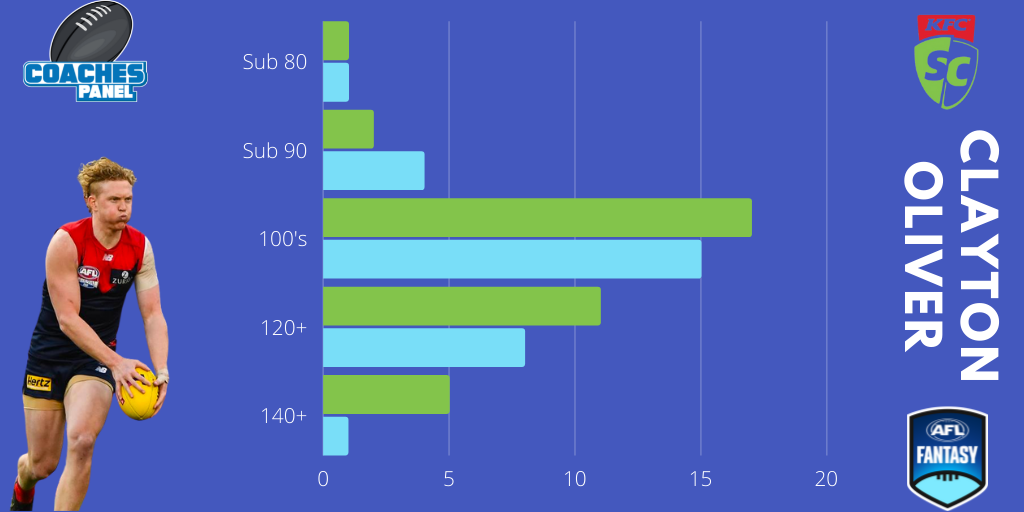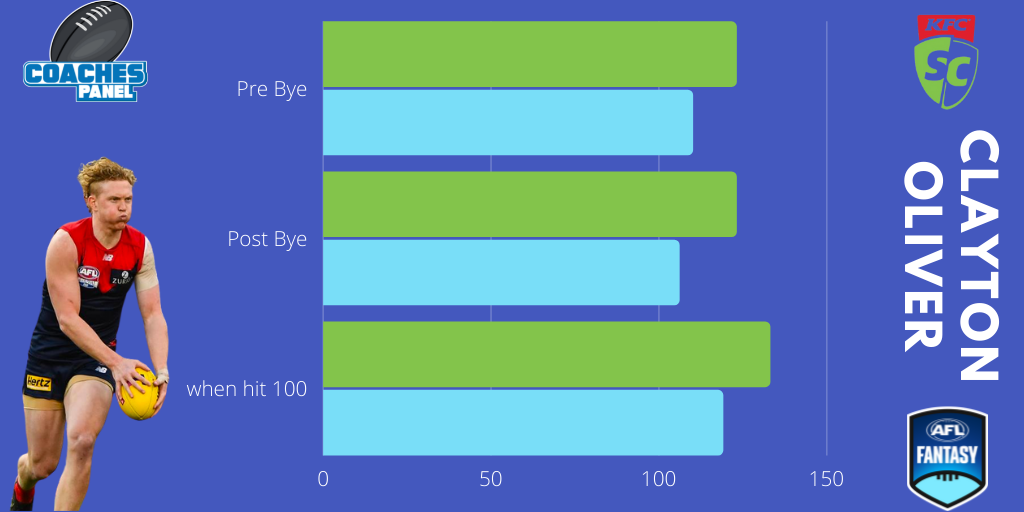 Not that it matters, but in the AFL finals series, he scored 102, 108 & 138 in AFLFantasy/DreamTeam, while in SuperCoach, he belted out a 165. 129 and 139. These 2021 scores and stats echo what he did in 2020 when he elevated his game to the next tier.
By the end of the 2020 season, he ranked first in the AFL for clearances, stoppage clearances and contested possessions per game. Added to this, he ranked 5th per game for centre clearances, 9th for disposals and effective disposals per game.
From an AFLFantasy/DreamTeam perspective, he ended the year with an average of 91.7 or an adjusted average of 114. His season consisted of 5 tons; 2 of them were over 120, plus an additional eight scores between 80-99. Last year, he had just one score under 74 all year. 'Clarry' ranked 2nd for total points and was just 107 points of overall leader Lachie Neale. He also ranked 6th for averages.
For SuperCoach, he averaged a career high122 from his 17 games. It consisted of 15 tons, eight over 120 and an insane two over 170, including 205 against the Crows. He ranked 3rd for total points, 4th for averages with Only Lachie Neale and Jack Steele of midfielder with a stronger average.
Over the past five seasons, he has 100% durability and incredible conversion of games to hundreds. He's one of the most dependable and durable premiums in the game and is a must consider for everyone.
Embed from Getty Images
MY TAKE
What is the perfect combination of traits you want from your premium players? Availability, high scoring ceiling, healthy scoring basement, minimal scoring deviation, and someone you can throw the captaincy on. Over the previous five seasons, Clayton Oliver has shown that he is a tick in every one of those considerations.
As a premium midfielder, you're not paying for value at his price point. Instead, the reason you choose him over others is that you believe that what he delivered last year will be near identical in this upcoming season. What's most exciting for potential owners is that Clayton Oliver developed a ceiling in the previous two seasons. He's always been consistently hitting the triple-figure marker, but he found a new level of ceiling last two seasons. Previously was just a low variable 100-115 performer; he's now regularly scoring captaincy considerations scores. His improvement came as he impacted the goals more, while the conversion of kicks to handball was more favourable.
Across all game formats, I have Clayton Oliver locked in as a top 10 midfielder. The concern about him has always been his ability to handle a tag. For example, Matt De Boer was doing an absolute number on him in round three. Had De Boer not gone down injured, there's a case to be made that Clarry would've struggled to hit a score of 50. It's certainly a question to raise, but I think Oliver is no longer the primary tag target in the Demons midfield. Instead, Christian Petracca is the game-changer; it's him that will more often be the difference-maker in a game, not Oliver.
That's no shade on Clayton, instead highlighting just how destructive CP5 can be. It certainly doesn't mean Oliver will never get a tag; each opposing team may have different views to the next. However, to me, it's pretty evident. With Clayton, it's his destructive ball-winning ability over a game that will cut you up. But with Petracca, it could be five minutes of brilliance from him, and the game is over.
He needs to be right in contention to start across formats – and if you're not starting, you'll probably miss on him. The reason being is because he has elite scoring consistency, which means he'll rarely drop off much. So when you do decide to look for an avenue to bring him in, you're always paying 'up' to get him. Rarely that's an approach that I advocate for. Buy low, sell high is the cornerstone principle of salary cap games.
For those needing one last nudge to pick him, his 2022 season starts against the Bulldogs. He played them three times last year, including the Grand Final, with 115, 126 & 138 in AFLFantasy/DreamTeam. And 139, 144, 139 in SuperCoach. I've got Clarry locked into my SuperCoach side, and he won't be leaving!
DRAFT DECISION
Clayton Oliver is the perfect M1 on your draft side, regardless of the format you play. Having not missed a game in five seasons, that availability is of critical value. I could see him going in the first round in SuperCoach style leagues. More commonly, I see him as a second-round selection in AFLFantasy/DreamTeam scoring leagues.
JOIN THE CONVERSATION
Do you believe he is fantasy relevant?
Will you be starting with him?
Have your say at our Facebook, Twitter or Instagram.
WANT EARLY ACCESS?
Want access 24 hours early to the 50 Most Relevant podcasts? Join our Patreon and get ahead of the Crowd