A midseason role change made Rory Laird one of the most prolific scoring options from defence to close out 2020. The question is, does he maintain his midfield role in a rebuild Crows lineup?
PLAYER PROFILE
Name: Rory Laird
Age: 27
Club: Adelaide Crows
Position: DEF/MID
2020 Highest Score:
139 Vs Collingwood (AFLFantasy)
185 Vs Collingwood (SuperCoach)
Career Highest Score:
142 Vs GWS Giants | AFLFantasy (2017)
185 Vs Collingwood | SuperCoach (2020)
2020 Average:
79.9 (AFLFantasy) | 99.8 (Adjusted Average)
105.1 (SuperCoach)
SuperCoach Price: $564,800
AFLFantasy Price: $763,000
AFLDreamTeam Price: $738,100
Embed from Getty Images
WHY IS HE RELEVANT?
For the past few seasons, Rory Laird has been a staple of our fantasy footy premiums. Ever since 2016 when he brokeout and averaged 96 across the formats he's been one of the most consistent, reliable and durable defensive premiums.
During round 9 Adelaide Crows coach Matthew Nicks decided to move the busy half back into the midfield to provide some energy and clearance winning especially at centre bounces. And if you played fantasy footy last year, you'll know exactly how good his end of season run was.
Across the entire season in SuperCoach he averaged 105. It consisted of 9 tons, 5 of them over 120 including a personal best 185 against Collingwood. Of his 9 tons, 7 of them were after he'd had his role change. To go with this high scoring ceiling was a strong floor. He had only 3 scores below 86 all season and nothing under 72.
Laird ended the season as the third highest SuperCoach points scorer for all defenders and ranked fourth for averages, including Jeremy Howe who played only four games.
For AFLFantasy his seasonal average was 79.9 (99.8 adjusted) and scored 3 tons plus an additional 4 over 80. Don't forget in this format due to the shorter quarters, '80 was considered the 100′ of previous years. In contrast to all defenders, he ranked second for total points and third for averages. inSuperCoach, it does include four gamer, Jeremy Howe. So, in reality, you could move him up one more rank higher.
If you were to split his season scores into pre and post role change this is what it would look like.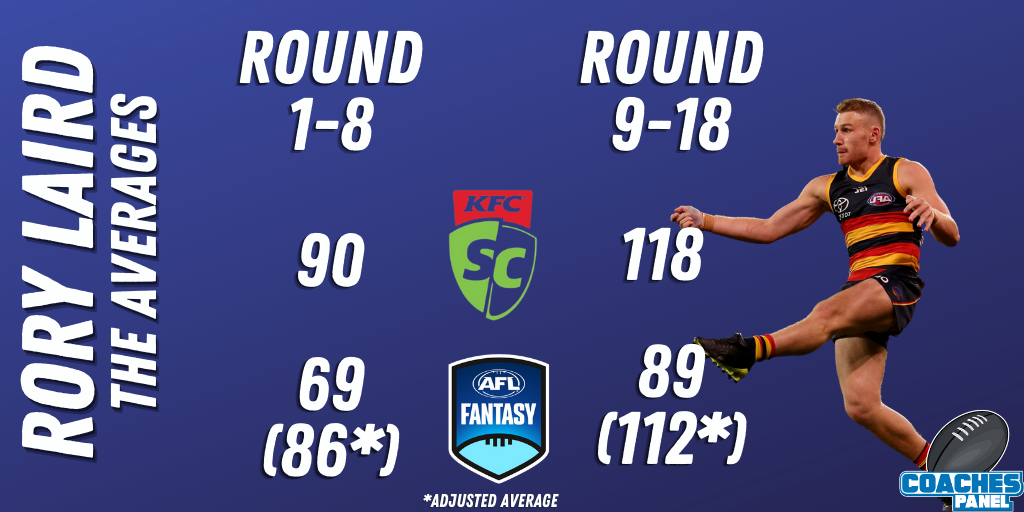 While his positional change made season was the primary contributing factor to his scoring boost, he still was delivering premium numbers off half back in 2019. So even should the midfield time dry up (don't worry we'll talk about that) he's shown that he can still be a top tier defender.
2019 season in AFLFantasy/DreamTeam he posted eight scores of 100 or more, but just the one above 120. Added to these tons were eight scores between 90-99 and only three below 80. With a seasonal average of 97 and the lowest score of 74, it's easy to see why Laird was a popular premium in 2019.
In SuperCoach he averaged just shy of 97 across the year and barely disappointed owners with a terrible score. With a seasonal low of 73 and only two scores under 80, he was a picture of consistency. Laird also showcased some of his strong scoring with eight tons, three of them over 120 and an additional six scores between 90-99.
Rory Laird isn't just a reliable performer with a solid scoring floor and consistent delivery of tons. He's also durable. Since2017 he's missed only two matches in four years. With a history like this on your side, you'd feel confident and comfortable starting 'midfield Laird' in your side.
Embed from Getty Images
MY TAKE
You can build a fairly conniving argument for either narrative about the role Rory Laird plays in the Crows side in 2021. While both are valid, neither are actually about him. What it's really about is how does Matthew Nicks want to play and structure up his side.
Does he (Nicks) expose the Crows midfield unit entirely to the rebuild and give large minutes to Chayce Jones, New McHenry, Harry Schoenberg, Luke Pedlar, Wayne Milera and Sam Berry?
Similarly across half-back are youngsters Lachie Sholl, Andy McPherson and Will Hamill given the majority of the time favouring Rory Laird and Brodie Smith?
History would suggest a more rounded approach is the best development approach rather than an 'all in' approach on youth. Just look at Carlton, they struggled under Brendon Bolton, who only played the kids in the developing midfield. With a more balanced approach under David Teague, they find themselves being competitive, more rounded, and with the view that finals are finally attainable.
That's why for me I believe Laird will still spend plenty of time through the midfield. Last year, he was a dynamic on the inside and busy ball winner who could also apply high defensive pressure and use his speed to impact the outside. Even with the need to get more midfield time into the kids, he's still needed for the side's greater good.
With the shortening of the interchanges and the expansion back to full quarters, we'll still see Rory rotate off the halfback, but he'll be far from an exclusive option back there.
At best he's one of only 2 other defenders capable of matching or beating Jake Lloyd in terms of ceiling and consistency. While at worst he's a low 88-95 averaging defender who will play off half-back but still be a top 10 overall defensive performer.
If you can handle the potential downside of that and don't want risk waiting on him as an upgrade then you've probably got your answer about if you should start with him or not.
Lastly, he does share the dreaded round 14 bye along with Collingwood, Sydney, Melbourne, St Kilda and Fremantle. As discussed on several podcasts, be cautious about how heavy you are in the round. Otherwise, you could find yourself in a world of pain for this week.
DRAFT DECISION
Given his strong run home across last season, Rory Laird will shoot up draft boards. Add onto this the desire for coaches to secure a top tier defender and forward early; we'll see him get picked inside the first 20 overall picks.
He's clearly a D1 and depending on how the draft is evolving he'll be gone somewhere been a late first or early second round pick.
Is he worth that pick? Ultimate time will tell, but if you want him that's what it'll cost you to snag him.
JOIN THE CONVERSATION
Do you believe he is fantasy relevant?
Will you be starting with him?
Have your say at our Facebook, Twitter or Instagram.
WANT EARLY ACCESS?
Want access 24 hours early to the 50 Most Relevant podcasts? Join our Patreon and get ahead of the Crowd!
Become a Patron!