Reilly O'Brien was a shining light in a dark and disappointing 2020 for the Adelaide Football Club. As the Crows look to bound up the ladder can ROB do the unthinkable and take a top two ruck spot?
PLAYER PROFILE
Name: Reilly O'Brien
Age: 25
Club: Adelaide Crows
Position: Ruck
2020 Highest Score:
115 Vs West Coast (AFLFantasy)
161 Vs Port Adelaide (SuperCoach)
Career Highest Score:
146 Vs Richmond | AFLFantasy (2019)
181 Vs Richmond | SuperCoach (2019)
2020 Average:
86.7 (AFLFantasy) | 108.3 (Adjusted Average)
106.2 (SuperCoach)
SuperCoach Price: $570,800
AFLFantasy Price: $828,000
AFLDreamTeam Price: $801,200
Embed from Getty Images
WHY IS HE RELEVANT?
2020 was a dark season for the Adelaide Crows. Thankfully they did have one big bright shining light. That being the breakout season of eventual club best & fairest winner Reilly O'Brien.
ROB averaged almost 14 possessions per game, 27 hitouts, 4 marks, 4 tackles 3 score involvements and 2 inside 50's a game. Across the AFL he ranked 5th for total hitouts and 5th for contested marks, where he took more than Tom Hawkins, Richmond's Tom Lynch or fellow ruck Max Gawn.
From an AFLFantasy perspective, he averaged 86.7 Avg (108 adjusted average) and scored 6 tons and 5 additional scores 80+. Due to the shorter quarters, AFLFantasy coaches treated scores of 80 as 100's in 2020. Last year his lowest score was 61, while that sounds poor it's a 'higher' low score than Brodie Grundy who delivered a 53 in round 6 against the Hawks.
In this format of the game, he ranked 10th for total points scored and 17th for average. Last year in these categories he outperformed fantasy stars in Tom Mitchell, Lachie Whitfield and last-years breakout beast Christian Petracca.
In SuperCoach he ranked as the 20th best performer across the competition for averages and total points. He averaged 106 across the year; it included 9 tons, 4 of which were over 120 and he dipped his scoring below 82 in just one match all year.
With the shorter quarters, it's no surprise his possessions, and hitout counts dipped. That's common across most rucks in 2020. However, he increased his marks per game and held his tackle count at averaging 4 per game.
His breakout was evident as the 2019 season went on. That year in AFLFantasy he averaged 95.5, scored 8 tons, four of which were over 120. And in his final 9 games of the season, he scored 90 or higher in 8 games. In SuperCoach that year he averaged 95.2, delivered as a popular R3 option with 6 tons and 4 of them he went over 120 including a career high 181 against Richmond.
ROB is clearly building and growing into his game, and at 25 years old he's hitting the prime of his career. For rucks, it can take well into the mid '20s before they hit prime performances. Look at Max Gawn it was his 2016 when at 25 years old he hit his peak. That season he averaged 106 in AFLFantasy/Dreamteam and 118 in SuperCoach. Those keen on starting O'Brien will be hoping for a similarly dominant season.

Embed from Getty Images
MY TAKE
One of, if not the greatest assets of Reilly O'Brien's game his athleticism and endurance. With the AFL confirming a return back to full length games, players who can outwork opposition with high work rate should find themselves with a scoring benefit.
The arrival of high draft pick Riley Tilthorpe won't rob (pardon the pun) O'Brien of many ruck minutes at all. The Crows are desperate for a long term tall target and will be keen to maximise as many forward minutes as possible for him. If anything, it'll be for 3-4 minute stints at best Tilthorpe is rucking. After all, the longer a game goes on, the more the endurance skills or ROB shine brightest.
O'Brien is the only ruck that can challenge Max Gawn and Brodie Grundy for the top two mantles across formats. Why? Not just because of his obvious scoring capacity, but because he has the least 'internal' challenges or challengers to overcome.
At Melbourne, they are desperate to keep developing Luke Jackson. While training multiple times a week with Max Gawn is a great headstart, the club will still want to increase his time through the middle as a ruckman.
Brodie Grundy had both Darcy Cameron and Mason Cox in 2020 play together upfront as the Pies looked to create a tall forward target. At the same time, his scoring dried up. Now is that causation or correlation? Ultimately you are the judge. But if all three play together that's not going to help anyone's scoring.
Todd Goldstein is nearing the end and won't get near them. West Coast constantly manages the workload and time on the ground of Nic Naitanui. And St Kilda is still using both Paddy Ryder and Rowan Marshall in the rucks. In short, if we are to see a title change in the rucks, I believe O'Brien is the only possible option.
If you contrast his last 6 games against Brodie Grundy it's clear to see that he's not that far away from the top tier of rucks already.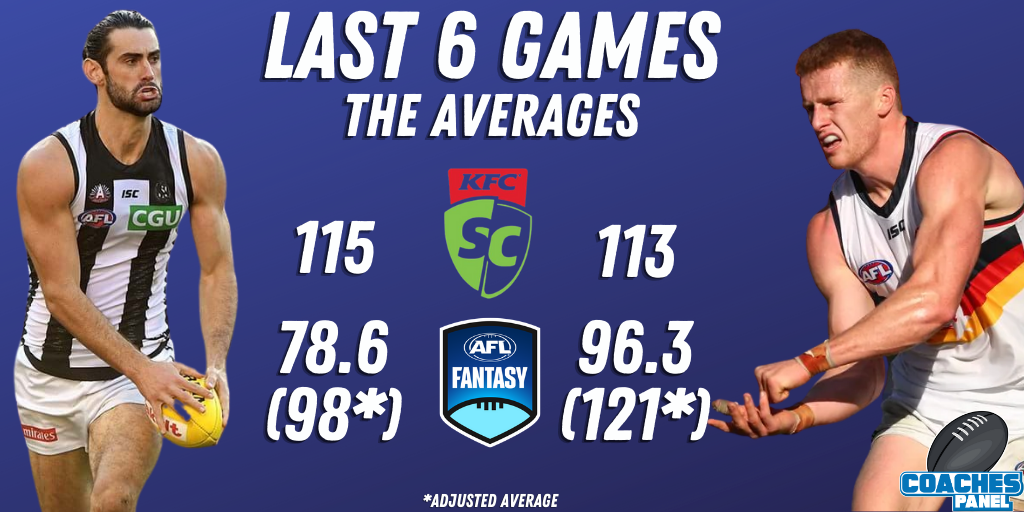 In AFLFantasy Reilly O'Brien is $40,000 cheaper than Grundy, almost $80k less in DreamTeam and is priced about $60,000 below Brodie. If you believe the gap between the two is low or non-existent, cash saved could be of huge value.
You must either start with ROB or ignore him all season, injuries pending of course. This is for two key reasons. Firstly, his early fixture. Between rounds 1-8, he has the best matchups possible. He plays the Cats, Swans, Suns, Roos, Dockers, Hawks, Giants & Port Adelaide. Not a bad start to the season. Especially the opening two rounds, neither side has a clear first ruck option.
However, beyond that, it gets difficult in rounds 9-13. Eagles (NicNat), Dees Gawn), Tigers (Nankervis), Pies (Grundy) & Saints (Marshall/Ryder.) It's the toughest ruck draw you could ask for leading into his goodbye round outside of Richmond.
Speaking of which, he shares the bye week with Brodie Grundy, Max Gawn and Rowan Marshall. So he won't fix your bye structure issues at all. If anything it now forces you to back in the decision of where you believe he'll finish ranked among the top rucks.
How confident are you he gets near, or surpasses them in either format? If the answer is a clear 'no', then he's not for you. If it's a 'maybe' or a 'yes', then ROB deserves some serious preseason consideration at the very least.
DRAFT DECISION
Our friends The Draft Doctors have created the mock draft simulator. There rucks, forwards and defenders in the top tier are going early. As such, if you wish to own Reilly O'Brien, it'll cost you an early pick. In AFLFantasy formats, it's likely to be either the second or third round he goes. While for SuperCoach, the range is a little wider. I can see him going anywhere from the second, right through to the fourth.
JOIN THE CONVERSATION
Do you believe he is fantasy relevant?
Will you be starting with him?
Have your say at our Facebook, Twitter or Instagram.
WANT EARLY ACCESS?
Want access 24 hours early to the 50 Most Relevant podcasts? Join our Patreon and get ahead of the Crowd!
Become a Patron!