Since 2016 Zach Merrett has been a fantasy footy favourite among the community. After another strong season last year, can he elevate his game even further under a new coach?
PLAYER PROFILE
Name: Zach Merrett
Age: 25
Club: Essendon Bombers
Position: Midfield
2020 Highest Score:
138 Vs Adelaide (AFLFantasy)
159 Vs Sydney (SuperCoach)
Career Highest Score:
152 Vs Richmond | AFLFantasy (2016)
159 Vs Sydney | SuperCoach (2020)
2020 Average:
92.5 (AFLFantasy) | 115.62 (Adjusted Average)
115.5 (SuperCoach)
SuperCoach Price: $620,900
AFLFantasy Price: $884,000
AFLDreamTeam Price: $854,700
Embed from Getty Images
WHY IS HE RELEVANT?
Every year there are not many certain things in football. OK, there are a few. Sam McClure bringing up the Crows 2018 preseason camp, Richmond winning the Grand Final, Will Gould being in our preseason sides & Zach Merrett averaging 100+ in all formats of fantasy footy
In 2020 he yet again was one of the most influential and consistent players across the AFL. Last year based on per-game averages, he ranked second for uncontested possessions and effective disposals. Third for inside '50s, fourth for disposals and seventh for meters gained.

From his 16 games in AFLFantasy/DreamTeam, he scored 7 tons, 3 of them over 120 including a 138 against the Crows. Remember, that's with shorter quarters. He also had an additional 3 scores 80+. He ended the year averaging 92 (or adjusted 115).
He ranked 8th for total points concerning all other players, not bad for a guy who missed a game through suspension. Amongst midfielders, he ranked 4th by averages, but honestly, that stat line is misleading. One of those players is Luke Dunstan, who played one game. Another is Lachue Hunter who played half the season. In reality, it's Lachie Neale that was the only midfielder to average more than him.
2020 was a career best average for Zach Merrett; he ended the year averaging 115. It consisted of 11 tons, 7 of which were over 120 and all year his scoring dipped beneath 87 in other two matches. He ranked 16th for total points and ended the year with the 7th highest average among all midfielders.
Looking deeper at the season in greater analysis, you can see that as the season got better, so too did his scoring. In the opening 8 matches, he averaged 87.5 (109) in AFLFantasy and 106.6 for SuperCoach.
However, in the final 8 matches for AFLFantasy he averaged 101.1 (126 adjusted average) and a monster 124.5 for SuperCoach. That's a differential of 17 (adjusted) points per game in AFLFantasy and 18 in SuperCoach.
The year prior in 2019 for AFLFantasy/DreamTeam he posted fifteen scores of 100 or more, with seven of those tons being over 120 and finished the season averaging 108.
From rounds 4-15, he had an11 game stretch where his lowest score was 99. Only two scores below 92 all year, both in the 50's.Hee spent a quarter off the ground with a concussion test again the Swans. The other was the dreaded Matt de Boer tag.
In SuperCoach he finished the year with a seasonal average of 106. The season consisted of fourteen scores of 100 or more, seven of them were over 120, and only twice last season his scoring dipped below 80.
Since his breakout year of 2016, he's been a constant 100+ averaging player. In AFLFantasy he's averaged 117, 117, 101, 108 and 115 (adjusted average). For SuperCoach it's 111, 109, 100, 105 & 115 From a visual perspective it looks like this.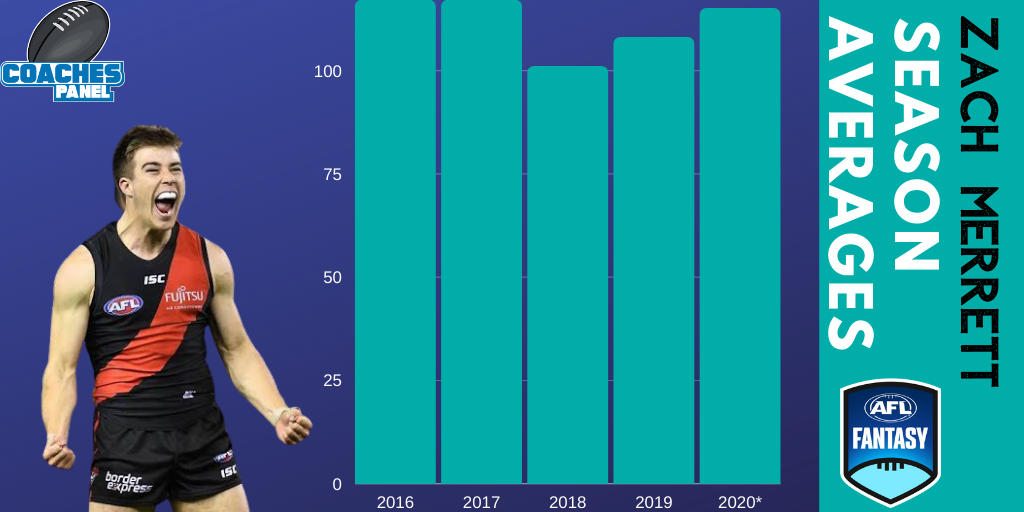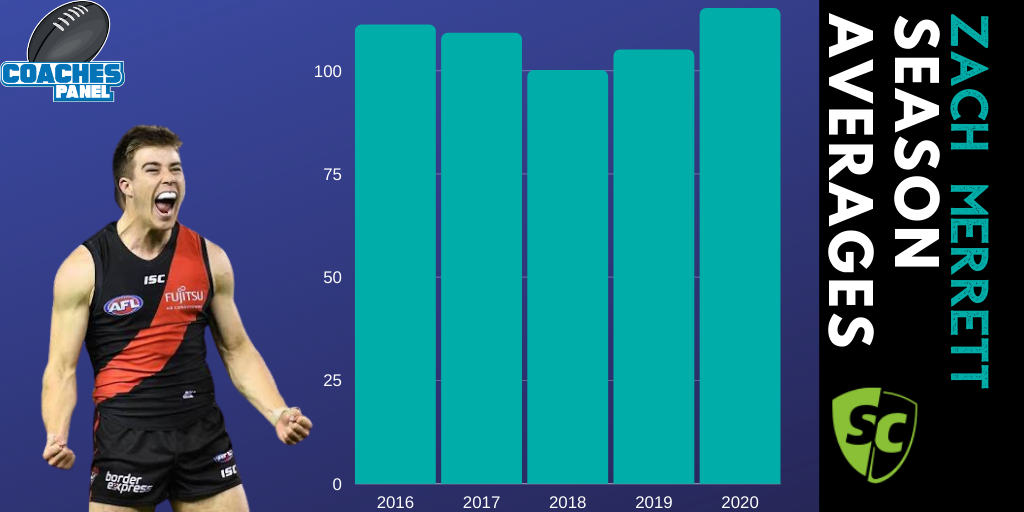 Furthermore to this consistency of scoring he's missed just two matches over the past five seasons. However, these are not injury impacted games. Rather both are suspensions. So in reality, he's much more like Jack Crisp who has a near faultless availability and durability.
Embed from Getty Images
MY TAKE
What makes Zach Merrett such a good fantasy performer? Simple, his diverse range of scoring avenues. He can win the ball on the inside and use his elite endurance to get into space outside. Equally, he applies strong defensive pressure without the ball.
A career best season in SuperCoach last year (avg 115) is nothing to sneeze at, and while he's shown he's a relevant midfielder I still believe his preferred format is AFLFantasy and DreamTeam. Why? Because in this format against most opposition he's a genuine vice-captain/captaincy option most matchups. This is something I don't believe rings as true in SuperCoach.
2020 was a difficult year for many, including Zach. He channelled the disappointment of being left out of the Bombers leadership group into some incredible on field performances. He now finds himself back as a recognised leader at the club.
Additionally, he's into a contract year. Historically, we've some of our big name players deliver in these moments. Think Dustin Martin's 2017 season or Tim Kelly's 2019 performances.

What can we expect from Zach and Essendon in 2021? According to the club's captain Dyson Heppell it's 'business as usual' and that 'nothing is changing' about the Dons game style. That's positive news for potential Merrett owners.

In SuperCoach, I believe that he's a strong option, but at his price, I think it's hard to start him over a Patrick Cripps or Nat Fyfe who are legacy captaincy options and cheaper. For AFLFantasy, he's a genuine captaincy option most weeks, and currently, just 6% of coaches are on him. Personally, I'm starting him in DreamTeam, and it'll only be an injury that will prevent me from picking him.
DRAFT DECISION
Every format requires a different tiering of players and a different strategy. If drafting in AFLFantasy scoring format, Zach Merrett is a genuine M1 and will likely be gone in either the second or third rounds.
Those who draft in SuperCoach I have him pencilled in as an M2 and will be likely leaving draft boards somewhere between round 3-6. Why such a large range? Simple, it all depends on how heavy coaches go to secure top tier forwards and backs early.
JOIN THE CONVERSATION
Do you believe he is fantasy relevant?
Will you be starting with him?
Have your say at our Facebook, Twitter or Instagram.
WANT EARLY ACCESS?
Want access 24 hours early to the 50 Most Relevant podcasts? Join our Patreon and get ahead of the Crowd!
Become a Patron!