Injuries have been cruel to Essendon captain Dyson Heppell. If he can get himself fit, he's arguably the bargain basement pick of the 2021 season.
PLAYER PROFILE
Name: Dyson Heppell
Age: 28
Club: Essendon Bombers
Position: Midfield
2020 Highest Score:
52 Vs Sydney (AFLFantasy)
89 Vs Sydney (SuperCoach)
Career Highest Score:
156 Vs Hawthorn | AFLFantasy (2017)
153 Vs Carlton | SuperCoach (2019)
2020 Average:
41.3 (AFLFantasy) | 51 (Adjusted Average)
66 (SuperCoach)
SuperCoach Price: $319,100
AFLFantasy Price: $566,000
AFLDreamTeam Price: $343,500
Embed from Getty Images
WHY IS HE RELEVANT?
The 2020 season went pear shaped for Dyson Heppell. After returning from the COVID break, he managed his first game before a fractured ankle limited his output again for the coming months. Even though he forced his way back to play round 15 and 16, he clearly lacked match fitness and barely impacted the game.
Some of these scores from 2020 are far from strong. OK, they are poor by his standards But remember, we are not paying for him to be a premium, not even close. We are paying for him to be a quick stepping stone to a fallen premium.
For a decade Dyson Heppell has been someone we've discussed amongst fantasy circles, both as a cash cow and a premium performer. It all started in 2011 when he played all 22 games in his debut season an averaged 84 in all formats.
Between 2014-2019 his lowest seasonal average in SuperCoach is 94.7 and 93.8 in AFLFantasy. From a visual perspective here's what it looks like.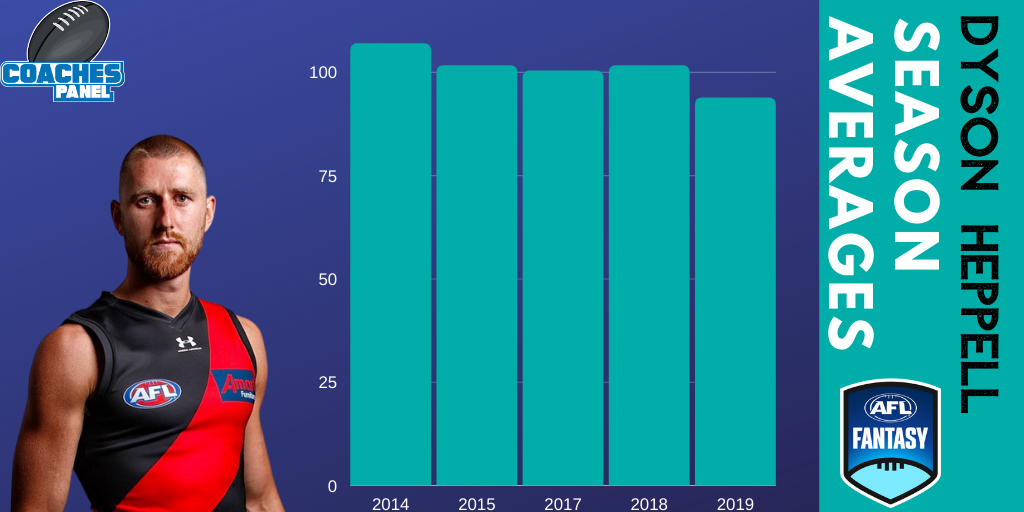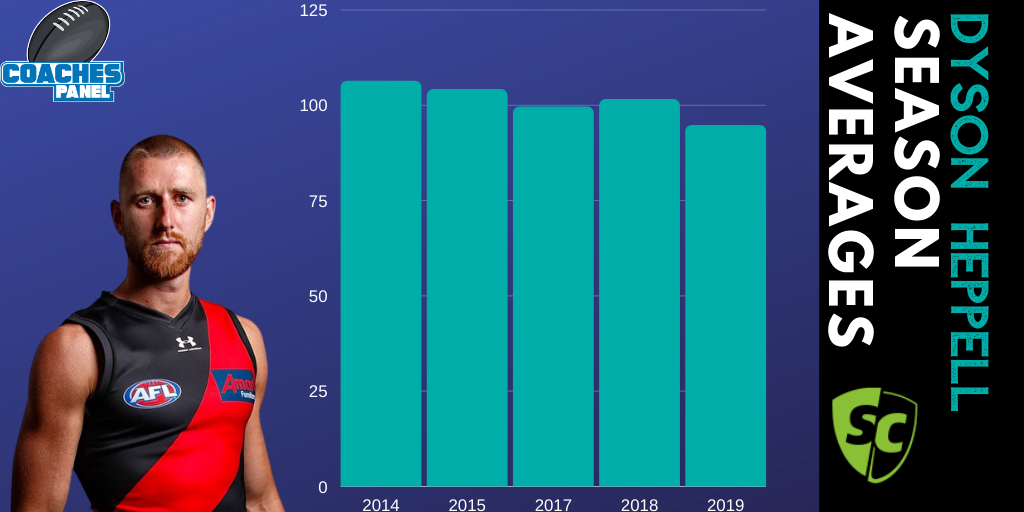 If fit, and you want a stepping stone then Dyson is someone you need to consider. He's a proven performer, he's clearly inside his teams best 22 (the captaincy will do that to you), and he's got a history even as recent as 2019 of being someone who can return than good scores.
In 2019 he averaged 95 in SuperCoach, posted 5 tons including a 153 and a 125. Additionally, he had 7 scores 80+. While for AFLFantasy he averaged 94, scored 5 tons, all 107 or above and only dipped his scoring below 94 all year. If he can return scores anywhere near that, he'd be the best pick of the season.
Embed from Getty Images
MY TAKE
The scoring history of Dyson Heppell is evident. And if fit, he's clearly one of the prime stepping stone options in our starting squad. The hesitation among the community isn't linked to this. Rather the concerns are linked to a growing concern around his durability.
Since June 27th, 2019 he's played just five AFL games. That's 581 days since his troublesome foot injury first started to cost him games. How's he tracking in the preseason?
Bombers head of strength and conditioning Sean Murphy told essendonfc.com.au. "He's starting to build in with the main group in terms of their skill program, and now it'll be a balance between the right amount of conditioning and the football drills. We'll build his program over the next five to six weeks and have him ready to play good football when he returns."
That's not horrible, but it's certainly not great either. Based on these timelines he's not just touch and go for the AAMI Community series, but also round 1. What does he need to do to stay in serious contention for our sides? Simple! Avoid any setbacks. Even a minor one and he needs to be disregarded. But if he can continue to build over the next few weeks, he's still a viable option.
In AFLFantasy the question many coaches are facing is 'how many of these $500,000-$600,000 players can we start with. In this price range along with Heppell is Ben Cunnington ($503k) Rory Sloane ($580k), Matt Rowell ($574k) and Joel Selwood ($596k). How many of these can we own in our starting squad?
Ultimately, it's about your overall squad structure rather than just the contrasting of midfielders, but it's certainly an area where we have plenty of options.
In SuperCoach if fit, and you are in the market for a stepping stone he's hard to pass on. Let's put it another way. For less than $10,000, would you choose a Jackson Hately who has potential, but not much beyond that? Or do you pick Heppell who has 6 years of 90 averages between 2013-2019?
Similarly in DreamTeam, he's $140k cheaper that Hately. Additionally he's only $100,000 more expensive than popular rookie pick Will Phillips.
The choice comes down to these two things. Firstly, is he fit and will be playing? If yes, he's past the first prerequisite required. Second, how many cash cows do we have? This will ultimately determine how much we can pursue a guns and rookies approach.
DRAFT DECISION
If you can land Dyson Heppell with one of your last few selections in the draft, then he's a no-risk option. On draft day your final few draft picks are just speculative reaches that more often than not find themselves thrown back into the pool in a few weeks.
Even with injury concerns snagging Heppell as a bench cover pick up is as solid an insurance policy as you can hope for.
JOIN THE CONVERSATION
Do you believe he is fantasy relevant?
Will you be starting with him?
Have your say at our Facebook, Twitter or Instagram.
WANT EARLY ACCESS?
Want access 24 hours early to the 50 Most Relevant podcasts? Join our Patreon and get ahead of the Crowd!
Become a Patron!