2020 was a year to forget for the Adelaide footy club. For their skipper Rory Sloane he spent the majority of the season recovering from injury. Now back to full health, can he return to being a midfield premium?
PLAYER PROFILE
Name: Rory Sloane
Age: 30
Club: Adelaide Crows
Position: Midfield
2020 Highest Score:
78 Vs GWS Giants (AFLFantasy)
123 Vs Sydney (SuperCoach)
Career Highest Score:
160 Vs Brisbane | AFLFantasy (2014)
180 Vs North Melbourne | SuperCoach (2013)
2020 Average:
60.7 (AFLFantasy) | 75.8 (Adjusted Average)
87.8 (SuperCoach)
SuperCoach Price: $471,900
AFLFantasy Price: $580,000
AFLDreamTeam Price: $560,900
Embed from Getty Images
WHY IS HE RELEVANT?
2020 was a tough year to battle through for Rory Sloane and the Adelaide Football club? Just how difficult? Ultimately, fans will get to see the inner working's of the year given Rory was one of several players involved in the new Amazon Prime documentary series Marking Their Mark.
Multiple injuries frustrated him and caused him to be nowhere near his best both as a player and for his fantasy footy scoring. His run of poor luck came in the round 2 showdown where a corky to his right quad saw him miss the last third of the game. Two games later against Brisbane he injured his ankle and battled through the next two games before fracturing his hand against West Coast.
Between round 1-6, he had just two scores above 70 in AFLFantasy, while for SuperCoach he delivered a 123 plus a 93 and 94. After overcoming injury, he played the final six games of the season. In AFLFantasy during this game stretch, he averaged 64.5 (adjusted 80) and 84 in SuperCoach.
These low scores plus him missing a third of the season is why he's priced so low. What prospective owners will be hoping is that Sloane can return to previous seasons. In a return to his 2019 would see him bring an increase of 15 points per game in SuperCoach and 23 in AFLFantasy.
In 2019 he averaged 103 in SuperCoach scoring 14 tons, with 6 of them over 120 while in AFLFantasy he averaged 99 and scored 13 tons with 4 of those being over 120. More specifically it's the way the season started fantasy players will be hoping he replicates. Between round 1-10, he averaged 115 in SuperCoach and 112 in AFLFantasy.
If Sloane can replicate scoring anywhere near, he'll provide coaches with a high value scoring return. But he'll also provide coaches with a genuine keeper for the season.
Embed from Getty Images
MY TAKE
Over the past few seasons, the injury concerns are starting to emerge for Rory Sloane. Last year, the fractured hand was reminiscent of an ankle injury that ruled him out of 10 games back in 2019. While anyone that's missed the number of games we need to be cautious of, coaches can still hold relative confidence in his body. Both are contact related injuries and are unrelated to each other.
What might also be concerning for possible players is that with Adelaide in a full rebuild is around whether Sloane retains that core midfield. The Crows need to get midfield minutes into Luke Pedlar, Chayce Jones, Ned McHenry, Jackson Hately and Harry Schoenberg. But I don't believe it'll be at the cost of Sloane. Rather Sloane leading and modelling through the midfield is one of the best this young inside midfield Crows can learn.
At times, Rory has been the target of a tag over his career, but I believe that he's no longer the primary concern that he was 24-36 months ago for the opposition. Rather it's Matt Crouch who's the most likely midfielder for Adelaide to get that style of attention.
When selecting these value players you need to to come out of the gate scoring well. Thankfully for Sloane, his recent history against his opening few opponents is fire.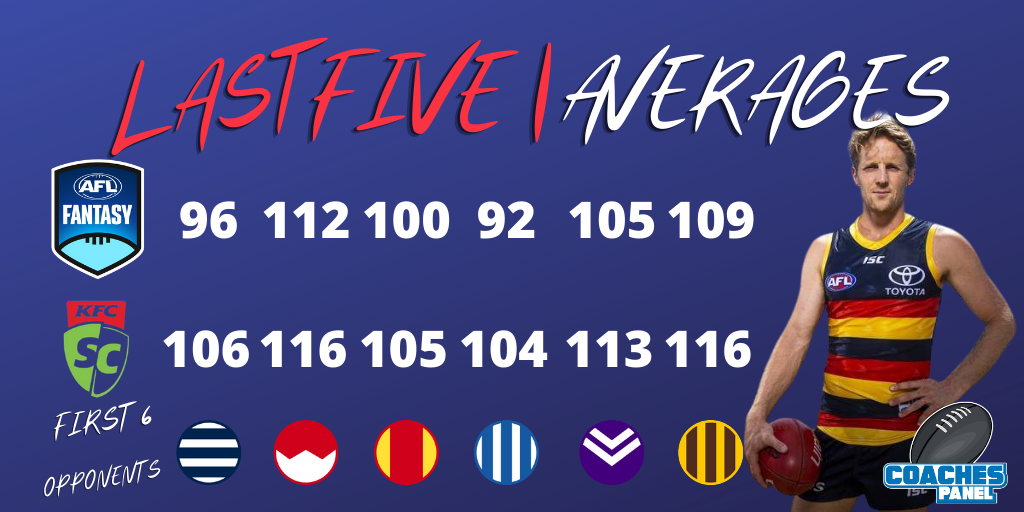 The beauty of a Sloane at his price range is that almost regadless of how his year goes he provides you with options. Firstly, if things go pear shaped and he fails to score well. At his price he's an easy sideways move to the breakout player who is.
Second, after 6 weeks of solid scoring, move him to a bottomed-out premium. Third, run him up to his round 14 bye and then pivot to a strong premium that's already had a rest. Finally, keep him as an M8/M9 for the year because his scoring is compatible with any trade targets.
Which is the right play? Ultimately his performance over the season will inform which decision you should make.
DRAFT DECISION
Recency bias exists in the fantasy footy community. For better or worse, people will draft him based off what he delivered in 2020 rather than see that it was clearly an injury impacted season for Rory Sloane.
I've consistently been able to draft him as my M5 in the Draft Doctors mock draft simulator. If that eventuated on draft day, I'd feel like I had won the draft. If you are worried about his injury history, support the draft pick by selecting an extra midfielder into your squad.
Remember, every draft pick should support the following pick.
JOIN THE CONVERSATION
Do you believe he is fantasy relevant?
Will you be starting with him?
Have your say at our Facebook, Twitter or Instagram.
WANT EARLY ACCESS?
Want access 24 hours early to the 50 Most Relevant podcasts? Join our Patreon and get ahead of the Crowd!
Become a Patron!