He was a breakout MID/FWD DPP option in 2018, but I think he's got even more growth in him this season, and as a midfielder he'll be unique.
PLAYER PROFILE
Name: Tim Taranto
Age: 20
Club: GWS Giants
Position: Midfield

2018 Highest Score:
120 Vs Fremantle (AFLFantasy)
116 Vs Fremantle (SuperCoach)

2018 Average:
90.9 (AFLFantasy)
88.7 (SuperCoach)

SuperCoach Price: $481,600
AFLFantasy Price: $660,000
AFLDreamTeam Price: $650,200
WHY IS HE RELEVANT?
As a forward last season, Tim Taranto did something that barely anyone else has done previously, and that saw him deliver a 'breakout' fantasy season in just the second year at the elite level. He now joins the elite league of 'second-year premiums' which includes Clayton Oliver (101 AF, 111 SC), Jackson Macrae (104 AF, 101 SC) and Nat Fyfe as a forward (98 AF, 108 SC.)
All three of these players are superstars of the league and have maintained this premium fantasy scoring since then based on his current trend I predict Tim will do the same.

Taranto was ranked first at the club for tackles, equal-third with former teammate Dylan Shiel for contested possessions, fourth for clearances and fifth for possessions.

Last year he averaged 91 in AFLFantasy for the season, it featured seven scores over the hundred marks including four over 110. While for SuperCoach he averaged 89 and posted 7 tons including three over 110.

What's positive about these numbers is the ratio of hundreds to matches is 1 in 3 last year and yet he can still he averaged 90. It's even better than you first think as he posted no scores over 120 meaning his strong enough and consistent basement was holding his average up not the occasional 130+ score. He now enters into a season with another full preseason under his belt and a fantasy scoring basement that will only get stronger as he develops as a player.

The departure of midfielder Dylan Shiel creates further opportunities for this young star who while isn't a carbon copy replacement is someone that the coaching staff will look at to take on greater responsibility as part of the midfield unit.

Throughout the preseason players, coaches and club officials are raving about his preseason work. Now while the phrase 'training the house down' and 'having his best preseason ever' are words perfect to add to a fantasy footy preseason bingo card it's evident that this is the case for Tim. During the clubs recent time trial he finished among the top few in the same time window of running machines Josh Kelly and Lachie Whitfield.

Both of his clubs co-captains are raving about him with Callan Ward stating to AFL.com.au that 'he's the perfect build for an AFL player because he's got the height, he's strong and he can run, he's got it all.' Ward goes on to say that 'I'm so excited to see him spending more time in the midfield this season, and he can also go forward and be dangerous, and if I was playing on him inside 50 I'd be nervous. If he can produce his best footy more consistently this year, I think he'll be one of the best midfielders in the competition.'
His other co-captain Phil Davis is big wraps on him from a fantasy perspective as we asked him on twitter if we should select his sides young gun and below is his response.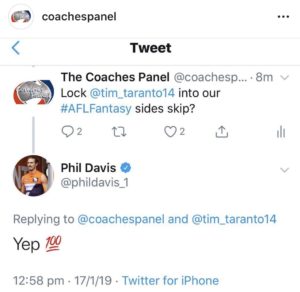 MY TAKE
When Tim Taranto played with Josh Kelly, but without Jacob Hopper, he averaged 105 in AFLFantasy/DreamTeam and 106 in SuperCoach. When he played with Hopper and without Kelly, he averaged 100 in AFLFantasy/DreamTeam and 96 in SuperCoach. While when all 3 of them played together, he averaged 81 in AFLFantasy/DreamTeam & 79 in SuperCoach. The return of Williams in the finals meant a move of Whitfield back to the wing, and this impacted him further with scores of 72 & 78 in AFLFantasy/DreamTeam and 76 & 62 in SuperCoach.

His scoring was impacted when Kelly was and also Hopper in the side. That said, the departure of Dylan Shiel should mean that midfield balance levels out and less likely taking points away from each other as we did see at times last year. The added midfield responsibility and possible midfield minutes increase should see him push right into premium territory as he enters into what is the traditional third-year' breakout.'

Honestly, the only major question mark is at his price for DreamTeam & SuperCoach he needs to be a keeper and lift his average around 15 points per game up to a 105 as a minimum and can he do that? On potential certainly but it does probably require more faith to do so than running with him over slightly more proven guys like Taylor Adams and Rory Sloane.

It's different for AFLFantasy as you can start him and then run him up to or even slightly before his round 14 bye if not earlier but with Dustin Martin less than $15,000 he'll likely be a unique option which indeed isn't a bad thing.

Worst case scenario he holds the average point, while best case scenario you get a unique midfielder who wouldn't be out of place banging the top 10 averaging midfielder door down.
DRAFT DECISIONS
By the end of the opening five rounds, every midfielder that averages 100 or will be off the board. At that point, coaches will be looking for players who show scoring potential to jump into that range. Here is where Tim Taranto starts to enter draft calculations. While M3 would probably too early a position to select him, it would depend on if you'd strengthened out other lines which would balance jumping on him at this position. I'd think he'll be a popular M4 and a worthy selection at that point in any draft.
JOIN THE CONVERSATION
Do you believe he is fantasy relevant?
Will you be starting with him?
Have your say at our Facebook, Twitter or Instagram.
WANT EARLY ACCESS?
Want access 24 hours early to the 50 Most Relevant podcasts? Join our Patreon and get ahead of the Crowd!
Become a Patron!
NEXT UP…
Tune into our Facebook page at 9pmEDST for a clue