All the talk this pre-season is about a Port Adelaide MID/FWD that could be one the best starting squad options. But none of it is about Zak Butters. He's got the upside not just to match his more popular teammate, but he could be an even better pick.
PLAYER PROFILE
Name: Zak Butters
Age: 22
Club: Port Adelaide Power
Position: Midfield/Forward
2022 Highest Score:
137 Vs Hawthorn (AFLFantasy)
136 Vs Hawthorn (SuperCoach)
Career Highest Score:
137 Vs Hawthorn | AFLFantasy (2022)
163 Vs Essendon | SuperCoach (2021)
2022 Average:
86.3 (AFLFantasy)
96.2 (SuperCoach)
SuperCoach Price: $529,400
AFLFantasy Price: $764,000
AFLDreamTeam Price: $783,400
Embed from Getty Images
WHY IS HE RELEVANT?
It's amazing how twelve months can change a players narrative can drastically change. This time last year, Zak Butters was one of the most hyped players entering the season. And while over the totality of 2022, there were multiple rollercoaster moments, he's still entering into 2023 ranked by average as the #4 forward in SuperCoach and #7 in AFLFantasy/DreamTeam
In AFLFantasy/DreamTeam, his seasonal average consisted of six tons. Two were above 120, while his scoring dipped below 80 in seven matches. While for SuperCoach, his average of 96.15 consisted of eleven tons, five above 120 and just six under 80. It's not a bad effort, given in two of his games, he suffered serious head clashes, another he played with a virus and was also subbed out of one game with a knee injury.
What has coaches salivating entering into 2023 is that after he returned from injury, it appeared that he and the Power coaching staff found the perfect balance. In the final seven games of the year, he averaged 101.1 in AFLFantasy/DreamTeam and 106.8 in SuperCoach. While in the final five games of the year, he averaged 107.4 in AFLFantasy/DreamTeam and 115.6 in SuperCoach.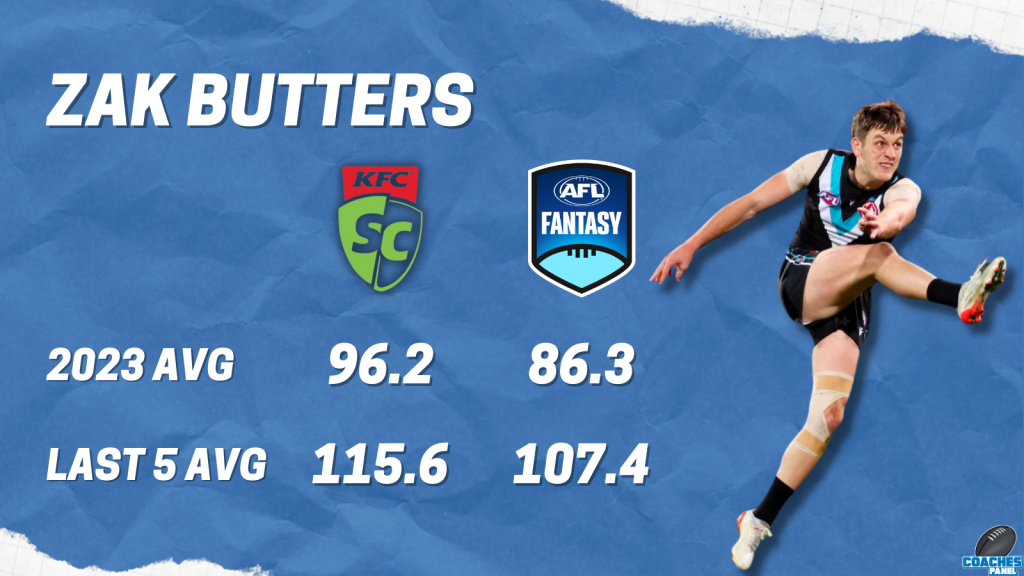 The scoring glimpses we saw last year were also seen in patches for the two seasons prior. In 2021 for AFLFantasy/DreamTeam, he averaged 76, scored one ton and four additional scores of 80 or higher. While in SuperCoach, he averaged 82, hit triple digits in one game and had four additional scores of 90+. In 2020 he averaged 87 in SuperCoach, which consisted of six tons; five were over 110 and four additional scores 80+. While in AFLFantasy/DreamTeam, he averaged 62.3 in the shorter games (adjusted 77) and scored one ton (114 pure 142 adjusted) and two other games 80+.
Embed from Getty Images
MY TAKE
Many readers of our articles and podcast listeners are focused on one thing. Winning it all and getting the highest ranking possible. To do so, plenty of variables need to fall your way, but one thing is required. Pack separation. It can manifest itself in many ways, but ultimately you need something about your team to create separation from the pack and fantasy footy groupthink.
One of the areas in which you can create positive separation is you can opt into selecting a player that others are overlooking with the intent that they can either match or surpass others' performances that have way higher ownership. For contrast's sake, when you think of a premium Port Adelaide forward, the first thought for the majority of the community is Connor Rozee. That's not necessarily a bad or wrong call, but it highlights how much Zak Butters is flying under the radar. Remember, in SuperCoach, Zak averaged more and was only two points per game off him in AFLFantasy/DreamTeam. For players that have a similar scoring pedigree, that's a drastic ownership differential.
| | | | |
| --- | --- | --- | --- |
| | SuperCoach | DreamTeam | AFLFantasy |
| Rozee | 33% | 38% | 42% |
| Butters | 10% | 10% | 6% |
The above isn't to say you should be on Team Butters or Team Rozee. You can select one, none or both. But rather, it's to highlight the group think that can exist in the fantasy community and, certainly, the narrative reflected in the early ownership numbers. The seasonal data of Rozee is stronger, but to say they had similarities in the season is unfair. Rozee spent 3/4 of it as a centre-bounce midfielder, whereas Butters had only five games where he attended over 50%. Again, this is not about choosing one over the other but to remind you of the importance of looking broader and deeper to create separation from the pack.
A potentially valid reason to avoid owning Zak is that he's shown over his AFL career to find multiple ways to get injured. For example, last year was a career season for games played. And yet he still had games where he had multiple head clashes, shoulder stingers, and then in round 14, he was subbed off and missed multiple games with a knee injury.
We've discussed players with less-than-friendly injury history throughout the preseason. My basic premise is with these players that if the injury is the question mark, you choose to start or pass on them for the season.
The reason being is that if you start with them, you can bank all the scores they deliver. And with every passing game, the likelihood of injury will only increase. However, suppose you trade into an injury 'risk'. In that case, you run the gauntlet of not just missing his good scores that attracted you to make them an upgrade, but rather your likelihood of trading into that injury is higher with every game past.
Starting these 'injury-prone' players is the best way to offset the risk. If an injury does occur, you have banked every good score available but also spent just one trade, not multiple, on removing him from your side.
One big unknown entering the coming season is what happens to Port Adelaide, especially with their midfield mix. Last year Rozee and, to a lesser extent, Butters showcased the ability to play significant time through the midfield. They will split their time between midfield and forward because they could be in both roles, but how much split is uncertain. Ollie Wines will be the leader of the midfield pack. Then how much time is split across Travis Boak, Willem Drew, and recruit Jason Horne-Francis will be of great interest to watch.
Back to focus on Butters, will he score better with more time around the midfield? Or as a forward by reaping some of the benefits of a stronger midfield unit than last year? Arguably, as the final few months of 2022 showed, he is more capable of playing a 60% forward split and still averaging over 100. I genuinely believe Port found the sweet spot of how to use him to maximise both his competitive and fearless edge through the midfield. While not sacrificing his goal smarts up forward to Port Adelaide.
This preseason time shouldn't be about locking players in & ruling players out of your starting squad. It should be about trying out multiple different squad formations and combinations. If Zak Butters hasn't been at least considered before this moment, I suggest you reevaluate it and ponder the potential output he could bring this year.
DRAFT DECISION
Securing a strong F1 will be a coach's top priority early on draft day. Zak Butters won't be the top scoring forward, but he won't have to be where you draft him. Across the formats, Josh Dunkley, Stephen Conilgio, Tim Taranto and Connor Rozee will be ahead of him. All will be top 15-20 selections as coaches scamper to get something strong. I see Zak heading off draft boards starting from the third round and into the early fourth.
JOIN THE CONVERSATION
Do you believe he is fantasy relevant?
Will you be starting with him?
Have your say on our Facebook, Twitter or Instagram.
WANT EARLY ACCESS?
Want access 24 hours early to the 50 Most Relevant podcasts? Join our Patreon and get ahead of the Crowd