The breakout to the elite scoring of Darcy Parish was one of the more surprising developments in 2021. But with a fully fit and firing Essendon midfield, can he back it up and be the dominant premium fantasy footballer coaches are hoping for?
PLAYER PROFILE
Name: Darcy Parish
Age: 24
Club: Essendon
Position: Midfield
2021 Highest Score:
160 Vs Richmond (AFLFantasy)
190 Vs Geelong (SuperCoach)
Career Highest Score:
160 Vs Richmond | AFLFantasy (2021)
190 Vs Geelong | SuperCoach (2021)
2021 Average:
105.4 (AFLFantasy)
114.1 (SuperCoach)
SuperCoach Price: $621,300
AFLFantasy Price: $885,000
AFLDreamTeam Price: $899,200
Embed from Getty Images
WHY IS HE RELEVANT?
I don't care what anyone else says. Nobody saw that season coming from Darcy Parish. His talents as a junior were highly touted, but for the past few seasons, Essendon fans and fantasy coaches were starting to fear the worst, that sadly it was another high-end talent selection gone wrong. Thankfully for all parties involved, this wasn't the case. The actual reality was that Darcy just needed freedom and confidence from his coaching staff to play the midfield role as a junior. The breakout was stamped with an equal fifth-place finish in the Brownlow Medal.
Last year by game averages, he ranked second for centre clearances, fourth for inside '50s, fifth for score involvements, eighth for disposals, ninth for effective disposals and tenth for contested possessions. In short, Parish statistically elevated himself to be one of the elite midfielders in the competition. From an AFLFantasy perspective, he finished the season with twelve tons, seven of them over 120 and two 150+. To go with this stunning scoring was that he only had four scores falling below 80 all season. By seasons end, he found himself ranked 16th for total points. While for SuperCoach, he averaged 114, scored fourteen centuries, seven over 130 and an insane four above 150, including that career-high 190. Just like in AFLFantasy, he had four scores below 80, but based on seasonal ranks, he's the 13th best points scorer in the game
As strong as the season looks in totality. Coaches that played fantasy footy last year know that the true story started on April 25th. He was fully released from Anzac Day against the Magpies to play as a midfielder. So from round six onwards, here's the stat line for Parish. In AFLFantasy/DreamTeam, From the final 17 games of the season, he scored 11 tons, 7 of them over 120 and 2 over the monster mark of 150. While for SuperCoach, it's 13 tons, eight over 120, four over 150, including a personal best 190.
Last season Parish was spectacular for the better part of half of the year. But how good was he? I've contrasted his scoring against four of the other best fantasy premiums that played all ten matches in this time. Please note Touk Miller missed a game, so I've removed him. But just how good was Darcy's scoring between rounds 6-16 when placed alongside Tom Mitchell, Jack Macrae, Clayton Oliver and Jack Steele. I'll admit, when I put the numbers beside each other, I was shocked at the outcome.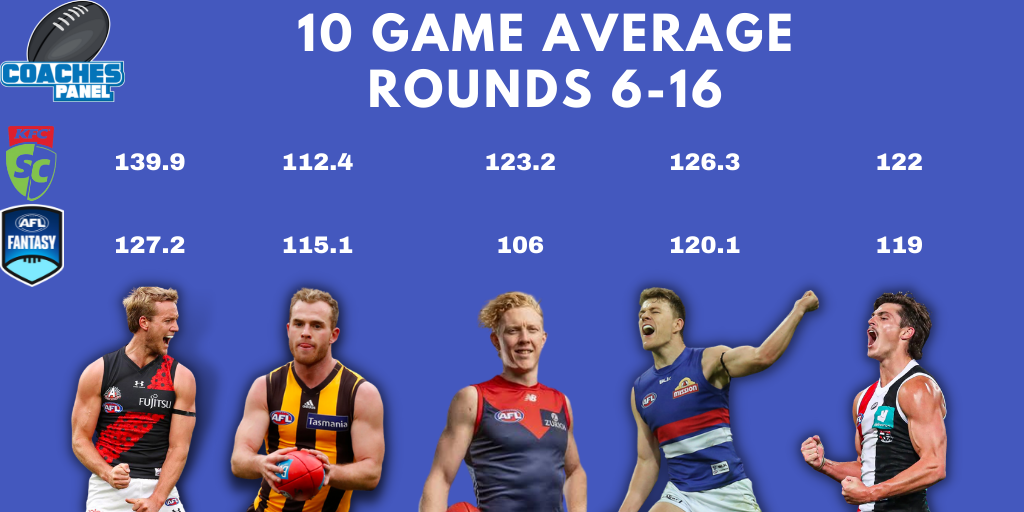 Before last season, Parish had frankly shown minor signs to suggest that he would ever become a valuable fantasy prospect. The conversation happening for keeper league coaches this time last year centred around whether or not it was time to cut your losses and delist him back into the player pool. The reason being he'd never averaged anything above 80 in AFLFantasy/DreamTeam and the mid-'80s in SuperCoach.
However, all Darcy needed was an opportunity. The chance to play in the midfield whereas a junior, he dominated, and thankfully for Darcy, Essendon and fantasy coaches, he more than just delivered. He knocked it out of the ballpark with scoring better than anyone else in the game.
There are certainly some question marks surrounding his fantasy prospects this year, which we'll address shortly. But on pure, proven scoring power, Parish must be a watchlist option for every coach in all formats this preseason.
Embed from Getty Images
MY TAKE
Like anything, you've always got to look at the narrative behind the numbers. Firstly, what caused the role change? Simple! A long-term injury to Dylan Shiel was after an almost season-ending injury to Jye Caldwell. So if injury created the opportunity, what happened upon their return? Caldwell didn't play again in the home and away season. But Shiel did in round 19.
So in the 15 games Parish played without Dylan, he averaged 117.7 in AFLFantasy and 128.1 in SuperCoach. However, when Shiel did play (7 games) in AFLFantasy/DreamTeam, he averaged 79.1 and 84.3 in SuperCoach. That's a differential of 38.6 in AFLFantasy/DreamTeam and 43.8 in SuperCoach. Those numbers might be slightly misleading as that doesn't include games where Parish wasn't playing our midfield. More specifically, over the final five games, when both Shiel and Parish did play, he averaged a mere 84.4 in DT/AF and 87.8 in SC.
It's a small sample size, but the elimination final when Dylan Shiel, Jye Caldwell and Darcy Parish all played together, he did have a 35 touch game scoring 122 in Dt and 169 in SC. So the possibilities are there for him to score well. But, all be it, the data that creates confidence is minimal.
The more considerable uncertainty that might be going under the radar is how he handles a tag. Arguably Parish is now the most damaging Essendon and midfielder, and the concern is more about how seemingly easy teams could negate his influence. For example, in round 17, Adelaide sent Harry Schoenberg to play accountable on him. As a result, he limited his ball-winning to just 19 possessions—his lowest since round two of the year. No disrespect to Harry, but he's not a notable stopper. A similar story happened two weeks later against the Giants.
The upside is he's had a preseason to start to figure out how to work through it. However, a combination of this alongside the stacked Essendon midfield rotation could be the nail in his selection coffin for some coaches.
Speaking of which, how the Bombers midfield will be fascinating. Last year they ran a very tight CBA. Mostly it was Stringer, Parish & Merrett. However, does that open up more with health for Dylan Shiel, Andrew McGrath and Jye Caldwell? Plus the recent draft addition, an inside bull in Ben Hobbs. I don't see the impact being that Parish is moved out of the midfield. He's been good in that role. Instead, the uncertainty has some merit around how many' mouths to feed.'
The statistical weight of numbers is far against him being a starting option. But, there is a world where he is good enough to be among the best fantasy players in the game. His range of scoring outcomes could be some of the widest scoring ranges for premium midfielders. Although I don't currently have him in any fantasy side, I wouldn't be talking any coach out of picking him if they did.
Depending on your risk-taking levels, Darcy would well be the season-defining pick. At best, he delivers top tier scores at a value proposition price. While the downside is after 1-2 failed scores, you use a trade to pivot towards a firing premium. Given the upside, he may be the risk you need to consider taking.
DRAFT DECISION
You cannot select Darcy Parish on draft day inside the open twenty/twenty-five selections. While the upside is incredible, the risk does exist. You cannot take such a risk at this portion of the draft. He'll be someone's M2, possibly even M3 if other coaches draft defender or forward heavy early. But anywhere from the late third round, I'd be happily selecting him.
JOIN THE CONVERSATION
Do you believe he is fantasy relevant?
Will you be starting with him?
Have your say at our Facebook, Twitter or Instagram.
WANT EARLY ACCESS?
Want access 24 hours early to the 50 Most Relevant podcasts? Join our Patreon and get ahead of the Crowd