He's one of the most consistent and underrated premium defenders available. Is Tom Stewart the perfect point of difference for your starting squad?
PLAYER PROFILE
Name: Tom Stewart
Age: 26
Club: Geelong Cats
Position: Defender

2019 Highest Score:
124 Vs West Coast (AFLFantasy)
124 Vs GWS (SuperCoach)

2019 Average:
95 (AFLFantasy)
98.1 (SuperCoach)

SuperCoach Price: $533,200
AFLFantasy Price: $705,000
AFLDreamTeam Price: $686,800
WHY IS HE RELEVANT?
It's incredible to think that four years ago Tom Stewart was roaming around for South Barown in the Geelong Football league. Since being drafted by the Cats, he's become a vital member of the backline and played sixty-one of possible sixty-six home and away games
He's arguably the modern-day prototype defender. He can play small or tall, intercept or lockdown and can rebound out of the cats defensive 50. Last year he ranked elite in the league for rebound 50's uncontested marks and disposals.
In SuperCoach he finished the season with the second-most points behind Jake Lloyd. He had the seventh-highest averages (98.2) of all defenders and was scoring at an average of 1.2 points per minute. From his twenty-two games, he had eight scores of 100 or higher, three of these were 120 or above. Stewart does possess a ceiling, but it's his consistently high basement that adds to appeal. Last season he dipped his scored below 80 in only three games, but never below 74. For a player than had such a high scoring season he also had crazy low ownership. In SuperCoach only 20% of coaches owned him.
For AFLFantasy/DreamTeam Tom Stewart also had a phenomenal season. For total points of defenders, he was ranked the fourth-best with only Jake Lloyd, Rory Laird and Jack Crisp scoring above him. While for averages he ranked sixth. Across the season he posted eight tons including three that were 110 or higher. His scoring consistency was also on display in this format with only two scores below 80 all season and a seasonal low of 73
His yearly scores were sensational, and he was a picture of consistency. He was the perfect value option to start the year, especially in SuperCoach. However, take a look at these pre and post-bye splits. He didn't disappoint regardless of when you jumped on.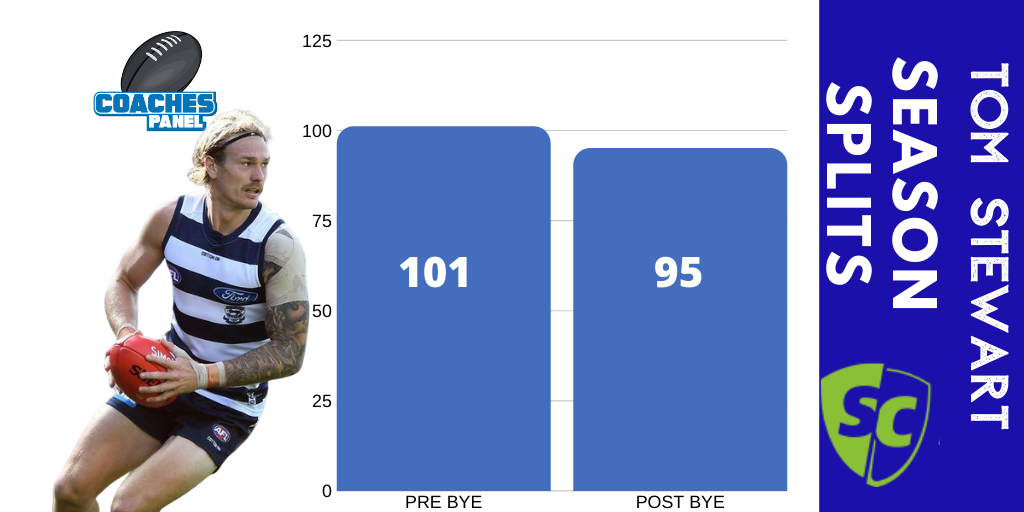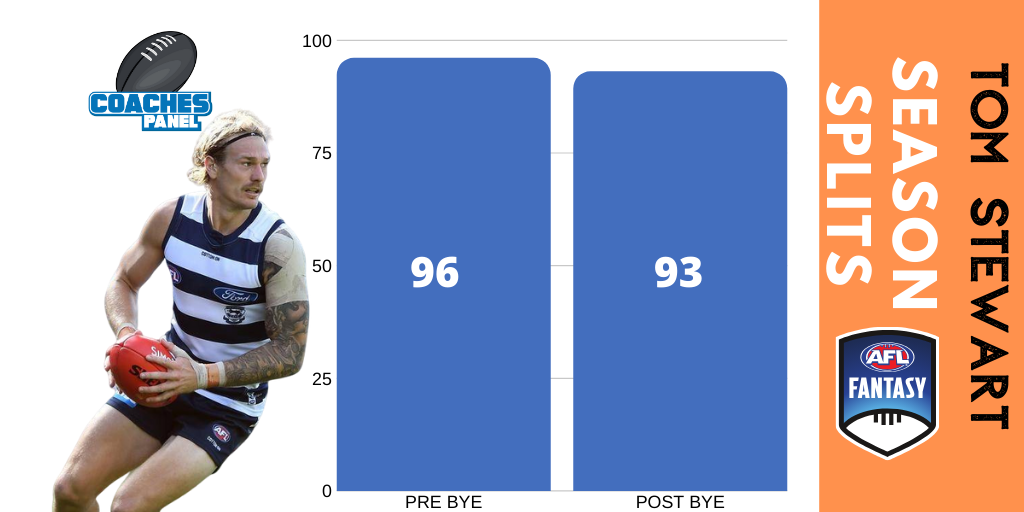 Tom Stewart is a strong premium candidate in 2020, and while coaches clamour for more prominent names or breakout options, he might slide under the radar again. He looms as a potential consistent point of difference in your starting squad. 
MY TAKE
One of the age-old debates among fantasy coaches is around what's more relevant to you? Is it to have a player with the high scoring ceiling? Or someone who might not possess the frequent high score but is a picture of consistency? The simple answer is you need both in your side.
Tom Stewart does have a ceiling, but honestly, it's not that frequent compared to other premium defenders. The attraction is that his scoring deviation is minimal and that he provides a relatively safe selection in our backlines. For what it's worth, players like this often make better starting squad selections than upgrade targets.
Regardless of if you believe he's an upgrade target or a player to commence the season with, he's got an excellent multi bye round. In terms of premium defenders, only Shannon Hurn can lay genuine claims of being a premium apart from Stewart. Other breakout candidates who could become premiums from this round are Alex Witherden and fellow 50 most relevant inductee Dan Houston. All three all have some level of uncertainty about their scoring potential in 2020. Stewart has age on his side and has no role concerns. He's arguably the best defender available from this multi bye.
Over the past two seasons, he's been incredibly durable and missed only one game in previous two seasons. However, this preseason hasn't entirely gone to plan
A slight cause for concern is that since returning from the Christmas break, he's returned to the club in the rehab group. He's suffering from a groin complaint and will slowly build his running base over the coming weeks. At this stage, he's not expected to miss any of the preseason matches.
His ownership numbers last year were under 30% across all formats last season. Across the fantasy community, he's got little to no preseason hype. Should he be fit, Stewart could be the perfect unique in your starting side.
DRAFT DECISION
He'll be the first defender off the board for a coach in the draft. The question will be in what round does he go? If I haven't got a defender and I'm entering into the fourth or fifth round, there is a good chance he's still on the board.
JOIN THE CONVERSATION
Do you believe he is fantasy relevant?
Will you be starting with him?
Have your say at our Facebook, Twitter or Instagram.
WANT EARLY ACCESS?
Want access 24 hours early to the 50 Most Relevant podcasts? Join our Patreon and get ahead of the Crowd!
NEXT UP…
Tune into our Facebook page at 9pmEDST for a clue