What does the 2020 season hold for the Crows? Lewy & Checkers from Lane Kicking give us there take on some potential preseason watchlist targets.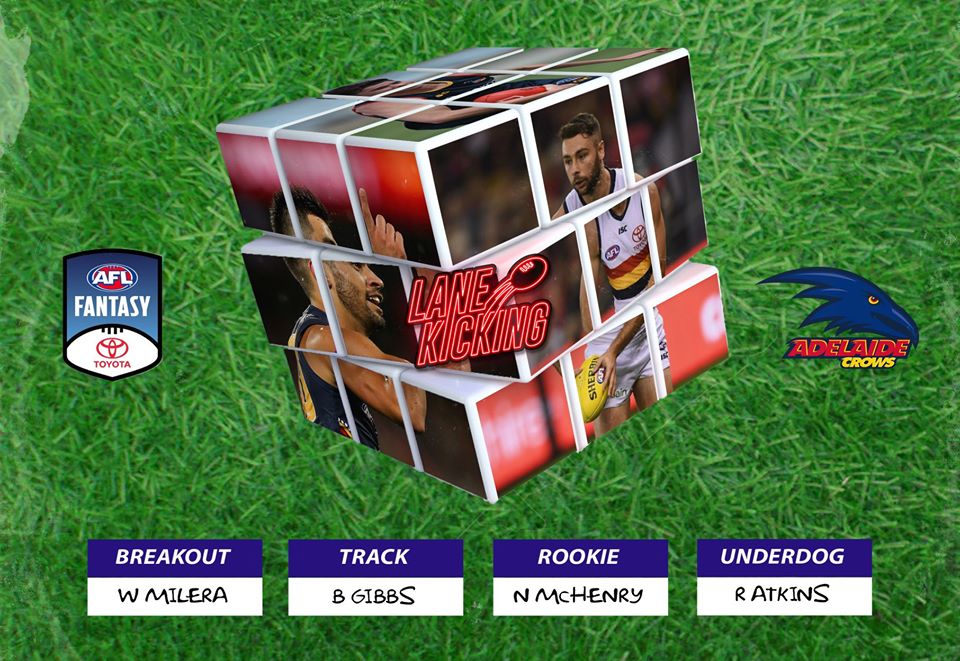 BREAKOUT: Wayne Milera – $570,000 (DEF/MID)
Coming into his fifth season, the former Pick 11 has now played 60 games and looks ready to take it to the next level. Started 2019 averaging 91 in the first 4 games before succumbing to injury, plenty of spots freed up in the Crows midfield after the off-season list movements and priced at an average of just 77, he looks a very juicy breakout contender
TRACK: Bryce Gibbs – $600,000 (MID)
Averaged 80.8 after playing just 12 games last year, in and out of the side. New coach Matthew Nicks plans to throw Gibbs back into defence, which could see an increase in his scoring output, but could also see him gain DPP which could be really relevant for draft. Keep tracking his Pre-Season and watch the Marsh Community games closely to see where he plays

ROOKIE: Ned McHenry – $170,000 (MID)
Pick 16 from last years draft, averaged 82 in the SANFL after a bit of an interrupted first year, but from all reports he is tearing up the training track and is a very athletic and well conditioned rookie. Spots have been freed up over the off season to give the young blokes like McHenry a good crack
UNDERDOG: Rory Atkins – $604,000 (MID)
Massive POD here considering Atkins was only owned by 1% of the competition last year, but he has caught our attention a little this pre-season. You can go all the way back to his draft year to find that Atkins is a hard worker and a fighter. Cut from the AIS Academy and dropped from Vic Metro he went back to TAC Cup and worked his guts out to win the Best and Fairest for Calder Cannons. Its that sort of resilience that has seen Atkins become a staple in the Crows side, playing 84 games across the last 4 seasons. What first caught our eye was an interesting period in 2019 between Rounds 11-17 where Atkins averaged 96 and posted two scores above 120.
With the Crows cleaning out their list over the off-season (Greenwood, Ellis Yolmen, Douglas) Atkins should really stamp himself into the Crows midfield/wing role this year, and from all reports has been putting in a lot of extra work on the track, doing extra running sessions to increase his work-rate. He might be a little awkwardly priced to start the year with, but as a real big POD or even for draft he is on our watchlist