2019 was a personal best season fantasy season from this now two-time premiership Tiger. Can he back it up again in 2020?
PLAYER PROFILE
Name: Bachar Houli
Age: 31
Club: Richmond Tigers
Position: Defender

2019 Highest Score:
144 Vs Essendon (AFLFantasy)
142 Vs Melbourne (SuperCoach)

2019 Average:
103.2 (AFLFantasy)
105.2 (SuperCoach)

SuperCoach Price: $571,600
AFLFantasy Price: $766,000
AFLDreamTeam Price: $746,100
WHY IS HE RELEVANT?
It was a sensational year for Bachar Houli which was capped off winning his second premiership. However, from a personal perspective, it was one of his most excellent seasons. He earned All Australian selection and career-best statistics. He averaged 28 possesions and six marks per game. Houli is rated elite in the league for rebound '50s, uncontested marks and uncontested possessions.
From a fantasy perspective, it was also a year of personal bests. In AFLFantasy he ended the year ranked fifth for all defender for total points. Not bad for a guy who missed three matches. In terms of averages, he ranked third behind Lachie Whitfield and Jake Lloyd and averaged 103. In twelve occasions, he scored over the ton, with five of those being over 120.
His season was even stronger in SuperCoach. He finished the year as the eighth for overall points, remember that's with missing three matches. For all defenders, he averaged fourth behind Lachie Whitfield, Jake Lloyd and one gamer wonder Trent McKenzie. His average of 105 for the year was a career-high of 105. It featured thirteen scores of 100 or more and of those hundreds five over 120. Houli finished the season in hot form with seven consecutive tons and an average of 115 in those final weeks.
MY TAKE
In 2019 Houli's favourite ground to play at was the MCG. Last year in SuperCoach he had just one game at the venue that he didn't score 100 or more. For AFLFantasy/DreamTeam he had ten tons and the lowest score of 80. If your curious, for 2020 Houli has only three games before the bye (round three, five and eight) this year that he's away from the G. Post-bye he has only five games total there.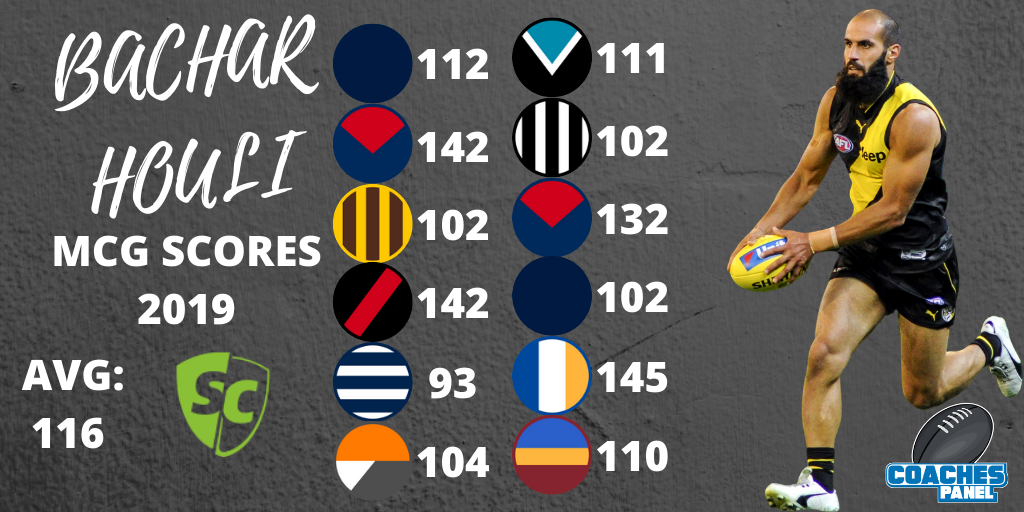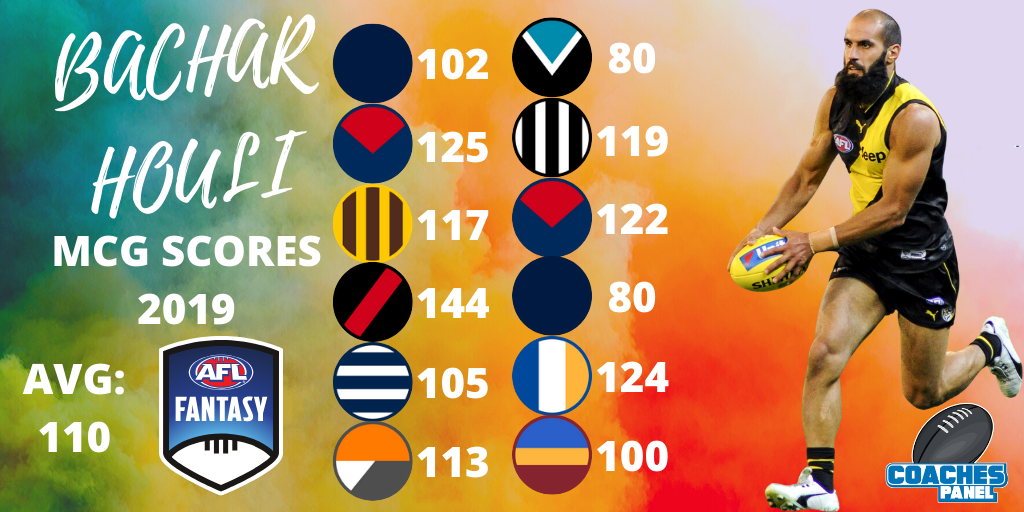 With Alex Rance shock decision to retire it seems unlikely that the Tigers will mess with the core defensive six that got it done in 2019. Houli (among others) roles from last year should carry on again into this new season.
There are plenty of things to factor into deciding if Houli is the correct decision for your side. One of those is the variable around the bye round that he sits. As a round 13 multi bye round we have plenty of popular defensive premiums from this group of six sides. Possible candidates include Jake Lloyd, Sam Docherty, Luke Ryan as well as Connor Blakely and Jack Crisp who've both already been revealed in the 50 Most Relevant. How you rank Houli alongside these names might give you the answer to if he's the right selection for you or not.
As the club returned from the Christmas break, Houli was seen doing laps away from the main group. According to the club, he's on track to play the Marsh preseason matches.
Speaking of injuries, he hasn't played a full season since 2015. That and the fact that it's taken til being 31 years old for he produced a personal best season. These two factors combining might, for some turn you away from selecting him.
Here's the thing. Given his early fixture and his injury history, Bachar Houli is a starting squad only option. Even if he flies out of the gate, the reasons for trading too him become contradictory to why you initially passed on him. Like others who have an injury history, while it can change if that 'history' is the reason you do not start, then it also becomes the reason you should not upgrade to him. The mindset being, even if posting good scores his 'chance' of injury increases with every match played. Therefore, with injury history and fixture, it's a start of pass on him.
One final thing. When it comes to his injury history, don't forget last year he ranked 5th overall points in AFLFantasy for defenders and 8th in SuperCoach and missed three games. Even if he does miss games early on, our starting squads is generally when we have more playing bench options than ever. So covering him, shouldn't be a problem. If you believe he will score similar to last year, then it's a hard player to pass on.
DRAFT DECISION
He's a number one defender for someone in there team in all formats. The question will be, what round does he go. He's unlikely to be selected inside the first twenty selections, but I wouldn't be shocked to see him off the board in some leagues as a late second-round pick. Equally, I wouldn't be shocked if some were turned off by his age and injury history and let him slide down a few more rounds. Personally, if I see Houli available at my pick in the fourth round, it'll be impossible for me not to select him.
JOIN THE CONVERSATION
Do you believe he is fantasy relevant?
Will you be starting with him?
Have your say at our Facebook, Twitter or Instagram.
WANT EARLY ACCESS?
Want access 24 hours early to the 50 Most Relevant podcasts? Join our Patreon and get ahead of the Crowd!
NEXT UP…
Tune into our Facebook page at 9pmEDST for a clue