Last year Dyson Heppell flew under the radar with his consistent scoring. With him picking up defender status, he looks to be one of the most dependable premiums backs for the season.
PLAYER PROFILE
Name: Dyson Heppell
Age: 29
Club: Essendon Bombers
Position: Defender
2021 Highest Score: 
142 Vs Collingwood (AFLFantasy)
134 Vs West Coast (SuperCoach)
Career Highest Score:
156 Vs Carlton | AFLFantasy (2017)
153 Vs Carlton | SuperCoach (2019)
2021 Average:
94.8 (AFLFantasy)
99.4 (SuperCoach)
SuperCoach Price: $541,000
AFLFantasy Price: $795,000
AFLDreamTeam Price: $808,600
Embed from Getty Images
WHY IS HE RELEVANT?
Last season Dyson Heppell was a popular midfield stepping stone. The Essendon Bombers skipper returned from an injury-interrupted 2020 to deliver a surprisingly unheralded season. Heppell evolved his game into a defender and played his most AFL games in a season since 2019. Over the season, he improved in the role and ended by being ranked by averages 18th in the league for uncontested possessions and 19th for marks. This is a testament to his ability to find open space on the field and be a viable option for his teammates.
From an AFLFantasy/DreamTeam point of view, he delivered seven tons over the season, with six of them coming in his final eleven games of the year. One of these tons was a monster; it was a 142 on Anzac Day. In addition to these tons, he posted two scores over 90, seven between 80-89 and didn't score lower than 71. As a result, champion data rightfully has allocated him defensive status and is now ranked ninth for averages and sixteenth for total points.
In SuperCoach, he was even better, something that hasn't always been the case in the totality of his career. From his eighteen games, he delivered nine tons, two over 120 and didn't allow his scoring to fall beneath 80 all year. By averages, he's ranked eighth for defenders and has a higher average than Jayden Short, Caleb Daniel, Joran Ridley, Lachie Whitfield and Brayden Maynard.
What Heppell lacks in score ceiling frequency he makes up for with one of the better scoring basements and minimal scoring deviation. For example, contrast him to Jordan Dawson, who's ranked similarly across the formats. The now Adelaide Crow had seven AFLFantasy/ and four SuperCoach scores under 80. As mentioned above, Dyson had just three in AFLFantasy/DreamTeam and none in SuperCoach. With every game he 'lacks' in some eyes with a ceiling of 130+ scores, he balances it out with no disaster basement games. As we'll discuss shortly, I actually can see a world where his scoring increases.
Some coaches might be tempted to look over his career reminds me of his fantasy footy abilities. His scoring legacy does have multiple seasons of averaging 90's and 100's. But doing this is of no benefit. These are irrelevant numbers, as he was in a midfield role, not this current halfback defensive function.
Embed from Getty Images
MY TAKE
Dyson Heppell is 'completing his first uninterrupted preseason in six years.' That's what Brynn O'Connor reported on the Bombers website several days ago. Dyson further spoke in this article about his role within the Essendon side this year. Heppell said, '(My role will) primarily be off half-back, but I might push up to a wing, so we'll see.'
Whenever you talk about an Essendon defender in fantasy footy circles, the thought is immediately on Jordan Ridley. That's only further increased with the addition of Jake Kelly via free agency. So who are the most damaging two defenders for Essendon in a pure football sense? I'd propose it's the line breaking speed from Nic Hind and the intercepting abilities of Jordan Ridley.
Both these players are miles ahead of getting opposition attention. With Dyson playing half-back and up towards the wing, I believe he has the avenue to replicate a similar role and scoring to what we saw last season from North Melbourne captain Jack Ziebell. Statistically, Heppell is one of the best in the league at getting free and winning uncontested footy. This could even further grow as confidence in his newfound health and with an entire preseason in the defensive structures of Essendon.
While building this case might be a stretch for some, one undeniable thing is his performances in Essendon victories. Whenever his team wins, his scoring gets a significant boost. If you believe that Essendon improves again on last seasons performances, then statically, there's a case where he now moves into clear top-five defender potential. Check out this graphic which highlights this.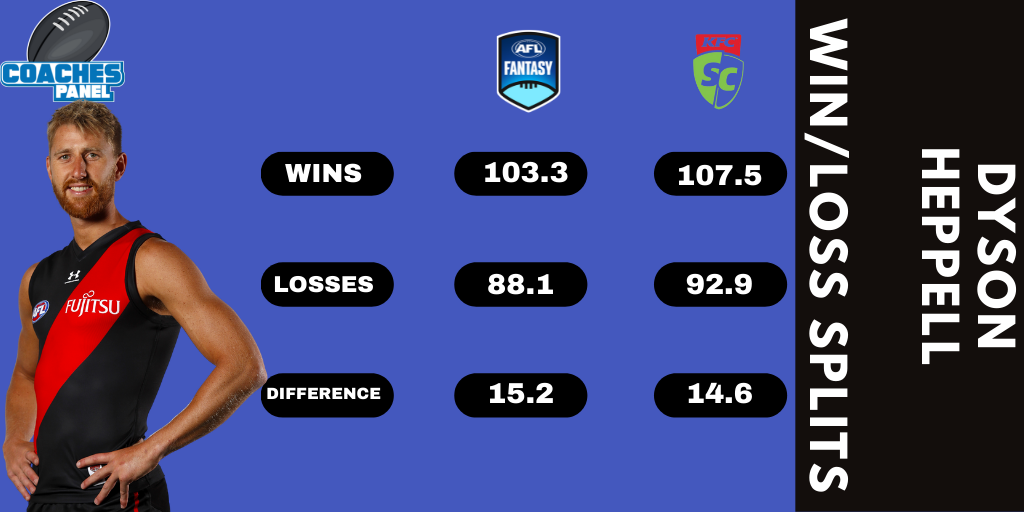 Last year Heppell was ultra-consistent, and all it takes for him to elevate his scoring is to increase that ceiling marginally, whether through a scoring bump with wins, extra accountability on teammates or improving his kick in role from a mere 33 last year. So there's a reason why I put him and Jayden Short side by side in the 50 most relevant. Both are super challenging to split. Both have a robust scoring ceiling. Both have shown ceiling at times, but not with a heavy volume. However, both have a narrative for how that could improve.
For some, his durability concerns are a reason to bypass him. But if it's only that, you cannot upgrade to him regardless of what he delivers. If injury history is the only reason you pass as a starting option, then with each game passes which he does play, the statistical probability of him getting injured only increases. Meaning if you do upgrade to him, your risk of trading into an injury only ever grows. It's why I often say with players with an injury history. Start with them, bank the games played and scores, and trade if the injury comes.
Others won't start him this year, not because of injury. Nor because of a poor scoring role or consistency. The narrative is around a world where they believe other defenders, including him, will surpass. For example, A belief that Aaron Hall continues to dominate. Jake Lloyd rediscovers the defensive monopoly, Lachie Whitfield stays fit, and Jack Crisp is the primary man in the midfield. All of these are probable outcomes. The key takeaway here is whether you start or pass on Dyson Heppell, you need to know the narrative you believe will unfold for him.
Currently, AFLFantasy is the only format open, and there he's in just 1.4% of teams. To me, that's criminally low for what he has done and what he could do. Across the formats, I think he's a top 5 defender candidate, and he's in contention to start for me in multiple formats.
DRAFT DECISION
Given where his 2021 averages land him, Dyson Heppell will be a D1 on draft day. It wouldn't shock me if someone reached for him as a late third-round selection. But the reality is it's more normative to see him go through the fourth. I can't see him sliding outside of the top 40-45 picks overall. He's too consistent to pass up.
JOIN THE CONVERSATION
Do you believe he is fantasy relevant?
Will you be starting with him?
Have your say at our Facebook, Twitter or Instagram.
WANT EARLY ACCESS?
Want access 24 hours early to the 50 Most Relevant podcasts? Join our Patreon and get ahead of the Crowd