An injury is all it can take to make someone fantasy football relevant. In 2022 Darcy Cameron took his opportunity and became a hugely important selection across the formats. With Brodie Grundy now out of the picture, can Darcy continue his hot run of form and be one of the best selections in our starting squads?
PLAYER PROFILE
Name: Darcy Cameron
Age: 27
Club: Collingwood Magpies
Position: RUC/FWD
2022 Highest Score:
133 Vs Hawthorn (AFLFantasy)
130 Vs Fremantle (SuperCoach)
Career Highest Score:
133 Vs Hawthorn | AFLFantasy (2022)
130 Vs Fremantle | SuperCoach (2022)
2022 Average:
81.9 (AFLFantasy)
84.6 (SuperCoach)
SuperCoach Price: $465,900
AFLFantasy Price: $725,000
AFLDreamTeam Price: $743,500
Embed from Getty Images
WHY IS HE RELEVANT?
There are two sides to the Darcy Cameron story in 2022. First, it's a story of an opportunity being presented and of that opportunity being maximised. It's about what happens when players get access to a role they'd never been granted. It's the story of 'DC' playing with Brodie Grundy and then taking the mantle as the #1 ruckman when he goes out injured.
From rounds 2-6, it was a challenging start to the season for Darcy. He had one game where he started as the sub and another where he got subbed out with an alleged rib injury. In these five games, he averaged 12.4% attendance at centre bounces, one hitout, 8.4 possessions, 3.4 marks & one tackle. From an AFLFantasy/DreamTeam perspective, he averaged 47.8 and scored 71. While in SuperCoach, he averaged 46.6 with a top score of 72.
Then a significant change occurred. Brodie Grundy, on Anzac Day, smashed his knee against Essendon ruckman Sam Draper in a ruck contest. As a result, he injured his PCL. While the initial diagnosis was he'd miss up to three months, history now informs us that he'd miss the rest of the 2022 season.
From round seven until the season's end, Darcy Cameron transitioned into the #1 ruck role and dominated. Then, between rounds 7-23, he saw a drastic spike in his possessions, hitouts, centre bounces, attendances and, most importantly, for us in his fantasy football output.
In AFLFantasy/DreamTeam, he averaged 92.6, scoring six tons, including a career-high score of 133. To go alongside this, Cameron had an additional four scores over 90. For SuperCoach, he averaged 96.5, eight tons, including 130 and four additional scores over 90. Visually, this is what it looks like.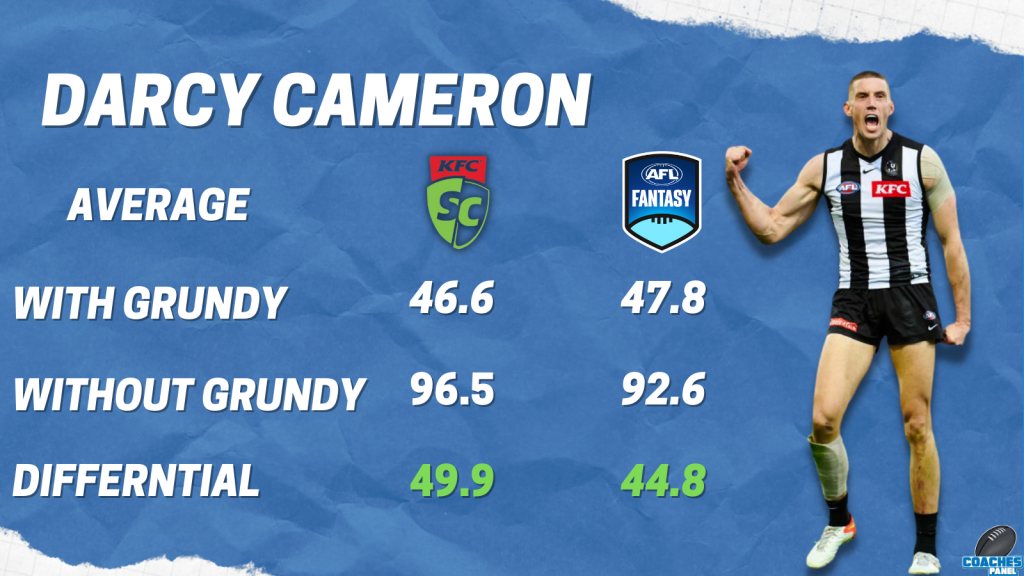 The story of Darcy Cameron and his fantasy relevance is about more than just DC. It's a reminder that every season we will see a player undertake a significant role change, and with it will come to a boom in scoring in contrast to the low output for your classic formats. The key is identifying the player that will fill the gap and jumping on quickly to maximize output. For coaches that jumped on super early, it was a move that paid massive dividends in cash generation, points scored and likely in your seasonal rankings.
Embed from Getty Images
MY TAKE
I'm in a messenger group with a bunch of mates who all play fantasy football. Chances are, you've got yourself in a similar setup, maybe even multiple. When I asked this group, 'who's picking Darcy Cameron?' I was met with two very clear but polarising perspectives. Several thought he was the easiest selection of the year; others wanted to avoid selecting him.
There are several reasons why coaches should be considering him. The first is that for his price, there are zero question marks around his role for the side. He will be the #1 ruck. You don't let Brodie Grundy leave without that confidence. Recruit Dan McStay will play the mobile tall forward and, as we saw at Brisbane, can play some relief ruck minutes.
Second is the potential return on investment. He's priced approximately ten points per game beneath what was delivered last year past the role change. As a ruckman, he averaged 92 in AFLFantasy/DreamTeam. If you put that average alongside our current forwards, he'd be ranked fifth for average and third for rucks. He averaged 96 in SuperCoach; by the average contrast, he'd be placed fifth for forwards and tenth for rucks. So even without improving his scoring, but just holding what he did, he is right in the top groups of both rucks and forwards. Third, speaking of DPP, it's the extra flexibility his RUC/FWD status creates. Just ask coaches that had Tim English last year. It enabled you to loophole scores, cover donuts and even save a trade.
All of these reasons sound wonderful and valid. And, for the most part, they are. However, what I believe is running as the undercurrent for people considering Cameron is one big unspoken issue. That when it comes to the ruck division, plenty of coaches have yet to learn what to expect will happen or even know what they want to do. A 'set & forget' approach had been the normative tactic for so long. But with moves in the offseason, all of Brodie Grundy, Max Gawn and even Sean Darcy now have ruck-share concerns.
Beyond Tim English, there seems no consensus that any ruck is 'safe' to pay up to own. Rowan Marshall should also be in that same bracket, but I empathise with people's hesitation. I don't have these doubts. The uncertainty around the ruck division creates an added appeal to Cameron. Selecting him allows you to look at the line, flip him forward or trade him to the premium on either the ruck or forward line of your choosing.
But it's for these same reasons people want to avoid Cameron. They want to avoid getting stuck with a ruck or forward that might be anywhere from 10-15 points per game beneath the premium benchmarks in either the ruck or forward line.
Will his scoring range be enough? Even if he maintains his scoring rate from 2022? Who's to say that our ruck division cannot yet again return to multiple 105+ options? I can see a world where Grundy & Gawm complement each other, not eat into each other's scoring. The same with Darcy & Jackson.
Last year were got elite premium forwards as mid-season DPP gains. Bailey Smith, Luke Parker and Marcus Bontempelli. Who's to say in 2023, we don't get a similar tier of options? Factoring in these variables is an exciting challenge in the game.
Our forward division is already stacked for premiums up the top, value selection in the middle and plenty of cows. While the ruck might be thin at the range or below Cameron, there are options. For example, Scott Lycett is cheaper in all formats and has had three 80+ seasons in AFLFantasy/DreamTeam & three 90+ in SuperCoach. So as good as Cameron might be at his price point, he's not the only consideration.
Being the number one ruckman in an AFL side does take a toll on you. And last year, it did with Cameron. As good as he started in the role, his scoring did start to slide across the format. In the final eight games of the year in AFLFantasy/DreamTeam, he averaged just 79 and went at 82 in SuperCoach.
He should hold or improve his fitness to play out the season. But equally, oppositions could also have more data and plans to combat him. Nothing is ever certain in fantasy footy.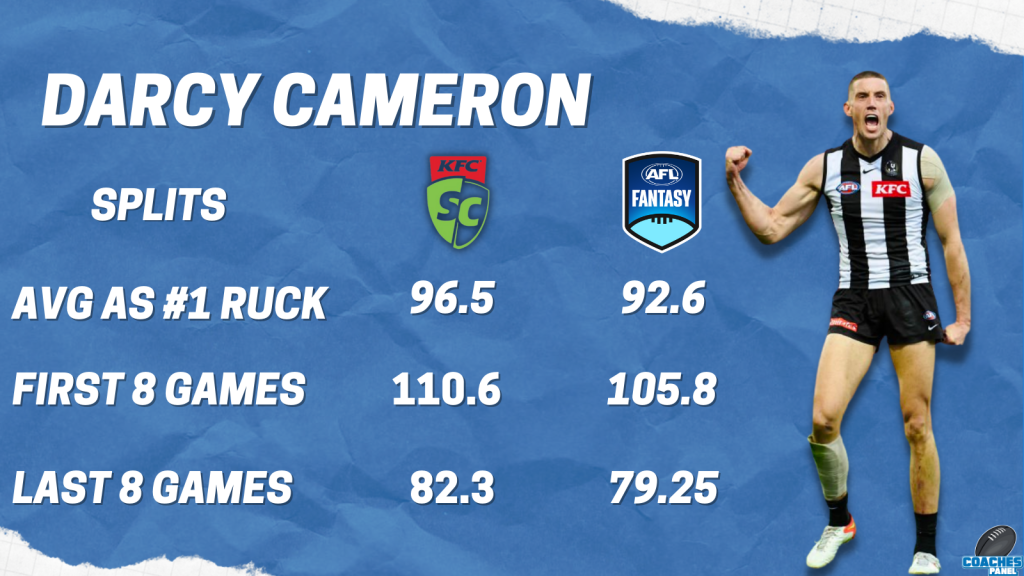 Darcy is a great player to consider this pre-season because both sides of the argument of holding or fading hold weight. Both feel they are easy decisions and that the other side is overthinking the situation. So what he ends up delivering in the coming season is one of the season's most interesting outcomes.
DRAFT DECISION
One of the hardest players to rank in 2023 is Darcy Cameron. Do people rank and draft him based on a particular positional status? Or does his DPP increase his ranking range? Game formats, league sizes and the number of participants will ultimately inform where he gets picked.
In SuperCoach, I can see her going in the range of an F2, which is around the sixth round. While in AFLFantasy, he'll be an F1 for many and likely go a round or so earlier.
JOIN THE CONVERSATION
Do you believe he is fantasy relevant?
Will you be starting with him?
Have your say on our Facebook, Twitter or Instagram.
WANT EARLY ACCESS?
Want access 24 hours early to the 50 Most Relevant podcasts? Join our Patreon and get ahead of the Crowd