The phenomenal season from Patrick Cripps was topped off by winning the Brownlow Medal. And for the first time since 2019, he averaged above 100 in SuperCoach, AFLFantasy & DreamTeam. Can the AFL's reigning best player back it up and do it again in 2023?
PLAYER PROFILE
Name: Patrick Cripps
Age: 27
Club: Carlton Blues
Position: Midfield
2022 Highest Score:
139 Vs Adelaide (AFLFantasy)
162 Vs Western Bulldogs (SuperCoach)
Career Highest Score:
163 Vs Gold Coast | AFLFantasy (2019)
194 Vs Brisbane | SuperCoach (2019)
2022 Average:
102 (AFLFantasy)
111.1 (SuperCoach)
SuperCoach Price: $611,900
AFLFantasy Price: $903,000
AFLDreamTeam Price: $926,400
Embed from Getty Images
WHY IS HE RELEVANT?
That was some season from Patrick Cripps! The only thing that could've made that season any better for him would've been for his beloved Blues to crack a finals birth finally. From a personal perspective, his stunning season was topped off by winning the Brownlow Medal. In 2022 he ranked third in the AFL for clearances, stoppage clearances & contested possessions per game. He also ranked inside the top twenty for disposals, score involvements & effective disposals.
In AFLFantasy/DreamTeam, he scored eleven tons; seven were above 120, including 130, 138 & 139. He had an additional seven additional scores of 84 & above. That looks solid, but he made his mark at the start of the season. In six of his first seven games, he reached triple figures, and in the match he missed, Cripps was subbed off at quarter time on 36 with a hamstring injury. In reality, in his first six full games, he averaged 125. He enters into 2023 with the fifteenth-best average of all midfielders.
His scoring in SuperCoach is even more prolific. From his 21 games, he scored thirteen tons, eight of which were over 120, six over 130, including scores of 146, 151 & 162. Despite a hamstring injury, his start of the season was so dominant that if you didn't start him, you were always playing catch up. Over the first seven weeks, he posted five scores over 132 and even with the subbed-out game of 38, he still averaged 125 over the first seven matches.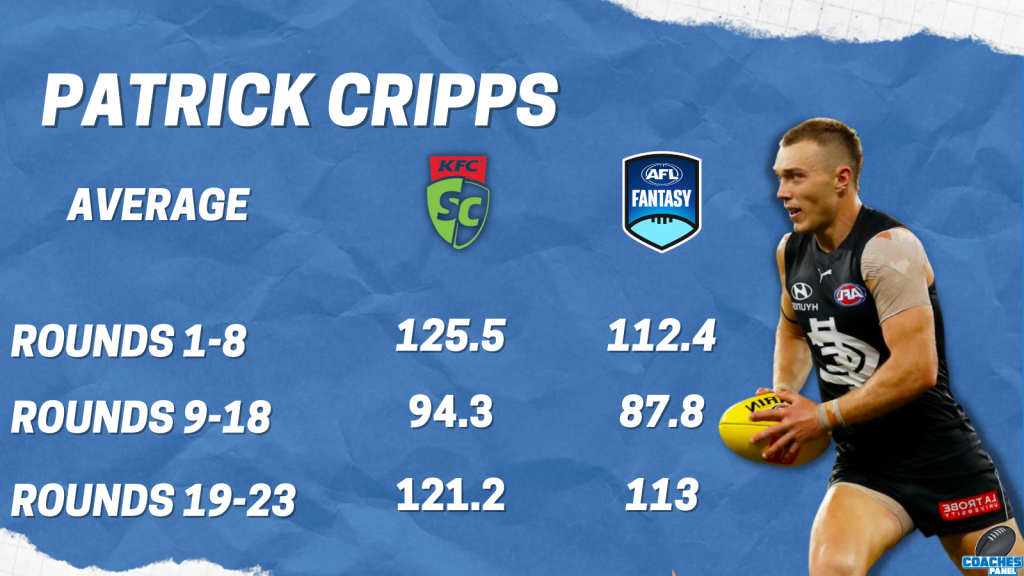 These scoring runs of 110+ in AFLFantasy and 120+ in SuperCoach herald back to his seasons of 2018-2019. In those seasons, Cripps has a genuine top-tier midfielder across the formats. In those two seasons, he averaged 119.4 & 117.1 in SuperCoach, while in AFLFantasy/DreamTeam, he averaged 109.3 & 101.4.
Patrick's disposal numbers for 2022 were almost identical to 2018-2019. However, both his tackles and marks were down. The big new element for Cripps in 2022 that hadn't previously existed was that he began kicking goals from the midfield. He averaged a goal a game for the first time in his career. Additionally, he had five games where he kicked more than one. He evolved from a clearance and contested beast to the complete midfield package by converting on these important opportunities.
Embed from Getty Images
MY TAKE
Over the years doing the 50 most relevant, we've had several guests on our podcasts. One of them is The Statesmen, who can regularly be heard on The Draft Doctors & also on the Point of Difference podcasts. For the past few seasons on these brands, he's been highlighting to the fantasy community the curse of the Brownlow Medal for the coming fantasy football season. To win a Brownlow Medal, you must have an incredible career-best season. And rarely does that level maintain, let alone improved upon for the following season.
So I dug into the past six Brownlow Medal winners, and one player, Patrick Dangerfield, was able to improve their scoring the following season after a Brownlow Medal. However, every other play suffered a regression ranging from 10-28 points in AFLFantasy/DreamTeam and 6-34 points in SuperCoach.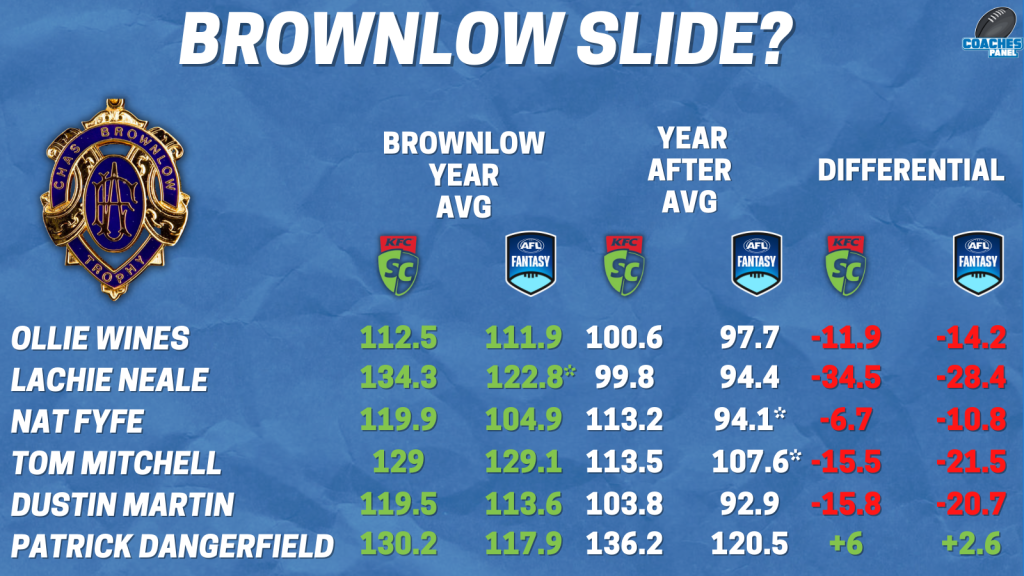 As Patrick Dangerfield has shown, just because many others have doesn't indicate that Patrick Cripps can't or won't hold/improve his scoring. But what it does show is that history is against him regarding the likelihood of it.
Carlton has already confirmed that the Blues midfield will take a significant hit over the opening part of the 2023 season. Sam Walsh underwent surgery on his back in late December. The club believed they had no other alternative but to undergo the micro-discectomy procedure in his back. While no return date has yet to be set, the club believe he'd be available in April at the earliest.
What does that mean for Cripps? Increased responsibility! He thrived last year with the additional support of Sam Walsh, George Hewett, Matt Kennedy & Adam Cerra. Increased responsibility should mean some extra opportunities to score fantasy points but an even narrower focus that if any teams want to run a midfield tag, he's the only target. As a reference, the Blues opening five games are against Richmond, Geelong, GWS, North Melbourne & Adelaide.
As important as Sam is to the Blues midfield structure, the player that's the key to scoring success for Cripps, according to the 2022 data, is George Hewett. Or should I say his absence? What Hewett brings to the Blues midfield unit is defensive pressure, presence and the footy smarts to protect the space for Cripps to be at his damaging best. But in doing so, George absorbs plenty of fantasy football points. In the fourteen games they played together last year, Cripps averaged 94.5 in AFLFantasy/DreamTeam and 102.8 in SuperCoach. However, in the seven games Hewett didn't play, Cripps went at a mouth-watering 117.1 in AFLFantasy/DreamTeam and 127.9 in SuperCoach. That's a differential of 22.6 in AFLFantasy/DreamTeam & 25.1 in SuperCoach.
Historically one of the major concerns behind 'trusting' Cripps as a reliable premium midfielder had a poor history of getting through seasons unscathed. However, Cripps has missed just three matches in the past three seasons. Staying with the narrative as he's 'injury prone' as the reason for avoiding him.
The combination of Cripps' history of being a hot streak scorer and the trend of seasons after winning a Brownlow is enough of a reason for me to fade on starting Patrick in my starting squads across the formats. In AFLFantasy/DreamTeam, I see him as an upgrade target if the price is right. In SuperCoach, he's certainly an upgrade target, but if someone wanted to start him, I wouldn't fight them to stop that.
DRAFT DECISION
Even though Patrick Cripps had an average draft position of 43 last year, If you drafted him, you got a bargain pick. By average, entering 2023, he is the 15th-best midfielder and the 12th-best in SuperCoach by averages.
Based on that, I see him being popular as an M2 across the formats. Ranked beneath him in SuperCoach are Jack Steele, Josh Kelly, Ollie Wines, Sam Walsh and Darcy Parish. But I need to see more options for him to slide to not being inside the top 20 midfielders picked.
In AFLFantasy/DreamTeam scoring formats, I'd rather him at M3 than M2. But that's personal preference and rankings. By last year's average, Josh Kelly, Tom Mitchell, Jy Simpkin, Darcy Parish, Marcus Bontempelli and Noah Anderson are all ranked below him. I'd rather select them ahead of Cripps. So although I'd rather have him at M3, I know his ADP will mean he'll go inside the top 20 midfielders as an M2. So in the drafts I'm in, I'll likely miss out on the chance of selecting him.
JOIN THE CONVERSATION
Do you believe he is fantasy relevant?
Will you be starting with him?
Have your say on our Facebook, Twitter or Instagram.
WANT EARLY ACCESS?
Want access 24 hours early to the 50 Most Relevant podcasts? Join our Patreon and get ahead of the Crowd