Bailey Smith started the 2022 season on fire; he became one of the most popular and in demand players. Entering 2023, I have barely seen anyone mention him, let alone plan to start with him. His low potential ownership could be a gold mine for coaches willing to jump on.
PLAYER PROFILE
Name: Bailey Smith
Age: 22
Club: Western Bulldogs
Position: Midfield
2022 Highest Score:
154 Vs Melbourne (AFLFantasy)
144 Vs Collingwood (SuperCoach)
Career Highest Score:
154 Vs Melbourne | AFLFantasy (2022)
150 Vs Adelaide | SuperCoach (2020)
2022 Average:
105.6 (AFLFantasy)
98.6 (SuperCoach)
SuperCoach Price: $542,700
AFLFantasy Price: $935,000
AFLDreamTeam Price: $958,300
Embed from Getty Images
WHY IS HE RELEVANT?
Heading into the 2018 AFL draft, many recruiters were heralding it as a super draft. And they were right. Ben King, Max King, Sam Walsh, Izak Rankine, Connor Rozee, Zak Butters and Bailey Smith have all established themselves as stars of the competition after just four seasons in the AFL. Early in the 2022 season, media commentator and North Melbourne Premiership player David King said of Bailey that 'he's got the potential to be the best player in the competition; I think that highly of him.'
What makes Bailey such a good footballer is his incredible endurance and workrate. These two elements create the base for his reliable field kicking, the exciting burst of speed, and the ability to win the footy, making him the complete modern-day midfielder.
He flew out of the blocks in AFLFantasy/DreamTeam last season with a 154 against the reigning premiers Melbourne. By the time the 2022 season was done, he'd scored eleven tons from sixteen matches, including 131, 147 & the already mentioned 154. He also had two additional scores of 90+ and only fell under the 90 mark in just three games. In 81% of games last year, he scored 92 or above. His average of 105.6 places him as the tenth-best midfielder. That's a phenomenal effort! Even more so when you realise, he averaged more last year than Jackson Macrae, Sam Walsh, Josh Kelly, Marcus Bontempelli, Hugh McCluggage, Christian Petracca and the Brownlow Medalist Patrick Cripps.
Bailey's SuperCoach season wasn't as prolific, but the highlights are still very impressive. His average of 98.6 consisted of six tons, all above 110 and three over 135. To go alongside this ceiling was a solid scoring floor. Only three times last year did his scoring dip below 80, and two of those games were against eventual premiers Geelong.
There's a significant gap between what Bailey delivered over the first nine rounds and then what happened in his final seven games of the year. In AFLFantasy/DreamTeam, between rounds 1-10, he averaged 118.4. While from rounds 12-23 (remember he missed a big chunk of the season with suspensions), he averaged 89 from seven games. The split is comparable in SuperCoach. Over those first nine games, he averaged 112.2; in the final seven, he went at just 81. As a result, some will see his start to the season as unsustainable, while others will see the opportunity for some starting squad value.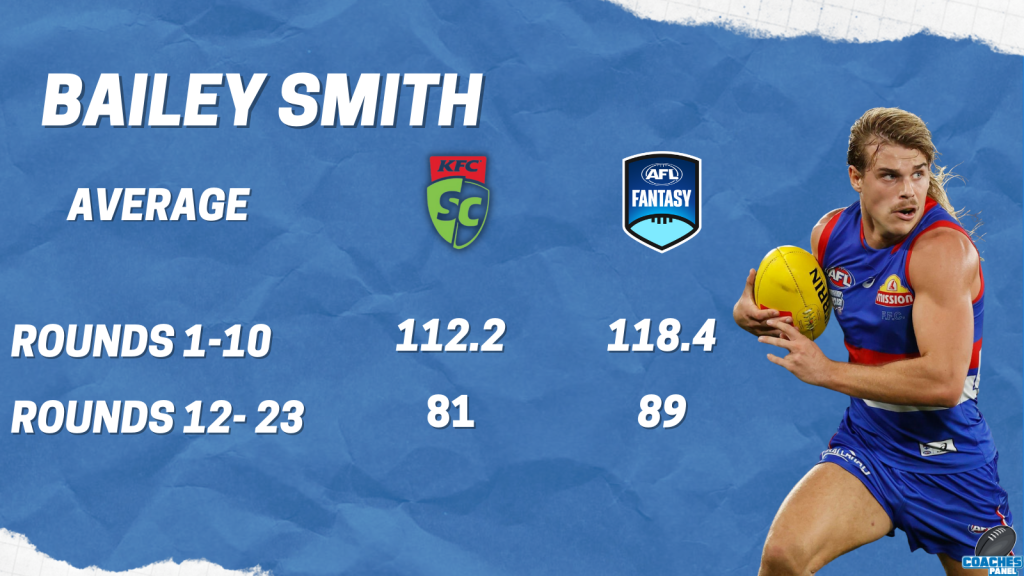 His premium midfield potential was apparent in 2021. He averaged the high 80s across all formats. But it's been visible for a while, right back in his debut season of 2019. He scored ten times over 80 as a cash cow, including a ton in AFLFantasy. While in SuperCoach, he scored two tons and nine additional 80+ performances.
Bailey Smith has the scoring pedigree to be the top-scoring and top-averaging player in AFLFantasy/DreamTeam in 2023. And in SuperCoach, he could be right in the tier of the top 5-10 midfielders. So he's very relevant and needs to be considered in 2023.
Embed from Getty Images
MY TAKE
One game can change your relevance in fantasy footy. In the Bulldogs final series loss to the Dockers, Bailey Smith had 85% of the game in the midfield. Fantasy Freako (the Twitter handle connection champion data and fantasy football fans) tweeted that, as a result, he missed out on MID/FWD DPP status by 0.6%. The sad news for the fantasy community is we cannot select him in what would have been one of the top forwards for the season across the formats. Had he been a MID/FWD, there's no doubt he'd be in the conversation as a top ten pick for the fifty most relevant. However, there is a big positive that's come out of him not gaining DPP. He'll be unique as a midfield premium.
Last season Smith played just sixteen matches. He missed round two as a precaution with a hip complaint. Bailey played every game until missing round eleven and missed with illness. The biggest gap was when he missed multiple games from round thirteen onwards with a suspension due to head-butting Zach Tuohy. That suspension was followed immediately by a club-given ban due to some off-field indiscretions. That's a decent patch of games missed, but none are linked to each other. So you can't build a narrative that he's injury prone or rough. The reason is he'd played every game of his first three seasons.
The departures of Lachie Hunter or Josh Dunkley shouldn't impact his role too drastically. I expect Bailey to split his time similarly to the past 18 months. That is a combination of centre-bounce attendance, playing off the wing and being a high half-forward that pushes into the midfield. At his best, the Bulldogs would want him to be a second-touch player. I'm sure they're fine with him winning the contested footy at clearances, but ideally, they want him receiving that touch from another player. As a second-touch player, he can use his speed, power and endurance to create opportunities for the powerful Bulldogs forwards.
Opposition sides could look to shut him down and send a tagger to prevent his run; we saw Geelong opt to do that a few times last year. But, as effective as it was, I can only see a few teams choosing to shut him down and allow players such as Tom Liberatore, Marcus Bontempelli and Jackson Macrae to run free.
With the 50 most relevant and Coaches Panel in general, we discuss all game formats. Some players are relevant to a format exclusively, while others are equally relevant across the formats. Bailey is certainly a factor and highly relevant in SuperCoach, but history indicates he's more favoured to the formats of AFLFantasy & DreamTeam. You're not punished (or rewarded) in these formats for how well you distribute the ball. This aids Smith, as in 2022, he was ranked first in the competition for turnovers and 12th for clangers per game.
The dilemma for AFLFantasy & DreamTeam coaches wanting to own stocks in him is cheaper than Bailey are some strong midfield premiums with a nice fantasy history. For example, in AFLFantasy, Jack Macrae is $19,000 cheaper. You'd save $27,000 going Christian Petracca over him. One of my favourite fantasy players is Josh Kelly, and he's $37k cheaper. At the same time, another value buy is Darcy Parish, who's $47,000 under Smith's starting price. While the pricing differs across AFLFantasy & DreamTeam, the value translates across the formats.
Of course, you can always select Bailey alongside these guys. However, getting the mix right between this grouping of midfield premiums and the tiers above and below is important. Seeing those names at a lower price might be enough for some in these formats to consider him an upgrade option.
The scoring capacity is there in SuperCoach. Scores of 122, 135, 139 & 144 showcase the pedigree. However, his floor contrast to the other formats is probably less regular. It's why coaches in this format are less likely to consider him in the starting squad.
One last thing to keep an eye on is the potential for Smith to gain MID/FWD DPP again during the mid-season DPP allocations. He got it last year, and no reason to think he couldn't be in the mix again for 2023.
DRAFT DECISION
The drafting range for Bailey Smith will vary depending on the format you play in. In SuperCoach, he's currently ranked as the 29th-best midfielder. So I see him getting drafted in that range, which would make him an M3 and probably get selected around the first fifty draft selections.
In AFLFantasy/DreamTeam scoring leagues, he's the tenth-best midfielder by average. He'll be a popular M2 that'll start heading off draft boards in the second round and will be gone well and truly in the third. I'm also a fan of drafting him at M1 if it means you've also been able to secure another elite top-end premium in another line.
JOIN THE CONVERSATION
Do you believe he is fantasy relevant?
Will you be starting with him?
Have your say on our Facebook, Twitter or Instagram.
WANT EARLY ACCESS?
Want access 24 hours early to the 50 Most Relevant podcasts? Join our Patreon and get ahead of the Crowd