After years in the fantasy football wilderness, Angus Brayshaw emerged as one of the best defenders in 2022. Can he back it up and be relevant again in 2023?
PLAYER PROFILE
Name: Angus Brayshaw
Age: 26
Club: Melbourne Demons
Position: Defender
2022 Highest Score:
156 Vs Essendon (AFLFantasy)
176 Vs Essendon (SuperCoach)
Career Highest Score:
166 Vs Adelaide | AFLFantasy (2018)
176 Vs Essendon | SuperCoach (2022)
2022 Average:
99.1 (AFLFantasy)
100 (SuperCoach)
SuperCoach Price: $550,300
AFLFantasy Price: $878,000
AFLDreamTeam Price: $899,500
Embed from Getty Images
WHY IS HE RELEVANT?
Angus Brayshaw is no stranger to being selected inside our fantasy football sides. It's been a few years since coaches had been happy they selected him, but after being in the fantasy football wilderness, he established himself as one of the best defenders across the formats in 2022.
The initial cause of the scoring pop was when Christian Salem went down injured early in the first game of the season. As a result, 'Gus' was forced to relocate off the wing, where he won a premiership and became one of the Demons primary playmakers off half-back. Last year he ranked eleventh for uncontested possessions, thirteenth for marks & twentieth for intercepts per game. All of these are testament to his ability to find space and to work well within the Demons back six.
Across the season in AFLFantasy/DreamTeam, he scored eleven tons, five over 120, including a season-high 156. He had additional scores between 90-99, and his scores dropped below 70 just once all season. His average of 99 sees him currently ranked as the fourth most expensive defender behind Sam Docherty, Jack Sinclair and Jordan Dawson.
In SuperCoach, he scored twelve tons, five of which were higher than 120, and it featured his career-high score of 176 against Essendon. That match consisted of thirty-four possessions and an incredible twenty marks. Over the twenty-two games, he had four additional scores between 90-99 and had only five games sub 80 all year. Of all available defenders in 2023, he's currently ranked sixth for total points and tenth by average.
His average of 99 in AFLFantasy/DreamTeam and 100 in SuperCoach is a testament to his consistency all year. However, there is an upside to Brayshaw. Over the final four rounds of the home & away season, he started to attend centre bounces. Something he had yet to do all season. In those weeks for AFLFantasy/DreamTeam, he scored 108, 100, 123 & 94 going at an average of 106. While in SuperCoach, he averaged 108 with scores of 123, 113, 113 & 83. It's a small sample size, but it shows that you've got some more scoring potential left on the vine in all formats.
There are few defenders capable across all game formats, averaging 100 for an extended run & with a scoring ceiling exceeding 150. With Angus Brayshaw, you have both. Gus also has the important round 14 bye. Beyond him, only James Sicily & Jordan Dawson are eligible for defensive premiums.
Embed from Getty Images
MY TAKE
It was a long time in between fantasy football-relevant drinks for Angus Brayshaw. 2018 was the only other year he'd averaged over 90. That year he excelled and averaged 105.1 in AFLFantasty/DreamTeam and 97 in SuperCoach. So while 2022 isn't an isolated event, it does stand out like a sore thumb compared to the rest of his career.
What does have people seriously considering starting with Gus is the way he ended the season with an average over 105 across the formats, but importantly as a midfielder based at the centre bounces. In that final month + AFL finals, he was the clear third-choice midfielder, with only Jack Viney and Clayton Oliver spending more time at CBA's.
The key question coaches considering Brayshaw must answer is what role he holds down for 2023? And how secure is he within it? We saw last year that his coach was happy to use him across various roles and positions to fix gaps within the side. During the season, Goodwin was asked about Brayshaw's role moving forward in the side, and he said, "Angus has been clear that he'll do whatever he needs to do for what the Melbourne footy club needs."
Last year Brayshaw played three key roles, each fulfilling a primary coaching directive. Between rounds 1-11, he played as a half-back to cover the absence of Christian Salem. In that stretch of eleven matches, he averaged 95.6 in AFLFantasy/DreamTeam and 92.8 in SuperCoach.
Upon Salem's return, Brayshaw maintained his role in the backline while floating between defence and midfield. During that seven-game stretch between rounds 12-19, he averaged 100 in AFLFantasy/DreamTeam and 106.5 in SuperCoach.
Before finally, the centre bounces arrived, he averaged 106 in AFLFantasy/DreamTeam and 108 in SuperCoach over four games. Why did he move into the midfield? Simple, to allow Christian Petracca more time inside forward 50. Placing him there more regulalrly added dynamically to a forward line that failed to find the same potency as their premiership season.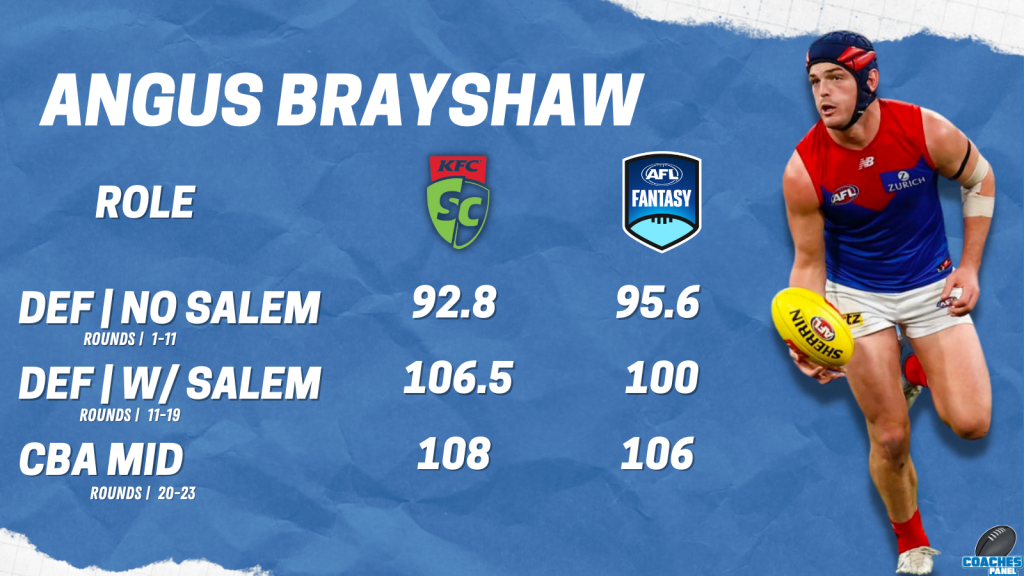 Nobody can have confidence in a season-long role for Brayshaw. So if you're selecting him based on him being a CBA midfielder, then you're going 'all in' on the Demons structures, not using him as a swingman. That's a bold and historically dangerous decision.
The Melbourne midfield dynamic will change this season. Brodie Grundy's arrival and Luke Jackson's departure will do that. Let alone the lifeline they threw to Lachie Hunter. He's no certainty for best 22, but he could absolutely find a role.
For those seriously considering Angus in their starting squad, the above splits should give you some confidence that even with some positional instability, he still possesses scoring pedigree, and his 'poor' output should still see him among the top dozen defenders.
Equally, I can see coaches fading on starting him. While there is upside potential, it's not a drastic upside. We're only talking about a handful of points. So even with a strong start, he should still be attainable in price. The same might not be able to be said for players like Sam Docherty, Tom Stewart, Jack Sinclair or even Jordan Dawson.
He won't be a 'sexy pick' pick in starting squads, but he deserves his place in the conversation as one of the most relevant players to consider in 2023.
DRAFT DECISION
It's early in the preseason, but the popular trend is to lock away one of the premier forwards and the high-end midfielders. The odd defender might go off the board in the second round, but it'll be late second. In reality, we should start to see our D1's leaving the draft board somewhere between the third and fourth rounds. If you want to own Angus Brayshaw, you'll need to snag him here.
JOIN THE CONVERSATION
Do you believe he is fantasy relevant?
Will you be starting with him?
Have your say on our Facebook, Twitter or Instagram.
WANT EARLY ACCESS?
Want access 24 hours early to the 50 Most Relevant podcasts? Join our Patreon and get ahead of the Crowd