For years Blake Acres has shown he has the potential to breakout. At a new club is 2020 finally his time? Let's kick off the 2020 fantasy footy season of the 50 Most Relevant.
PLAYER PROFILE
Name: Blake Acres
Age: 24
Club: Fremantle Dockers
Position: Midfield/Forward

2019 Highest Score:
96 Vs Melbourne (AFLFantasy)
105 Vs Hawthorn (SuperCoach)

2019 Average:
67.5 (AFLFantasy)
70.7 (SuperCoach)

SuperCoach Price: $384,400
AFLFantasy Price: $501,000
AFLDreamTeam Price: $488,200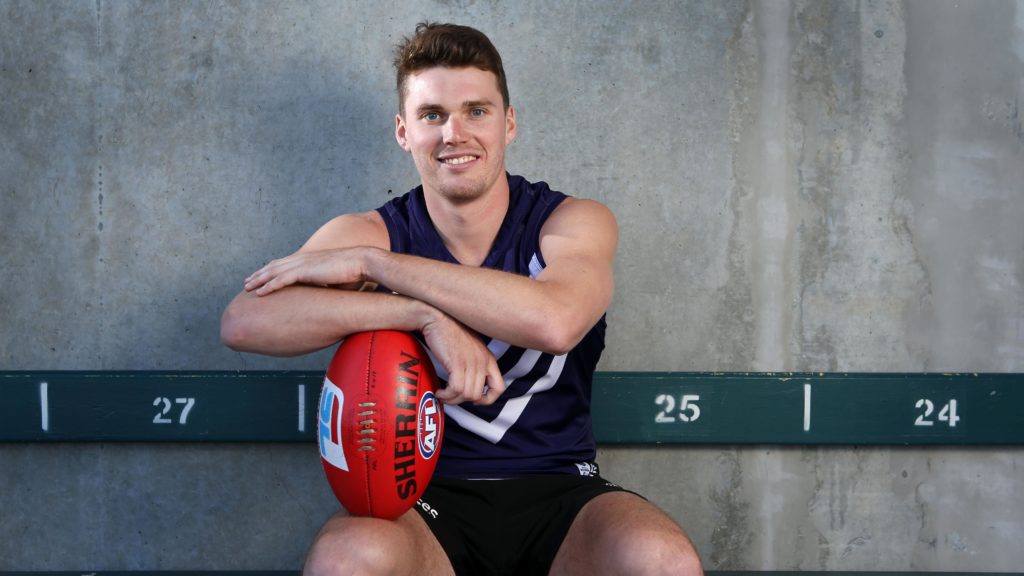 WHY IS HE RELEVANT?
Long-time players of SuperCoach, AFLFantasy & DreamTeam will be familiar with the potential of Blake Acres. After being drafted at pick 19 in the 2013 AFL draft, the West Australian native has shown glimpses of his potential.
As a junior, the versatile modern-day midfielder drew comparisons early in his career to Sydney's Josh Kennedy and Adelaide's Bryce Gibbs. What makes Acres such a damaging player is his versatility. He posses the ability to play as a ball-winning inside midfielder, outside runner and even a third tall forward target.
At St Kilda, Blake Acres was denied opportunities to play significant minutes as a midfielder. He's been stuck behind the likes of Seb Ross, Jack Steele, Dan Hannebery, Jack Billings and to a lesser extent Luke Dunstan all getting a role ahead of him.
On the occasions, he was allowed to use his hulking frame through the midfield his fantasy numbers showed plenty of promise. In 2018 his opening five scores in SuperCoach were 144, 90, 97, 92 & 107 averaging 106. He finished the SuperCoach season averaging 88.
In AFLFantasy it was 124, 92, 77, 83 and 100 with a five-game average of 95.2. At the end of 2018, he managed a total of twelve matches and averaged 81.
Across last season he continued to show promise with AFLFantasy scores of 96 (Melbourne), 93 (Hawthorn), 92 (Melbourne) and 91 (Carlton.) These numbers were more superior in SuperCoach with a 105 (Hawthorn), 103 (Melbourne), 102 (Carlton) and 99 (Western Bulldogs).
Sometimes your key strength (which for Acres is his versatility) can go against you. Instead of being allowed to find a home inside the St Kilda midfield he was used by the coaching staff to plug gaps in the side. This made it difficult for him to find a rhythm in a roll as well as impact his fantasy football output.
Thankfully for prospective owners, we have two positive out of this. Firstly the move to Fremantle could not have been to a more perfect club who are needing to bolster the midfield. Secondly, he'll be priced significantly cheaper than what he's capable of delivering. In AFLFantasy Blake starts the 2020 season priced 13 points less expensive in contrast to his 2018 season. For SuperCoach it's 18 points below his personal best season.
MY TAKE
Fremantle has done the opposite of Acres firmer club St Kilda. The club has allowed established players to depart and will head to the draft to top up the list. With the departures of Brad Hill and Ed Langdon, outside midfield opportunities have arisen at the club. Lachie Neale departed twelve months ago, and David Mundy is a further year older. The Dockers must look to the future stars of the club, and Blake Acres must take the opportunity in front of him.
Andrew Brayshaw and Adam Cerra could be given large amounts of responsibility in the midfield to support skipper Nat Fyfe. Michael Walters should also move into an even more dominant midfield role too. Given damaging small forward Liam Henry was taken in the draft.
Acres could be a perfect fit inside the contest for the Dockers. If he can get his body right, he could be a genuine fantasy candidate if he maintains his forward status again.
Role in the team is the key to his relevance. If played as a midfielder (inside or out) this he must be on the Preseason watchlist. Best case scenario is he's a keeper. However, to make him an excellent selection, he needs to go 85 or higher in AFLFantasy and 90+ in SuperCoach. As always with stepping stone and breakout candidates, you need to save a trade as an upgrade. It is just in case they don't deliver on the best-case scenario.
Fremantle has the week off in round thirteen, meaning he's a potentially strong candidate to run into the byes before upgrading him. It's not a pretty listing given that Geelong, Essendon, Port Adelaide, West Coast, St Kilda and Brisbane are the teams coming off the round twelve bye. That said you could target someone like Devon Smith, Gary Ablett, Jack Steven, Jack Darling and maybe even Robbie Gray.
There is plenty of upside about Blake, but coaches need to go into this selection with eyes wide open. As he enters into his seventh AFL season, he's yet to play more than 19 games in a single season. Injuries have been cruel to him with no continuous injury pattern occurring.
He also has come from a side with one of the shallowest midfield groups, where he was unable to secure a permanent position. He's no certainty at Fremantle just like he was at St Kilda.
I'm keeping a sharp eye on his preseason, however, right now he's a strong candidate to start in my AFLFantasy side and consideration in the other formats should I look for a breakout candidate at F3/F4.
DRAFT DECISION
His draft range will be wide given were people rate him and when your draft is held. The key in your draft is being really clear in your ranking of him and making sure it's based on your average projection not on what he did last year.
For some, that'll put him in the high 80's and others he'll be a super late-round pick up. Personally I'd feel comfortable taking him as a forward 4 position knowing that he could either breakout and become your F2.
JOIN THE CONVERSATION
Do you believe he is fantasy relevant?
Will you be starting with him?
Have your say at our Facebook, Twitter or Instagram.
WANT EARLY ACCESS?
Want access 24 hours early to the 50 Most Relevant podcasts? Join our Patreon and get ahead of the Crowd!
NEXT UP…
Tune into our Facebook page at 9pmEDST for a clue