Some players are relevant because of what they can do on the scoreboard. Others like Matt de Boer are relevant for the damage the can bring to our premium midfielders.
PLAYER PROFILE
Name: Matt de Boer
Age: 29
Club: GWS Giants
Position: Midfield

2019 Highest Score:
105 Vs Carlton (AFLFantasy)
116 Vs Gold Coast (SuperCoach)

2019 Average:
69.9 (AFLFantasy)
75.1 (SuperCoach)

SuperCoach Price: $408,000
AFLFantasy Price: $519,000
AFLDreamTeam Price: $505,100
Embed from Getty Images
WHY IS HE RELEVANT?
Are you surprised? Matt de Boer had one hell of a season in 2019, and at every turn, he destroyed all in his path. To be clear, he is not in the countdown for the scoring he can bring. On the contrary, when he is sent to negate as a player, he shuts them down drastically.
One of the unique traits of de Boer in contrast to other taggers in the league is he has shown the ability to switch opponents mid-game and stop them too comfortably. This was highlighted early last year when in one half of the game he took former Cat now Eagle Tim Kelly out of the game. Then the other half he took out Patrick Dangerfield who was thriving and created chaos in the game for GWS.
More than any other defensively-minded players, de Boer's attention on a player caused catastrophic results if he was sent to a player you owned. To get a full understanding of the impact he had, I calculated each players average excluding the Game Matt was sent to them. What I learnt was that he was the single most damaging source to players scoring in 2019.
I tracked him as playing 14 clear negating midfield roles with one being split across two players in one game.
In AFLFantasy, on average he decreased players scoring average by a whopping 34 points. With Zach Merrett (minus 61) and Patrick Cripps (minus 59) copping the high impact. Marcus Bontempelli had the lowest incidence (down 10 points), while nobody was able to match or score above their seasonal average when MDB was seent to them
For a visual representation look at the scoring deviation he created when he was sent to line up on a player.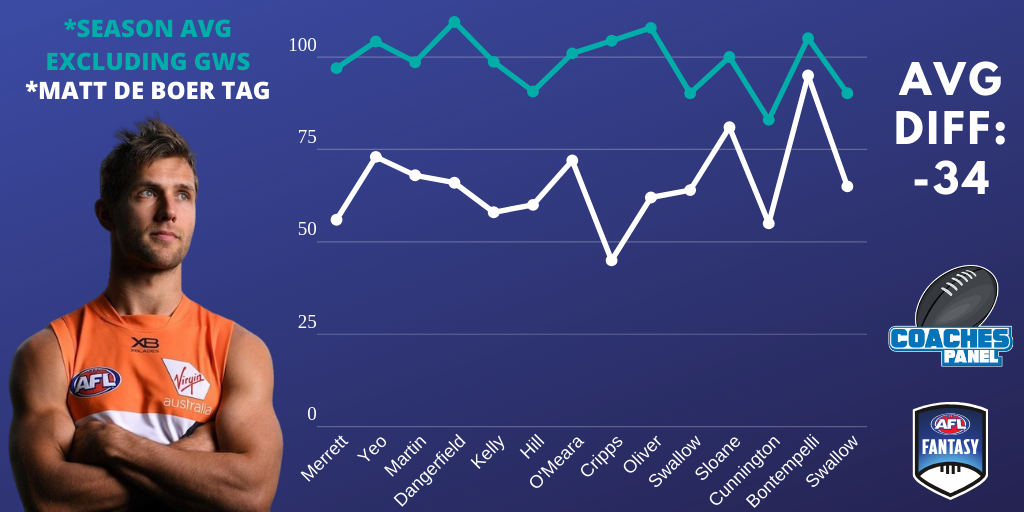 The tagging impact was just as similar for the majority of matchups in SuperCoach. Across the matchups, his influence on players scoring was averaged out to 35 points per game. Four players suffered a scoring differential of over 50 points which featured popular premiums Patrick Cripps, Clayton Oliver and Patrick Dangerfield.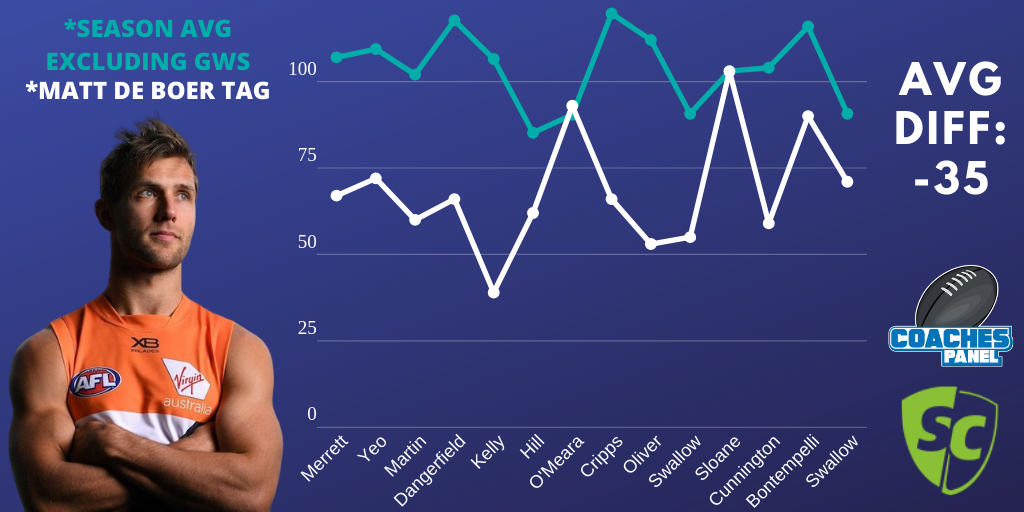 Embed from Getty Images
MY TAKE
Nothing is ever certain in football. Game styles change, players fill different needs, and things evolve yearly for most teams. Without any preseason games or much public comment from Leon Cameron and the GWS coaching staff, we can't have a full guarantee of what changes (if any) they will make.
One thing is clear, with GWS making a Grand Final last year and De Boer's ability to negate the oppositions best midfielders it'd be a big swing to move him out of the midfield. Matt de Boer is a member of the GWS leadership group and is the perfect minded player they need in that midfield. With ball winners and stars like Tim Taranto, Josh Kelly and Stephen Coniglio, it's vital to their structure to have a player defensively minded.
Why his impact is crucial is essential for two key factors. Firstly, you do not want to consider someone as a captaincy/vice-captaincy option when lined up against GWS. We saw last year he was more than capable of switching targets mid-game and being just as damaging.
Second, one of the keys to success in this game is getting a strong start from your premiums, especially in the midfield. A simple fact might decide the choice of who to start or not to that they could suffer a dramatic scoring downturn early.
I've forecasted on who MDB could target based on a combination of who he's previously negated in the previous two seasons and the midfielder I believe is most crucial to their team's attempts to beat the Giants.
The Western Bulldogs are the only team that play GWS twice before their multi bye round. This could be bad news for those wanting to start with Marcus Bontempelli. Other teams that play GWS twice in the season are Richmond, Sydney, Essendon and Geelong.
During fantasy footy finals they will play Brisbane, Geelong, Fremantle and Port Adelaide.
Popular premiums Patrick Dangerfield and Clayton Oliver both suffered at the hands of de Boer last season. In the opening two matches, the Giants are matched up against the Cats and Demons. Perhaps they might be better quick upgrades than starters?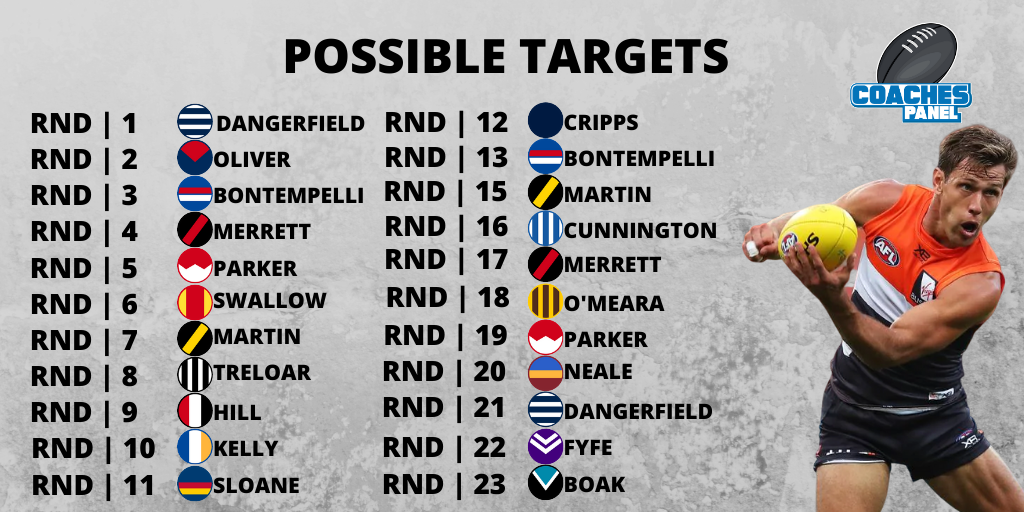 Nothing is for sure in fantasy football, and alot can change at any place in time. However, barring a dramatic change that Matt de Boer factor could be a season-defining one for you and the premiums you pick. 
DRAFT DECISION
He's not relevant in drafts as an on-field scorer. It's the damage he does to others in drafts you'll want to keep an eye on.
JOIN THE CONVERSATION
Do you believe he is fantasy relevant?
Will you be starting with him?
Have your say at our Facebook, Twitter or Instagram.
WANT EARLY ACCESS?
Want access 24 hours early to the 50 Most Relevant podcasts? Join our Patreon and get ahead of the Crowd!