One thing that separates good coaches from great coaches is that they aren't just looking at trades for this week. Rather great coaches are looking multiple weeks ahead to be ready to be traded into their teams. In this new series, we look at players who this week and the following two weeks will have likely bottomed out in price and could be a tasty trade target for your side. Each week we'll focus on the players in DreamTeam, AFLFantasy and SuperCoach you should be forecasting to bring into your side because they are ripe for the picking.

Priced at $531,900, Steele Sidebottom (MID/FWD) has had an up and down start to the season. As yet, he's still yet to crack a score over 90. With a breakeven of 181, he's still got a few weeks before his price flattens out. If he averages 90 over the next 3 weeks, he'll bottom out at around $480,000, and he ripe for the picking heading into round 8.
Depending on Clayton Oliver's scoring this week against Hawthorn, 'Clarry' is either one or two weeks away from his basement price. Priced at $612,000 and breakeven of 161, his round 3 score of 67 is about to fall out of his three game cycle. If we are lucky, we should be able to pick him up for under $600k, not bad for a guy who has scores of 122, 130 & 133 from three of his four games this year.
Over the past few seasons, Caleb Daniel has been a safe top, 10 defenders. But 2021 has seen some indifference to his scoring. He's had just the one ton, and his score of 19 on the weekend was infuriating for owners. To compound the pain, he's missing this week through suspension.
'The Helmut' has already dropped almost $80k from his starting price and will be a steal for coaches in three weeks once that suspension and score of 19 rolls through his price cycle. If non-owners get lucky, he'll be a slight chance of dropping marginally under $400,000.
The wait to trade into Lachie Neale continues, especially given his top score for the year is 89. With a breakeven this week of 168, it could be anything from one to three weeks away before coaches jump on. If he bounces back to his best with a 130+ score this week and passes the 'eye test', then it might well be worth picking him up at around $550k. Should he have a quieter fortnight, his price could drop right towards $500k, making him an almost impossible to say no option.
Both of Jake Lloyd and Marcus Bontempelli have breakevens just over 150, but in any game both have shown both historically and in 2021 that a score of that ceiling is right in their wheel house. Both have dropped around $30k from their starting price and don't really fit the 'bye low' tag.

Andrew Brayshaw started like a house on fire with scores of 125 & 132. However, the last 2 weeks of scores have seen him now be priced $30k under his starting price and with a breakeven of 186. This week he plays the Crows, and potentially a Ben Keays stopping job awaits. The following week it might be Kangaroo Kayne Turner who did a job on Rory Laird last week.
If you believe he's good enough to work through the tag pressure he's currently copping and that he'll be able to score 110+ for the remainder of the season, then at potentially him being priced at $457k in 2 weeks, he might be your preferred target.
70% of SuperCoach players own Dustin Martin. After back to back scores in the '80s, the 30% of coaches without him might consider him their prime target over the coming weeks. This week the $545,900 MID/FWD has a breakeven of 146, so a score of 110 will see him drop less than $15k.
We know Dusty loves the big stage and with big matches against probable top 8 teams Geelong, Melbourne, St Kilda and Western Bulldogs over the next month. We might see a return to his round 1 & 2 scoring. You'd certainly want to be on the right side of his scoring if he does.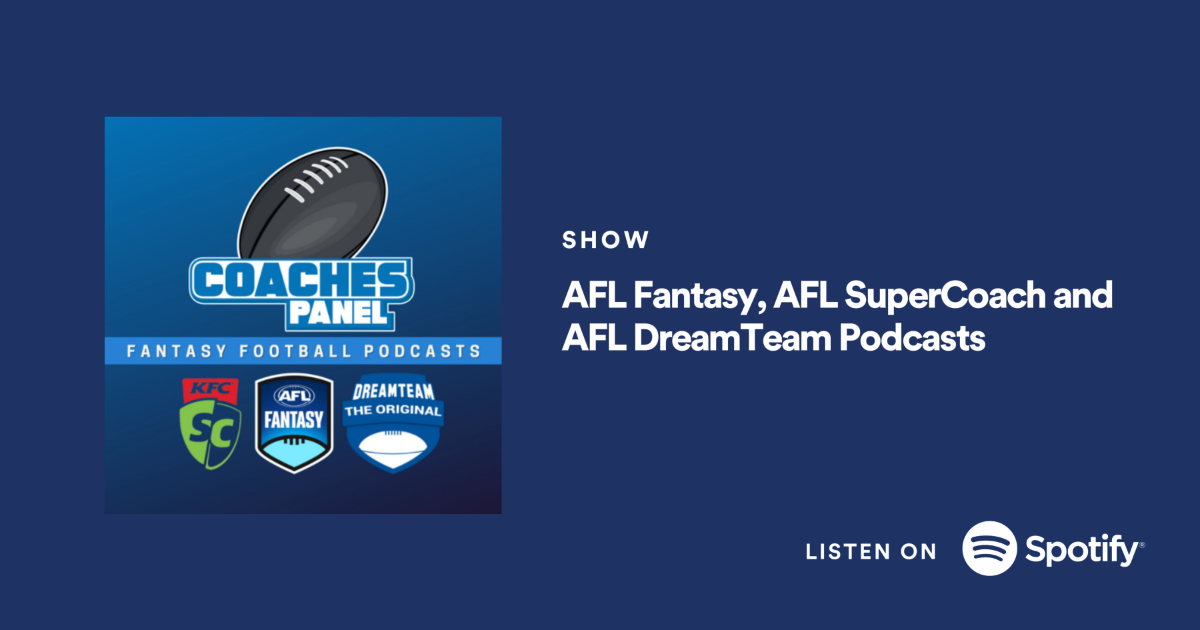 Become a Patron!

In AFLFantasy, given the way the prices cycle through and adjust each week it feels like on any given week any premium is just 'a week away' from bottoming out. That said, there are a number of guys that we should consider as by low targets.
In 2-3 weeks, Sam Menegola should be right in the coaches sweet spot. Having already dropped $66k, he's got another $50k to go before being ripe for the picking around $670,000. Andrew Brayshaw will also be at a similar price point in 2 weeks, and after starting the season with a 105 & 127, he's shown he's capable of delivering premiums scores.
Last weekends score of 20 was clearly an aberration for Caleb Daniel. After scores of 111, 86 & 89 this season, he's clearly a top defensive premium. For non-owners, a combination of this poor score + one week suspension means that in two more matches, he's forecast to drop another $50k and be priced just under $60,000.
One caveat. In round seven, the Bulldogs play Richmond, and opposition defenders have feasted on fantasy points against the Tigers for years. So it might be worth jumping a week early and that even though he could be '$20k' cheaper the following week, you might have also banked yourself a nice ton.
If Lachie Neale continues to show signs that his back injury is playing little to no impact on his movement, then last seasons best midfielder must be considered. With a breakeven this week of 133 and having dropped already almost $200k from his starting price, it's getting close to time and picking up the Brownlow Medal winner.
Josh Kelly has a breakeven of 131 and has already leaked $85,000. However, the community hopes that AFLFantasy announces him as part of the upcoming DPP changes and award forward status. If he does, then he's someone that you should consider. Even with this weird role, he's still scored 3 times over 90. And given his historical ceiling, that's a tasty forward proposition.
Our ruck twin towers in Max Gawn and Brodie Grundy appear to have hit the basement. Brodie Grundy has only dropped $15k from his starting price and with a breakeven of 120 agasinst West Coast it's certainly achievable. The fortnight after The Magpies play the ruckless Bombers and Suns. It could be a painful fortnight for over half the comeptition that don't own him based on that fixture.
While Max Gawn has dropped $78k, his price tag of $886,000 leaves him with a breakeven of 113. Given he's averaging 125 in his last 3, it's looking likely this is as cheap as we might get the Demons skipper.
That might not be the same for Andrew Gaff, but if it's not, he's certainly close to it. Outside of his 154 a fortnight ago, the Eagles wingman hasn't shown AFLFantasy coaches much to be excited by. With him now priced at $745k, that a total price change of $86k. His breakeven of 109 has him likely not moving the bank balance much on either side.
If you were considering Gaff, I'd encourage you to lower your gaze a little more as I believe there is a better option cheaper. Adam Treloar is back playing as a centre bounce midfielder and has scored 106 & 127 in the previous fortnight. Having prodded $92,000 from his starting price, you can now pick him up at $720k with a breakeven of 90. If you have confidence that it won't be him that's stuck in Luke Beveridge's weekly game of 'you won't get midfield time even though you're a midfielder, then pick him.
Become a Patron!

Last season, coaches loved the scoring consistency of Sam Menegola. However, in 2021 it's been a slow start due to injuries. With the unachievable breakeven of 192, you've got a few weeks of watching his cash leak before considering him. If he averages 80 over the next month, he could drop as much as $150k from his current price and be nearing the $600,000 range.
If the former Docker and Hawk can get himself up to full fitness and the Cats get their game style going, he's certainly got the history of showing he can match it with some of the best midfielders.
I've already highlighted Andrew Brayshaw in the SuperCoach section, but he's well worth a mention here too. At his best, he could average 100-110. But so far this season, he's delivered 2 scores worthy of that while a further two have been in the territory of cash cows. In a fortnight, he'll be about $50-$60k cheaper and a unique upgrade target.
Western Bulldogs pair Marcus Bontempelli and Caleb Daniel are both $50k cheaper than starting price and have breakevens over 150. When they get on a hot streak, both can match it with the top performing players in their line. In 2-3 weeks, and if they show us something, it could be time to jump on.
After his first ton of the season last week, it's almost time to get Steele Sidebottom. His price of $782,600 probably has another $30,000-$40,000 more to drop given his breakeven of 149. However, after that, there are 2 reasons why I'd be quickly targetting him.
Firstly, the injury to Taylor Adams should see this premiership Magpie increase his midfield presence and responsibility. Second, In round 7 & 8, they play Gold Coast & North Melbourne. Both teams are leaking DreamTeam scoring to opposition sides.
It'd take a role change back into the midfield to make non-owners convinced. Next week, Josh Kelly will be under $700,000 and have dropped almost $100,000 from his starting price. Three of his past four weeks, he's scored 90-91, and that's without minimal midfield minutes. If his centre bounce attendances are up this week, then that might be all we need to see to jump on this midfielder who's proven he can go 110+ over multiple seasons.
Both Dustin Martin and Clayton Oliver look set to be topline selections in their lines of eligibility. With breakevens of 139 & 140, they could each hit their season low prices. It might only be around $50k cheaper than starting prices, but barring an injury, both rarely drop enough poor scores to leak cash.
You can probably throw Tom Mitchell and Jack Crisp into that mix too, but it's the price of Lachie Neale that coaches must keep an eye on. Last years Brownlow medal winner already dropped over $158,000, and with a breakeven of 122, he's starting to flatline in price. Over the past 2 weeks, he's scored 103 and 96, and should he score like that again this week, then at $730k, he'd be ripe for the picking, especially if he continues to look like he's overcoming his back injury.