After months of tweaks, I feel like I'm finally happy with the balance of my side and ready to launch into the 2019 SuperCoach season.
Defenders
I'm anchoring my side with likely one of the best defensive options for the year in Adelaide's Rory Laird. Both Brodie Smith and Pearce Hanley present value too good to pass on, and with both players having the final bye round I get the opportunity to get 13 games (injury pending of course) from them before deciding whether or not to hold or upgrade them. Jordan Ridley had a strong JLT series and looks like he'll get an extended shot at it while Marsh and Collins who both have previous AFL experience round out the on-field side. Jordan Clark is still very likely to come in for me but will wait on final teams before locking in my cash cows
Midfield
Locking in the big three midfielders in Fyfe, Macrae and Oliver all are legitimate captaincy options most weeks. Not starting with Cripps could well hurt me but to chase the value of Sloane, Dusty, Crouch & Libba something had to give and sadly it was him.

It's more midprice selections than I've entered the year before, but with my lack of cash cows with job security at a lower price range, I'm looking for innovative ways to generate cash while also score on field points.
Rucks
I think Gawn is more likely to average closer to his 2018 numbers than Grundy, so for me, he gets the R1 position while Sauce Jacobs is the value ruck that gets me to Grundy at some point in the season.
Forward
The Patrick Dangerfield selection needs no explanation, but the pairing of him with Tim Kelly is a recent addition to the side for me. His midfield time in the JLT gave me the confidence that he's got more growth in him and should be a top 6-8 forward player by seasons end. Toby Greene presents too much value to ignore, while Darcy Moore is one of the biggest steals of the year. In terms of cash cows, the on-field rookies resemble that of most sides.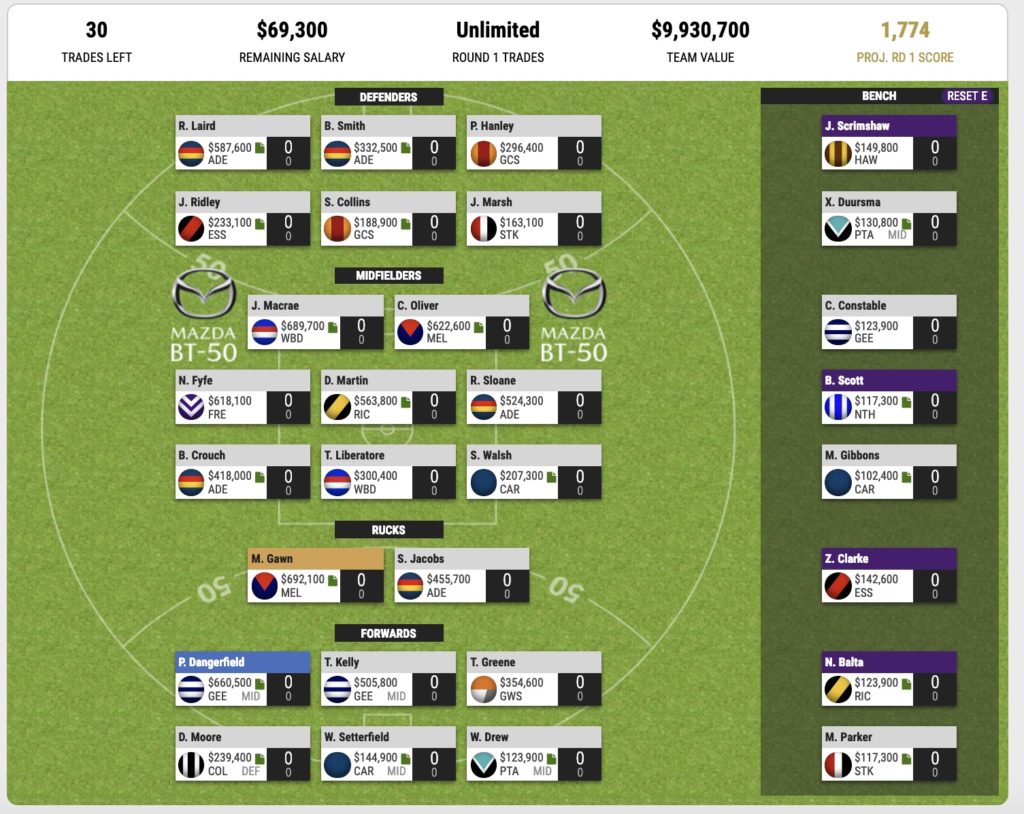 So! What do you think of the team? Have your say on Facebook, Twitter or Instagram