I wanted to take a different strategy into AFL Fantasy this year. It is the first time I will be taking this format seriously.
Point One
I wanted to have a deep midfield but also mix it up with guys who have an excellent early draw – Seb Ross (Gold Coast, Ess, Freo and Hawks first 4) as well as guys who I think represent value just under the true premium price tags – Rockliff, B.Crouch and Taranto.
Point 2
I see zero value in Gawn and Grundy from the start, so I wanted to select two guys who I think will minimise the point damage early but also who have the bye after round 13. This way I can upgrade through the byes one if not both of the rucks to make sure I get the best playing 18 I can. I think Jacobs and Witts could match Gawn and Grundy for total points playing an extra game through 13 rounds.
Point 3
The backline is very thin this year. The new rules are a total unknown, and it is an utter guess trying to work out who it favours and doesn't favour. So instead of guessing, I have decided to load up on the value guys and rookies. I will try and upgrade one by one through the season proper when the draw dictates which premium to select.
Point 4
Because I am taking a risk in the backline, it is crucial for me to select the three best premium options available in the forward line. I think Danger, Dunkley and Billings represent that for this year. Then I wanted to go unique with f4 so I could push Parker to the bench. There aren't heaps of scoring depth across the rookies in 2019, so I will try and select the cheaper ones and hope for the best.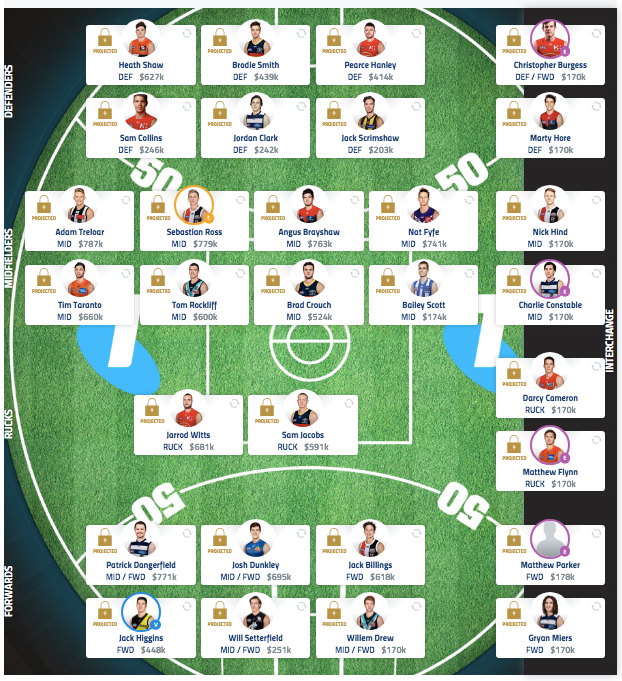 So! What do you think of the team? Have your say on Facebook,  Twitter or Instagram