A very different world this year in DT with the introduction of the rolling lockout as well as the new rules that have been talked about extensively. We particularly need to keep rolling lockout in mind and cognisant of that, I have made sure that my side has sufficient DPP flexibility to take advantage of that.
Defence:
I know that he will likely drop but I cannot start a season without Rory Laird. He is a Midfielder that we can choose as a defender, isn't reliant on the kick ins to get his points and is just always around the ball. 14 times last year he had over 30 possessions and 4 of those were over 40. I will take that every day.
I have then gone for value. Zac Williams at price is too good to pass up. I don't love Brodie Smith at D3, but he is undeniable value, I will just make sure I jump off before he starts to drop too much as I believe he will receive negative attention early and that will hamstring him.
Rounding out defence with Darcy Moore, who I think has too much upside at price and love his DPP and filling out on field and bench with the rookies that most will have. I think most have good JS and I am happy to back them in. Duursma also a must for that added DEF/MID DPP
Midfield:
In the mids I have looked for 2 things, Players that can run and spread and have an enormous tank, complemented with accumulators. I think the 666 rule does 2 things, supports those that can spread from a stoppage well… Macrae, Coniglio, Zerrett and Sidebottom and means that because of that spread players will need greater endurance particularly late in quarters. These 4 all have that in spades. I have complimented this with 2 of the best under-priced accumulators in Brayshaw and crouch. They will tackle, handball and work their way to 30+ touches every day of the week.
The nice thing I like about those 6 mids is that it is an even split for Bye structure, 2 in each week.
Walsh picks himself, and I like what I have seen of Drew, and his DPP is good to swap with Setterfield. I like the look of Atkins, and I think he could become a bit of a cult hero down at the cattery. Gibbons is too cheap not to have, and Constable is 22/23 man in the Cats side so hopefully can string some early games together
Rucks:
Yep… No Grundy. Personally, I think there is a decline in scoring in rucks this year with the 666 rule as well as less of a reliance in link up play, as per my note above around spread, so I am happy to take the chance that he drops. The slight delay to his preseason plus the knock in JLT 2, give me enough reason to wait. Big Maxy is so dominant I need to pick him, he will dominate centre bounces with the improving Dees midfield but also see him floating forward, and can cluck a mark and kick a goal or two (unless it's against the cats)
I have brought in Scotty Lycett at R2… I really like this guy and he will ruck solo for the first 6-8 games with Dixon out and Ryder playing forward. Has a good ability to build a score and given his DPP flexibility will move him to F6 but will give me great cover through the byes and doesn't "lock" my R2 spot with a second-choice ruck. Bines DPP at R3 for floating loophole and donut
Forwards:
Danger… nuff said. Dunkley at F2, I think with recent news about McLean that he is locked into that midfield unit and we have seen the numbers that he can produce. Even playing forward last year he can produce reasonable numbers. Worth the risk for me. Similar with Tim Kelly at F3, all the upside in the world this kid. With Selwood patrolling the wing, Duncan floating across half-back and Ablett and Menegola fwd, he plays perm mid. Toby "Punchable Face" Greene at F4 has too much upside to ignore. Can go 90's easily and the Giants will slaughter some teams this year, he will be very much in the thick of it. Setterfield pick himself and a rotation of Balta, Petreculle (This year's Liam Ryan) and Burgess (for added DPP swap with Moore) round out the team.
So, there you have it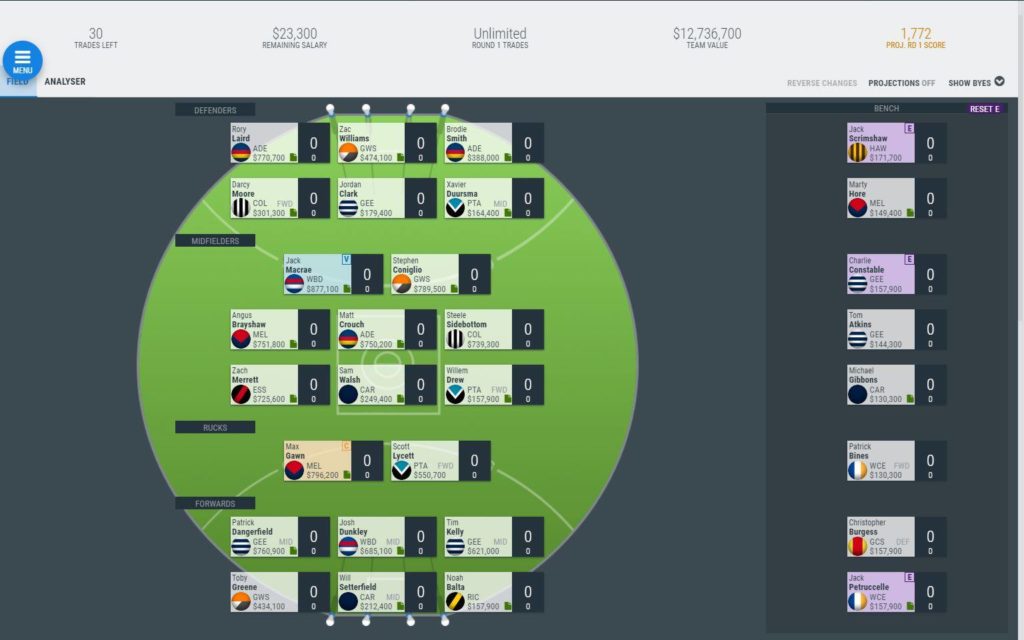 So! What do you think of the team? Have your say on Facebook, Twitter or Instagram