Every season after I conclude the 50 Most Relevant, we love to look back at some of the unlucky players to miss the countdown. Here are 10 Players Who Missed The 50 Most Relevant
Embed from Getty Images
Isaac Heeney
Timing is everything in the creation of the fifty most relevant. There is always some fluidity about the names and the ordering. However, as the preseason continues, adding and dropping certain players from the 50 is near impossible. For example, once the news of Issac Heeney being moved to a primary midfield role had been established, it was too late to add him over the top of others inside the top twenty or twenty-five.
Historically Henry has multiple years across the formats of averaging in the low to mid 90's. With a more defined midfield, role coaches should be expecting that as the minimum return upon investment. If his scoring matches that of other recent Swans midfielders in Callum Mills, then we might have a candidate for one of the essential starting squad selections of the year. With the news of Mitch Duncan's calf injury, coaches that previously couldn't fit him in now have a straightforward pathway to add him without blowing up an existing structure.
Patrick Cripps
Just two years ago, Patrick Cripps was coming off the back of averaging 117 in SuperCoach and 101 in AFLFantasy/DreamTeam. Entering into 2022, he's priced twenty points per game off that in AFLFantast/DreamTeam and nearly 35 in SuperCoach. With the news of Sam Walsh's injury and him missing the opening few rounds, many could rightly presume that the Carlton skipper's scoring will default to his 2016-2019 era.
The good news around Crippa is he's as fit as he's been in years. The challenge is that we've got players like Matt Crouch, Elliot Yeo, and Caleb Serong priced similarly in the formats. Where you rank Patrick alongside them will ultimately determine if he's a viable option for you or not.
Become a Patron!
Cam Rayner
Value is the name of the game, and across all formats, the potential value in Cam Rayner is exceptional. Across the formats, he's priced as a genuine stepping stone option where his selection can have a dual impact. He provides a solid cash generation avenue while also delivering points on the field that are significantly stronger than the cash cow options.
He's another victim of timing and his opportunity to be placed in the 50. With Rayner returning off an ACL, the club had until recently downplayed just how well he'd rehabilitated his knee and were playing a cautiously optimistic approach. However, track watchers and those within the club have no longer water down the expectations. It seems likely finally his talent, body and mind are all in sync to deliver him a stunning season. The final cherry on the top was when Chris Fagan said Rayner was 'back to normal regarding his body and will have a significant role to play in the Lions midfield. Many have decided to lock him into their side with that news, and understandably so.
Nick Daicos
Much has been made about the fantasy pedigree of Nick Daicos, with many AFL recruiters speaking of him in the same vein as Matt Rowell or Sam Walsh. In his five NAB league games last year in SuperCoach, he scored 177, 166, 145, 169 & 138. In AFLFantasay, he averaged 136 over these games and was going at 35.8 disposals per game. In short, Daicos is a ball magnet and will be a regular feature of our fantasy teams once he reaches his potential.
He's already part of the Magpies best 22. That's no knock on the Magpies list, but rather an exclamation on how good a player he is already. The club has already given plenty of preseason love to him and hyped up his elite running patterns and ball use. Recently, magpie midfield coach Brendon Bolton told The Age that Nick would play a split role between the midfield and halfback. With in-season DPP gains now standard across all formats, I suspect we'll see Daaicos become a MID/DEF by round six if the mooted role eventuates.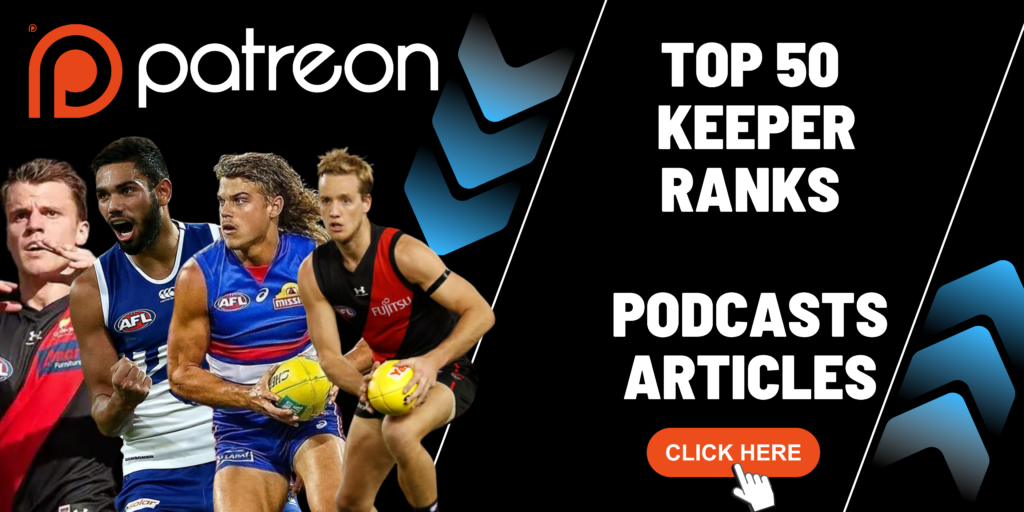 Rowan Marshall
The question isn't when will Rowan Marshall fulfil his fantasy potential, but rather when. Some might even argue he already has. Back in 2019, when he played the clear #1 ruckmen, he averaged 99 in AFLFantasy/DreamTeam and 110 in SuperCoach. Last year in the six games he played without Paddy Ryder, he averaged 103.7 in AFLFantasy/DreamTeam and 109.3 in SuperCoach. With many unsure who will be a top-two ruck in 2022, Marshall looms as a potential option should the patron get passed along in 2022, especially if he gets the majority share of the ruck minutes.
Jy Simpkin
One key thing that held Jy Simpkin back from being an option in the fifty most relevant is can he average 110+? In his 2020 breakout year as a forward, he became one of the best buys for the season. Simpkin had an average in the mid-'90s across the formats. For example, in his opening ten matches of 2021, he averaged 84 in AFLFantasy/DreamTeam and 88 in SuperCoach. However, in the final en matches, he averaged 104.5 and had just one score under 90, while in SuperCoach, he averaged 104.8 and scored seven tons.
A 105 average is acceptable if your starting price point is an 80-85 range, not 95. However, to make him a worthwhile selection, he must close the gap between his average ceiling and those of the best premium midfielders in the game. I think a 110+ is well within his capabilities; the key will be to work his way through the tags and defensive attention from opposition coaches. If he can, then he's every chance of knocking the door down to be a top-level premium.
Embed from Getty Images
Charlie Curnow
It feels like an eternity ago, but when Charlie Curnow was drafted at the end of 2015, he was sold as someone who could become the most dominant tall in the AFL. His athleticism, strength, and contested marking were on full display in his first three seasons. However, Since 2019 a combination of injuries has seen him play just fifteen games.
Back in 2017 & 2018, he averaged low 70's in AFLFantasy/DreamTeam and mid-high 70's in SuperCoach. From a price point in SuperCoach, he priced at $23,000 more than Jason Horne-Francis. In reality, he's priced as a cash cow and given he's best 22 and has a history of going 70+ for multiple years; it's an easy selection. In AFLFaantasy/DreamTeam, he's priced approximately at $350k, and while he presents value at his price point, it might not fit everyone's structure. Regardless, he should still be a viable stepping stone candidate for those that jump on if fit.
Jason Horne-Francis
I rarely add players who've just been drafted into the 50 most relevant. Barring Matt Rowell and Sam Walsh, no other new draftee has ever made the countdown. Both of these guys and their debut seasons scoring have revolutionized the way people select cash cows. Previously, coaches had paid for the job security more than the scoring pedigree, but now it seems that these high-end midfielders are delivering both earlier in their AFL career.
The potential of what Jason Horne-Francis could be is scary. When playing against men last year in the SANFL preliminary final, he had 24 disposals, 11 clearances, three goals and scored 160 in SuperCoach and 112 in AFLFantasy/DreamTeam. North Melbourne has indicated he'll play a MID/FWD split, with the latter more likely to be the heavier percentage. But, again, much like Nick Daicos above, the in-season DPP gain would only be of further benefit to coaches already thinking he's worth spending up for.
A possible heavy forward time might cap some of his scoring ceilings, but he genuinely looks safe in the Roos best 22 and wouldn't shock me if he pumped out a few 80+ scores early. The kid looks a beast!
Become a Patron!
Dylan Stephens
Another example of how formats all handle the salary caps differently. As a result, a player like Dylan Stephens, regardless of his potential, cannot be considered in AFLFantasy. When you're priced at $526,000 but Matt Rowell is $62k cheaper, you just can't select him. It's a different story in the other formats where he'll set you back $167,800 in SuperCoach and $282,700 for DreamTeam.
The departure of Jordan Dawson to Adelaide opens up space on the Sydney wing, and it's in that role that as a junior and the SANFL, he thrived and won plenty of his share of the outside ball. In SuperCoach & DreamTeam, he needs to be on the watchlist for how he tracks in the preseason games because if he gets the role and the share of the ball Dawson does, then we need to consider him seriously.
Tarryn Thomas
Over the past twelve months, it's become impossible not to like what you've seen from North Melbourne in this rebuild. Plenty of attention has been put on recruits like Jason Horne-Francis, Tom Powell, and to a lesser extent, Will Phillips. However, not enough has been made of Tarryn Thomas. The classy first-round pick had a slow start to the season, playing predominantly as a forward. However, between rounds one – nine, he averaged 32% of centre bounce attendances, 15 possessions, and a 66 in AFLFantasy and 68 in SuperCoach.
It was from round ten that the role change hit, and as a result, we saw a dramatic increase in all elements. His CBA's went up to an average of 49%. While his possessions jumped up to 20 per game, and in AFLFantasy, he averaged 92.5 and 96.7 in SuperCoach. All the noise coming from the Roos this preseason is that they expect to maintain this 50/50 MID/FWD split, and as a result, his scoring could push the top ten forwards.
Watch his role in the community series, but keep in mind which Roo midfielders might be missing. Otherwise, the splits might be misleading.