On Monday, a poll was sent out on Twitter, and the question was asked, of the three formats, which side did you want to see revealed by MJ? You answered AFLFantasy, so here it is. My AFLFantasy Team Reveal for 2023.
Embed from Getty Images
Defenders
40% of AFLFantasy coaches have Sam Docherty at D1; the motivation behind the selection is twofold. Firstly, I rank him clear & supreme as the best defender for us this year. Second, starting him means I no longer need to navigate how to get him in. Every coach will want to own him at some stage, so why endure the pain of navigating the how during the season? I'm locking him in and taking away the potential for pain.
D2 is one of the positions that's seen the most players. I've had Jordan Dawson, Tom Stewart, and Hayden Young sit in the spot over the preseason. I've settled on Andrew McGrath. Not just for his price point, but his role & the Essendon game style seem conducive to him pushing an average towards 90.
Elliot Yeo is an undeniable value, given he's a proven 100 guy in the past. His ownership of 40% now places him in the range where the 'risk' of him breaking down and forcing a trade is now less than 'taking him on' and going against him and playing the percentages here.
Charlie Constable has made that quarterback role his own in the Gold Coast team and looks to be a valuable money maker while the Suns continue to have others who have played that role recover from injury. Reuben Ginbey should get named for a debut. He looked excellent in the preseason games, and his halfback/midfield rotation means he's worthy of placing on the field. Lachie Cowan has already been confirmed to debut and has won the race to take the role vacated by an injured Zac Williams.
Lastly, my bench cows are standard across the community. Both Darcy Wilmot and Campbell Chesser will see plenty of footy this year, and based on their preseason, they'll be right in the mix for round one.

Midfield
The most expensive player in the game is Rory Laird. Since he moved into the midfield midway through 2020, he's scored forty tons, twenty-one of which have been over 120; in just four of these matches, he's gone under 90 and averaged 115. He's been the most reliable premium midfielder of the past 50 games! I know some are concerned about the flagged round-one tag by the Giants, but I'm not just starting Laird because of his round-one matchup in isolation. I'm convinced he's the clear #1 midfielder this year. Will he likely be cheaper at points in the season? Yes! Even if he drops $100,000, he's still north of $900k; that's a ton of cash to get into in the opening handful of rounds. But the key in salary cap games is this. The price only matters if you are trading into or out of a player. So I'm removing the headache of finding a way to get him.
Have you looked at the Fremantle fixture? From round two, they play North Melbourne (home), West Coast (home), Adelaide (away), Gold Coast (home), Western Bulldogs (home), Brisbane (away) & Hawthorn (home). That is as good as a run can get. Andrew Brayshaw has shown he's got the captaincy potential with big ceilings, and I'm banking on him tearing it up during this stretch.
Jackson Macrae isn't unique, but having him at M3 probably is. The most overused word in the AFLFantasy community this preseason has been value. Yes, it's important, but only some important variables to consider. You can have a successful season and invest big chunks of your salary cap on the expensive guys. In 2021, I finished with a top 30 rank & had a very similar philosophy. Of course, investing big cash requires them to score well early. Still, the relative 'risk' is comparable to going heavy on stepping stones and 'value' premiums and making multiple 'corrective moves' early. Remember, AF is a 'trading game', and that's where your success/failure is linked.
Finn Callaghan is an important piece to my structure for multiple reasons. Firstly, because he does present significant value, he's priced at 45, and from what I've seen from his junior days right through to his limited AFL opportunities is that with the right role, he could clear an 80 comfortably. In addition, Adam Kingsley has stated he'll have the wing/inside midfield rotation, and that's perfect for his scoring potential to be realised. But it's not just the upside about Finn; it's the fact that he's a perfect parachute option If I need to pivot and fore a restructure on any line.
Post round one; I could easily pivot him down to the cash cow I missed that's popped and pocket an easy $100,000-$150,000. That money can be instantly used on any of the other mid $700k players I've selected and get them to a topline option. Also, suppose some of my basement cows aren't named like Darcy Wilmot. In that case, he will become the first man to create the necessary salary cap to make the changes I need without sacrificing my premiums.
Every man and his dog should have Will Ashcroft & Cam Mackenzie on the field; while Will Phillips will be popular, I've chosen to phase him onto my bench. While I'm convinced he plays loads of footy this year, his exact function is still being determined in that deep midfield mix. So I'd rather watch and learn with him on the bench. Lastly, Alyn Davey Jnr opens up the DPP link between my midfield and forward lines.

Rucks
Rowan Marshall should be in every serious AFLFantasy coach's team. Last year he averaged 105 when he played without Paddy Ryder as the #1 ruck, and he'll hold down that spot this year. We've even seen in his preseason game that he'll dominate in this role and isn't someone I'll try and take on. Darcy Cameron was a popular pick early in the preseason, but the community has cooled on him for multiple reasons. I'm not bullish on him, but he's a functional pick for me. At best, he is my stepping stone to a potentially cheaper Tim English, who has a tough early fixture. At worst, I abandon him this time next week & use one of my parachute plans to make it happen. 

Forward
Over the preseason, we've talked about the fantastic four: Stephen Coniglio, Tim Taranto, Connor Rozee and Josh Dunkley in the forward premiums. But the practice games of Errol Gulden and his subsequent ownership mean it's now the fantastic five. You'll need a minimum of three, but I've settled on four and faded Stephen Coniglio for my team. If the 'tagger' talk insinuated from GWS is true, then at least one of Stephen Coniglio, Josh Kelly & Tom Green must receive a CBA clip for the negating midfielder to squeeze in. For me, Cogs is the most likely, and it's just one of the reasons I've opted out of him.
Harry Sheezel is a popular cash cow on the field & looks like the best-scoring prospect of the forward class. However, I can't believe Jye Menzie is in just 2% of teams! To me, he's one of the best cash cow forward prospects we have. I'd be shocked if he isn't named & he could be one of the most traded-in players in round two. His matchup against Hawthorn in round one as a small/medium forward is one I'm very excited to see unfold.
Fergus Greene will be a gift for us and is worthy of an onfield spot for those needing it at F6 if required. He'll see plenty of game time this year for the Hawks. Luke Pedlar has been one of the Crows standouts on the track. Talent has never been an issue; it's been getting atop his body. Under Darren Burgess, he's fit, firing and ready to deliver on his potential. Finally, Kade Chandler is an interchangeable casement cow based on selection news.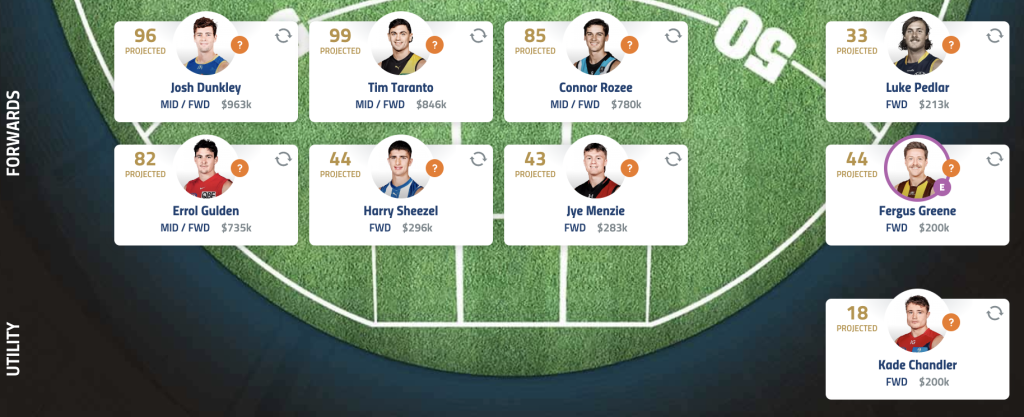 Full Team