With the practice games about to get underway, we convinced MJ to share what his SuperCoach side currently looks like. Have a look at his SuperCoach team reveal as he explains why he picked them.
Defenders

All preseason I've been bullish on a three premium defender structure in SuperCoach. The positive is I believe all the options I currently own are safe, top ten options and each present value. Jake Lloyd was still the highest averaging defender and yet had a 'down season' in many peoples eyes. However, he's one of the most dependable backs available, and I plan to maximise his scoring for 22 games in 2022.
In the fifty most relevant, I looked at Jordan Ridley and saw massive potential upside with the addition of Jake Kelly into the team. His arrival should allow Ridley to be freed up to intercept and not play lockdown footy. At the same time, Lachie Whitfield is my wild card. Although he's got a 115+ season within him on potential, he needs some luck with his body.
Both Wayne Milera and Keidean Coleman are the best 22 and should be solid stepping stones. I'm more bullish on Milera than Coleman based on his history, so Coleman will likely be the one to go if another strong cash cow emerges. Joshua Sinn has put together a beautiful preseason, and his strengths offer a point of difference to the Power midfield and backlines. I think he plays early. Mitch Hinge is a sneaky one. All reports have him playing on a wing this preseason with Paul Seedsman no certainty to play round one. He could jag some games early on. McDonagh is the spot filler until post community series.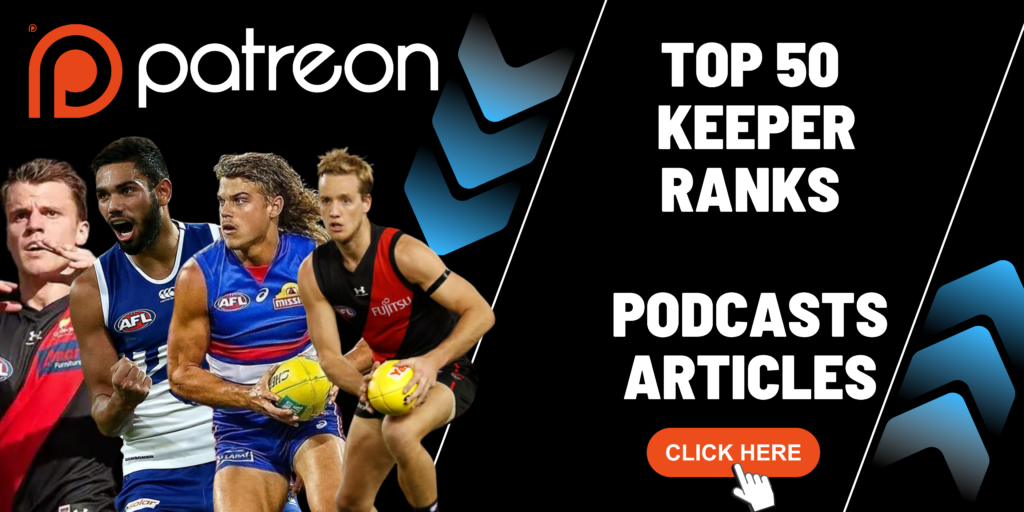 Midfielders

Three perm-captain options in SuperCoach feel like an absolute no-brainer selection to me. Jackson Macrae is the highest-scoring player in the past four years. And coming off the back of 2021 when his lowest score of the year was 97, I just can't ignore him and am worried for other coaches that do. I play SuperCoach not just out of a desire to win the $50k but also for enjoyment. And after going for parts of 2020 and 2021 without Jack Steele and Clayton Oliver, I've learnt my lesson. SuperCoach is much more enjoyable with both these boys. Eliminate the stress of generating the cash in the season to get them, so I'm starting with them.
Lachie Neale should be in 100% of serious teams. Before his multiple season injury year in 2021, he's been going full beast mode at Brisbane. All the noise is that he's back to his physical peak. And we even started to see traits of old Neale late in the season anyway. To secure him at $150k cheaper than Macrae is a crime, and I'm more than happy to get away with it. Speaking of value, the players at M5 & M6 are both just ridiculous value. Matt Rowell has limited game data, but the scoring ceiling is phenomenal for his price point. While two seasons ago, Jarrod Berry had put together an average north of 90. At only $60k more than the top-priced cash cow, it's ridiculous value, especially now that the club has confirmed he's fully fit.
Jason Horne-Francis and Nick Daicos pick themselves on the field, and with the ability to gain DPP, both are possible candidates to gain a position in the year. While the bench feels settled for the correct opinions, it'll ultimately decide based on round one selections.

Rucks

My R1 and R2 haven't changed since the team pickers launch late last season. I find the value of Brodie Grundy impossible to pass up. Of all the current or potential premium rucks available, he feels the safest candidate to land inside the top two in the line. R2 has been the pressure point for many sides in the preseason. As it stands, I'm very comfortable with Preuss. As discussed in our latest strategy podcast episode, I'll make a simple adjustment if he doesn't hold the #1 ruck mantle. Comben is linked to F6 and DPP strategies.

Forwards

The news earlier in the week of Mitch Duncan suffering a calf injury has caused a structure tweak, but I believe it's created a deeper and stronger forward line. Josh Dunkley, to me, is one of the best forward premiums of the season, and I suspect his scoring trend this year will be more closely mirrored towards how he started in 2021. Isaac Heeney is one of the biggest preseason boost guys, and if the hyped midfield role is evident in the preseason games, I don't see how in SuperCoach I can go against him.
All of Jade Gresham, Stephen Coniglio and Charlie Curnow present fantastic value. And if their recent injury niggles are a thing of the past, then all could be among the best value stepping stones of the year. Bailey Williams will get games early with Oscar Allen out injured and Jack Darling unavailable to be considered. He becomes the relief ruck option for the Eagles and should provide a key target up forward. His DPP R/F with Comben provides flexibility on my side and some insurance if Preuss does get a rest early in the year. Finally, Elijah Hollands and Josh Rachele look safe best 22 guys and should be primed for early selections.
Become a Patron!
Team In Full
The good news is I still have $83,000 sitting in the kitty, so if required, I've got myself some flexibility to get some more expensive bench cover if needed.
For those curious, fifteen of the thirty players featured were covered in my 50 most relevant preseason series.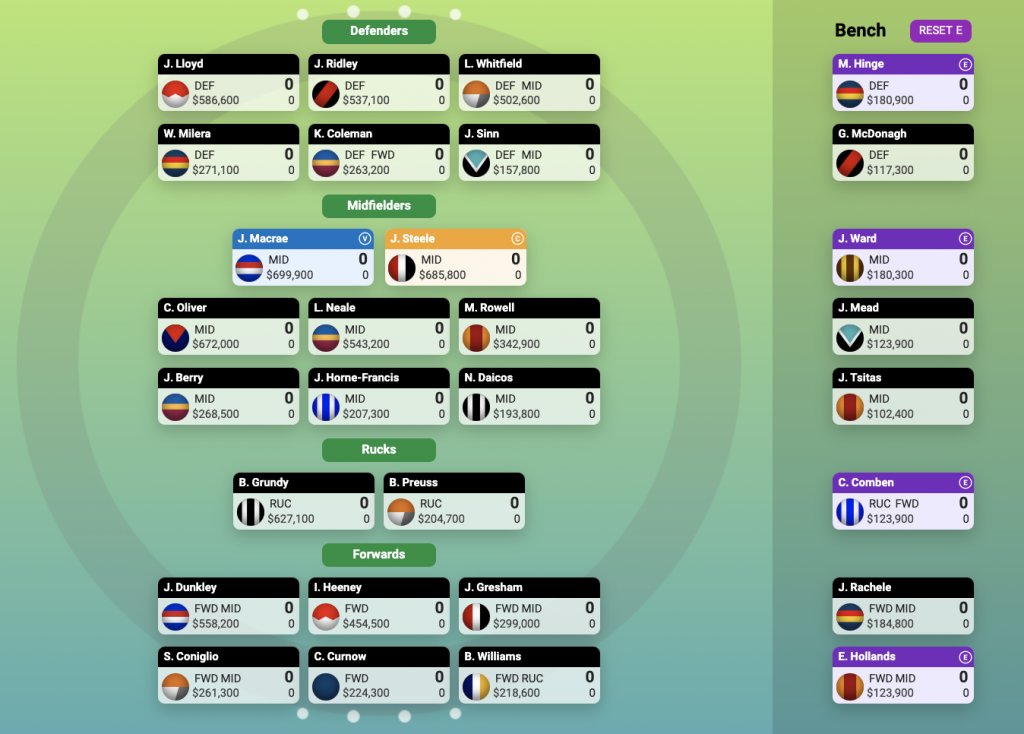 Become a Patron!