Every year, UltimateFooty reveals an additional group of Dual Position players, which extends the changes handed down by champion data. Let's take a look through the seventeen additional players and their relevance to your UltimateFooty Drafts.
Embed from Getty Images
ADD BACK
Luke McDonald
In 2021 Luke McDonald lost the monopoly share as the distributor out of the Kangaroos defence. Injuries disrupted his season to play just eleven matches and have his role float between the wing and the backline. With an average draft position of 76 last year, it was a disaster of a return from games played and an average of 68.
Many were hopeful of returning to the final eight games of the 2020 season in UltimateFooty. In the quarterback role, Luke was sensational. He averaged 88.2, including 123, 121, 118 and three 80+ scores. Remembering in 2020 '80s were the new 100′ That's a more than good performance.
Did Aaron Hall get the quarterback role by design? I'd propose it might not have been the original plan from North, but he indeed forced them into it with his success. Does an entire offseason of training see McDonald get back his share of the ball? If so, this could be a big watchlist moment for coaches. The addition of BACK status makes him relevant again on draft day and lowers the scoring bar to make him a rosterable play in 2022.
Nathan Murphy
One that might have more dynasty or keeper league coaches is the DPP addition to Nathan Murphy. He's shown some promise in his limited games, but as the Magpies have committed to a full rebuild, he should be right in contention for a regular role. Unfortunately, right now, the UltimateFooty scoring hasn't shown itself. An average of 45.9 and a personal best score of 70 doesn't exactly set the world alight.
Josh Battle
He's forward; then he's back. He's forward again and now back… again. St Kilda had thrown Josh Battle positionally around multiple times of the year. I think he looks more at home inside defensive 50. His average of 61. 6 isn't great, but he does have some scoring capacity. Last season he had two scores of 90+ and an extra two games of 80+. Depending on the depth of squads or the number of coaches, his back/forward status might be a useful bench option.
Billy Frampton
Based on his seasonal average of 47, Billy Frampton won't be someone that anyone will be looking for to draft in many leagues. The Crows tried to reinvent him as an intercepting defender, and his best scoring game in that role was a 77 against Essendon. At best, it's a waiver-wire option; don't use a pick on him. The only impact of getting back status is that he'll be ineligible to gain ruck status. He's third in line ruck behind Reilly O'Brien and Kieran Strauchan, so it'll take some injuries for that to eventuate anyway.
Embed from Getty Images
ADD CENTRE
Liam Baker
This is a prime example of when gaining centre status is justified but irrelevant for UltimateFooty players. His average of 72.8 will make him someone's D3 or D4 on draft day, but he'll rarely be needed to play in your centre line. Of course, if the Tigers suffer another poor year of injury luck, he might get some additional midfield time, but if that eventuates, it'll only benefit the coach that's already playing him down back.
Trent Bianco
I rate Trent Bianco as a great talent to pursue in keeper or dynasty leagues. Despite averaging just 61 last season, it was the way he went about building his scoring that's got coaches excited. He's relevant in drafts as a late-round forward flyer. There's been some discussion that Bianco is flagged as a potential option to run through the Magpies backline. If that eventuates, Bianco won't be illegible for gaining that status.
Zak Butters
The addition of centre status is warranted to Zak Butters. It also feels like it's the gain we knew we'd get during the season if it wasn't allocated. He was a regular option in the midfield attending 30% of the power centre bounces in his games. His greatest value is a forward, where many forecast him to become an F1 option. However, this DPP is a valuable flexibility moment in your squad.
Jaidyn Stephenson
I could almost copy and paste the sentiments above for Butters for Jaidyen Stephenson. The classy and crafty player centre/forward split his season across the Kangaroo wings and inside 50. I love his scoring ceiling, and while he won't be selected at last seasons average draft position of 138, he should still be a solid forward. The position gain will be a handy squad versatility move.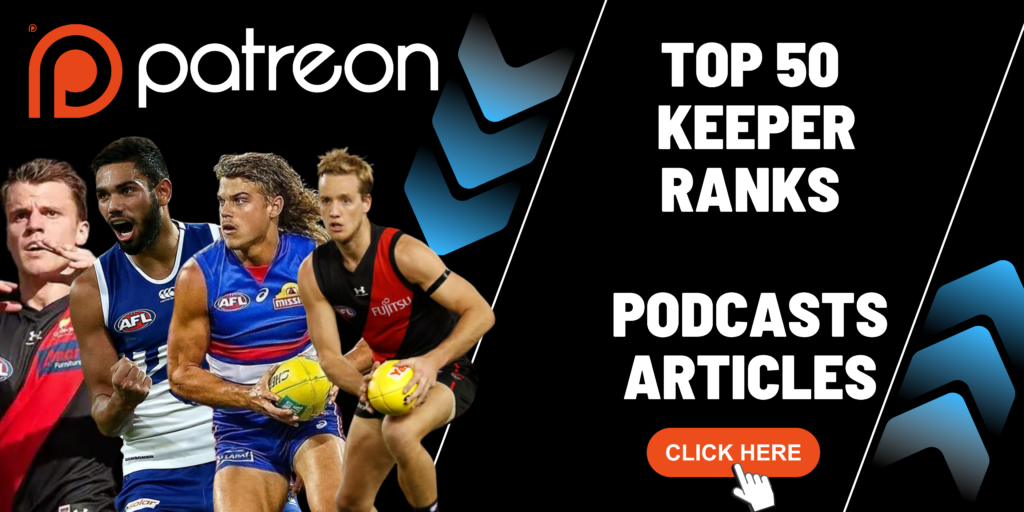 ADD RUCK
Mark Blicavs
I like the addition of Mark Blicavs into this line. His RUC/BACK status DPP will give coaches some flexibility through the ruck division and be another viable late option for those looming to 'punt' late on rucks in the draft. Furthermore, if you play in a category league or some other custom scoring elements, he could be a blinder selection given his ability to win intercept marks, spoils and hitouts.
Tristan Xerri
I have no desire to own Tristan Xerri in any draft league. He's the fourth ruck in line at North behind Todd Goldstein, recruit Callum Coleman-Jones and midseason draftee Jacob Edwards. Things will be going bad at Arden Street if he's the #1 ruck, and they'll be going worse for your draft team if he's someone you ever need to bring on your roster, let alone play.
Joel Amartey
In his first four games, Joel Amartey scores included a 70, 74 & 92. He certainly has scoring potential, but it'll take some injuries to the Swans talls stocks for him to get games. Even more so with Peter Ladhams into the ruck/forward stocks. A waiver wire option if the Swans get some poor injury luck.
Embed from Getty Images
ADD FORWARD
Mabior Chol
Mabior Chol does have an insane highlight reel, but he's not the most prominent scoring option that's been awarded a new position. The new DPP adds greater value for the coach that does draft Jarrod Witts as their ruckmen. As a handcuff selection, Chol was always the prime target late on drafts day, but now as an R/F, he can also provide on-field cover as a forward if you require it. Last year he averaged 60, and I think at best he can add another five to eight points per game of scoring upside.
Jack Billings
One of arguably the two prominent inclusions from UltimateFooty in this preseason position updated. Jack Billings has long been a high half-forward who has also pushed up across St Kilda's wings. Based on his average of 83.2, he cracks into the top dozen forwards based on 2021 averages. The addition of forward status makes him relevant as he moves from being an M7 to bench option in most leagues to a legitimate possibility of being an F1.
In 2021Billings started last year with a 100, 122, 80 & 97. Getting scoring trends like that in a weak forward division is a huge gain. Additionally, he has multiple years over his career where he's a proven 85-95 average range performer. This is a significant inclusion from UltimateFooty! And I'm a big fan of it.
Brandan Parfitt
Brandan Parfitt isn't one of the most recognizable ins as a new centre/forward based on name value. But based on his scoring power and the relatively low top end of forwards, he is a significant inclusion to the game. His seasonal average last year of 76.6 puts him ranked inside the top 25 forwards. Last season he scored three tons, plus four additional games of 90+.
Parfitt is the only Geelong midfielder not holding a pensions card, so his youthfulness and defensive workrate will be vital for the club's hopes at another deep final push. This positional allocation moves him from a likely super late draft day pick to a viable F3. Indeed, one that's cause for adjusting your forward rankings. It won't shock me to see him head off draft boards as early as the second round.
Rowan Marshall
This is the big one from UltimateFooty! Adjust your draft rankings, ladies and gentlemen. The DPP of RUC/FWD is arguably one of the most valuable in the game. Rowan Marshall's average of 89.6 instantly makes him the #4 ranked forwards based on 2021 averages. He slides in just after the big three of Mitch Duncan, Josh Dunkley and Tim Taranto, who are possible top 20 selections on draft day. That in isolation is a solid number, but in the six games he played without Paddy Ryder, he averaged an increase to go at 103.7.
If by design or by necessity he gets more than a level share of the time in the ruck, Marshall could be one of the best decisions you make on draft day. Not just as a topline forward, but also with the flexibility of coverage in your ruck line. The ultimate WIN/WIN for any coach who owns him this year. It won't shock me to see him head off draft boards as early as the second round. Monster positional gain added from UltimateFooty.
Deven Robertson
In keeper or dynasty leagues, coaches should have still been looking to hold onto Deven Robertson, but in single-season leagues as a centre only, he was a late pick up arguably at best. An average of 61 wasn't exciting for many, but it's layered with a few nice scores, including a career-high 93. it was injuries in 2021 that got him the opportunity in the best 22, and it'll likely be injuries again that give him significant midfield minutes.
Still, he's worth a later round selection as a forward, and an increase of 10-15 points per game would make him a viable F5.
Callum Ah Chee
Callum Ah Chee is an immensely talented player, but that hasn't translated to UltimateFooty scoring. After a failed trial across halfback, the club moved him forward late in the year. However, with the return of Cam Rayner, he might struggle to get games. Regardless, a seasonal average of 41 and just one score over 60 means now position gain would add to his relevance.

I WANT MORE DPP's
For 2021 yet again league commissioners will choose to allow (or not) for future DPP's to be added into your league. After rounds 3, 6, 9, 12 & 15 we'll bring to you exclusively the new DPP's added to the game by UltimateFooty.
2022 LAUNCH DATE
No official launch date has been announced from UltimateFooty. Historically, the format has opened during the first week of February. After that, commissioners have an additional few days to get leagues set up and finalised before drafting can commence.