For the past three seasons, Max Gawn has reigned supreme as one of the best players across all game formats. Entering into 2021, I see little reasons why this might change.
PLAYER PROFILE
Name: Max Gawn
Age: 29
Club: Melbourne Demons
Position: Ruck
2020 Highest Score:
131 Vs Richmond (AFLFantasy)
185 Vs Hawthorn (SuperCoach)
Career Highest Score:
154 Vs North Melbourne | AFLFantasy (2019)
212 Vs North Melbourne | SuperCoach (2019)
2020 Average:
98.9 (AFLFantasy) | 123.6 (Adjusted Average)
139.8 (SuperCoach)
SuperCoach Price: $751,400
AFLFantasy Price: $944,000
AFLDreamTeam Price: $913,500
Embed from Getty Images
WHY IS HE RELEVANT?
He's proven that he's a scoring beast and 2020 was no different for Max Gawn for multiple years. For the 14 games, he played he was one of only a handful of players that were ultimately season defining selections.
In AFLFantasy/DreamTeam he averaged 98.9 (123 adjusted) for the season. It included 7 tons, 2 of which were over 120 and an additional 5 scores between 80 and 99. Due to the shorter quarters, scores of 80 were considered an equivalent 100 of previous seasons. Meaning 12 of his 14 games met that scoring threshold.
If you remove Luke Dunstan's one game average of 100, then he's the clear #1 ranked player in these formats by averages. As good as his season was in AFLFantasy and DreamTeam, Gawn has always excelled more in SuperCoach.
Last season in that format he averaged a career high of 139.9. To put that in a perspective hall of fame SuperCoach players Dane Swan and Scott Pendlebury has never averaged over 130, Tom Rockliff's revered 2014 was an average of 131. It's really only Gary Ablett that has a higher historical SuperCoach average than him.
2020 consisted of 12 tons, 11 of them over 120, 7 over in 150 and his lowest score of the year was 87. He ranked first across the league by average and is ranked 17 points per game ahead of Jack Steele, ranked third. Despite missing three games, he still ranked 9th for overall SuperCoach points and scored more than Patrick Dangerfield and Tom Mitchell.
Ranked #1 for AVG's – 17ppg ahead of the third ranked player (Steele)
Ranked 9th for total points – played 3 less games. Scored more than Dangerfield, Mitchell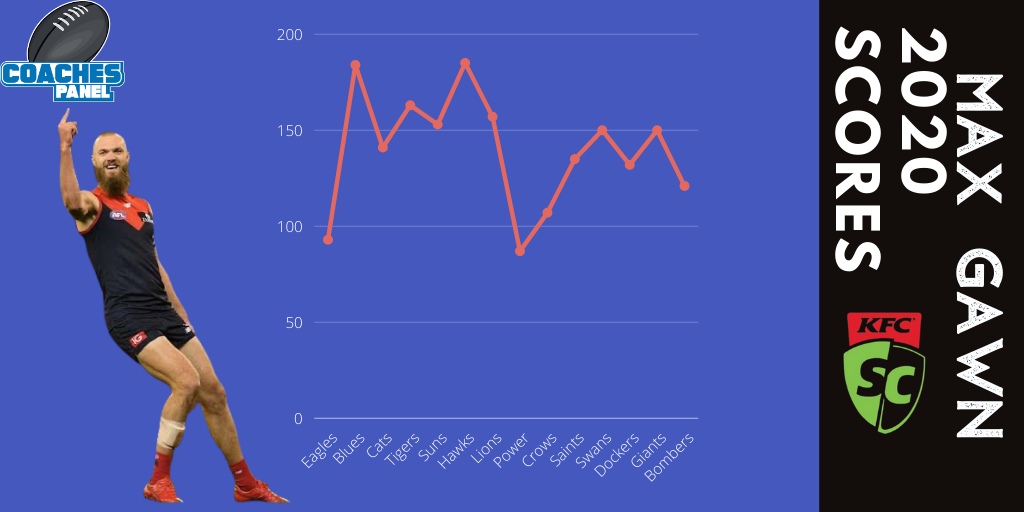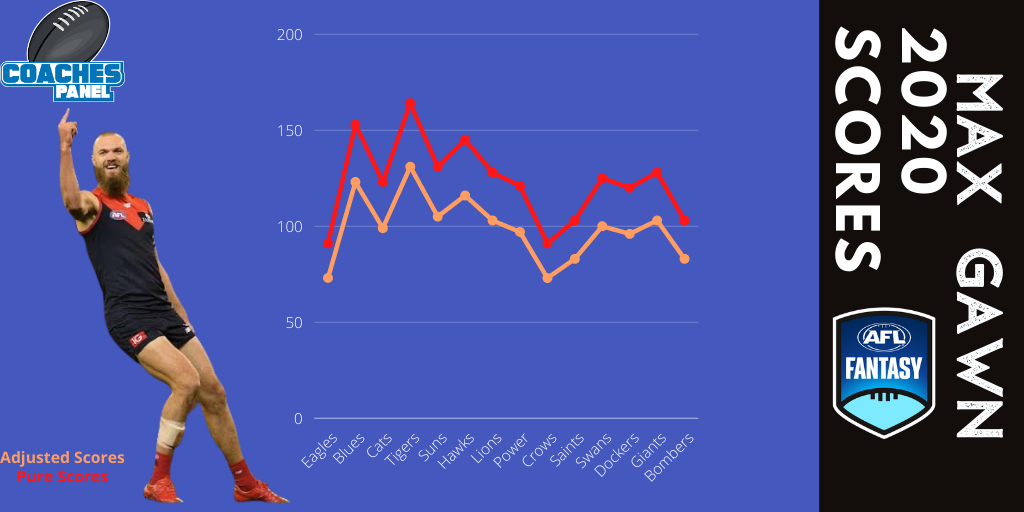 Across his 2019 AFLFantasy/DreamTeam season, he ended the year as the sixth-highest averaging player overall lines and was the clear #2 ranked and averaging ruck. From a seasonal average of 111, was made up of 16 scores of 100 or more, nine of those he converted into 120+ and he had one match where he scored over 150. Across the 21 games, he had only two where his scores dipped below 80. In one of those games, he severely hurt his ankle and spent the majority of the second term on the bench receiving treatment.
In SuperCoach he finished the year as the second-highest averaging player and ranked fifth for total points. Last year he scored 18 tons, 13 of them were above 120 and a ridiculous four scores over 150. That included his 212 against North Melbourne in the final round of the year.
To go with this high scoring basement and the nearly unmatched ceiling is historical durability. Even though he missed three games this season with a PCL, he's missed just 4 games over the last 3 seasons. Given what we'll need to pay to get him, you want some security that he'll play. Based on his recent history, you can have confidence in his availability.
Embed from Getty Images
MY TAKE
If you want to own Max Gawn this season, then it's going to create a sizeable dent in your starting salary cap. He's the most expensive player in all formats of the game.
Last season was a sizeable scoring jump across all formats in contrast to his previous two seasons. In 2018 & 2019 his averages were comparable to each other. Now 2020 has a jump of 12 points per game (adjusted) in AFLFantasy and SuperCoach. Because of the condensed style of scoring across formats, some might believe that to pick Gawn in starting squads your actually overpaying.
That's certainly an argument I'd be open to hearing, as it's one of the few reasons to justify not finding a way to start him. The challenge is, should he have a strong opening 4-5 weeks and holds his average, which is entirely possible. Any hope of getting him cheap is gone. And even if he scores under, can you generate the cash required early to get him at this bottomed out price?
For the record, his opening five games are against Fremantle (Darcy/Lobb), St Kilda (Ryder), GWS (Mumford/Flynn), Geelong (Stanley) & Hawthorn (Ceglar/McEvoy).
One of the primary reasons I'd avoid challenging a coach who passes on Gawn is because of how they choose to spread their cash. For example, if starting Brodie Grundy or Reilly O'Brien over him, it gave you the cash to move Matt Rowell into a Josh Kelly type. In an overall picture, you can argue you find yourself in a comparable or better position.
I'm removing any of the potential risks of not getting him in for SuperCoach by staring with him. This over the other 2 formats is the one I find it hardest not to justify outlaying the cash.
In AFLFantasy given his price point and the potential challenge of leaving yourself too 'rookie heavy' on the field, for me, it's hard to start him. But if it worked for someone else's structure, I wouldn't argue the selection.
Similarly in DreamTeam, chances are you want him in your completed side by seasons end, if you don't start with him. Devise a plan that enables you to get him sooner than later. The longer you go without him, that harder it might be to succeed.
DRAFT DECISION
If you hope to own Max Gawn this season in drafts, you'll need one of the first picks in the draft. He's a genuine #1 pick candidate and won't slide past the 3rd overall selection. He's been too good, for too long to go outside the top 5.
JOIN THE CONVERSATION
Do you believe he is fantasy relevant?
Will you be starting with him?
Have your say at our Facebook, Twitter or Instagram.
WANT EARLY ACCESS?
Want access 24 hours early to the 50 Most Relevant podcasts? Join our Patreon and get ahead of the Crowd!
Become a Patron!