Every year fantasy footy coaches get some new top tier DPP candidates. For 2021, Collingwood's Steele Sidebottom joins our forward lines.
PLAYER PROFILE
Name: Steele Sidebottom
Age: 30
Club: Collingwood Magpies
Position: MID/FWD
2020 Highest Score:
126 Vs St Kilda (AFLFantasy)
150 Vs St Kilda (SuperCoach)
Career Highest Score:
161 Vs Geelong | AFLFantasy (2019)
179 Vs Carlton | SuperCoach (2014)
2020 Average:
90.8 (AFLFantasy) | 113.5 (Adjusted Average)
109 (SuperCoach)
SuperCoach Price: $588,000
AFLFantasy Price: $841,000
AFLDreamTeam Price: $839,200
Embed from Getty Images
WHY IS HE RELEVANT?
It happens every season and 2020 was no different. The vast majority of our top performing forwards from one season, find themselves not forward eligible the season following. Thankfully, Champion Data have gifted us a replacement top end forward with the addition of Steele Sidebottom.
Despite only playing 9 of the 17 games in 2020 it's not due to any injury concerns. Instead, it was two unrelated reasons. Firstly he missed four matches due to him breaching COVID protocols after the Magpies loss to GWS. The other was after round 13 so that he could be present for the birth of his child.
From an AFLFantasy/DreamTeam perspective, he averaged 90.8, or an adjusted 113 which would've 'technically' count as a career high average in these formats. From his 9 games, he scored 4 tons including a 126 and an additional 3 scores over 80.
In SuperCoach his average of 109 was his highest average since 2014. He delivered 5 tons, with 2 huge scores soaring past 140. Across his year, he had just one score below 93 all season.
The season prior in 2019 he played 21 games and averaged 98.5 in AFLFantasy/DreamTeam. It consisted of 10 tons, 4 of which were over 120. He posted an additional 6 scores between 90-99 and had just 3 scores under 80 all season.
His scoring was similar in SuperCoach. In this format, he averaged 94.5 and scored 10 times over 100. 3 of those tons were over 120, and his scoring dropped under 80 in just 5 matches across the season.
Over multiple seasons, Steele Sidebottom has been just outside of many coaches considerations due to his pure midfield status. But with his scoring consistency over that time he's often found himself outside the top 10-15. However, now as a DPP MID/FWD, these considerations can be adjusted. Take a look at his scoring consistency over his career since 2012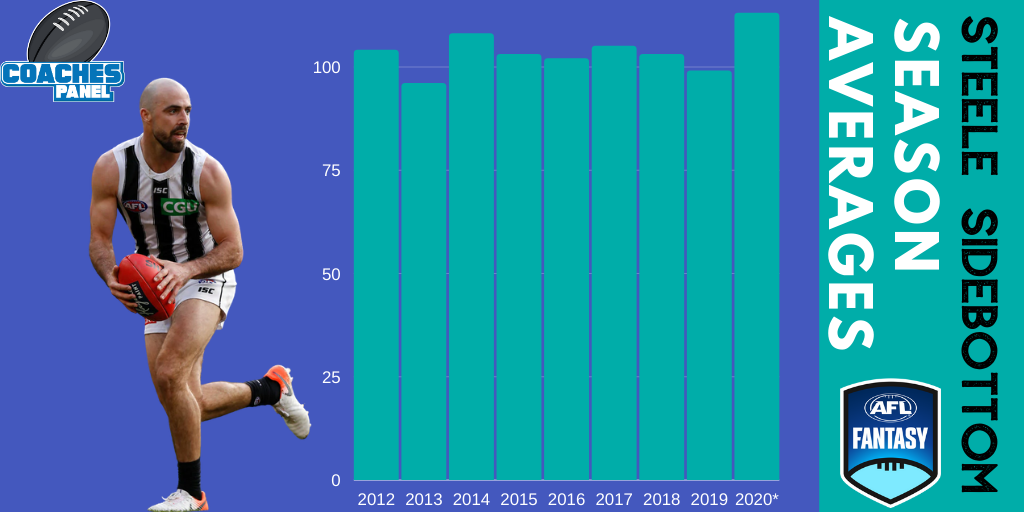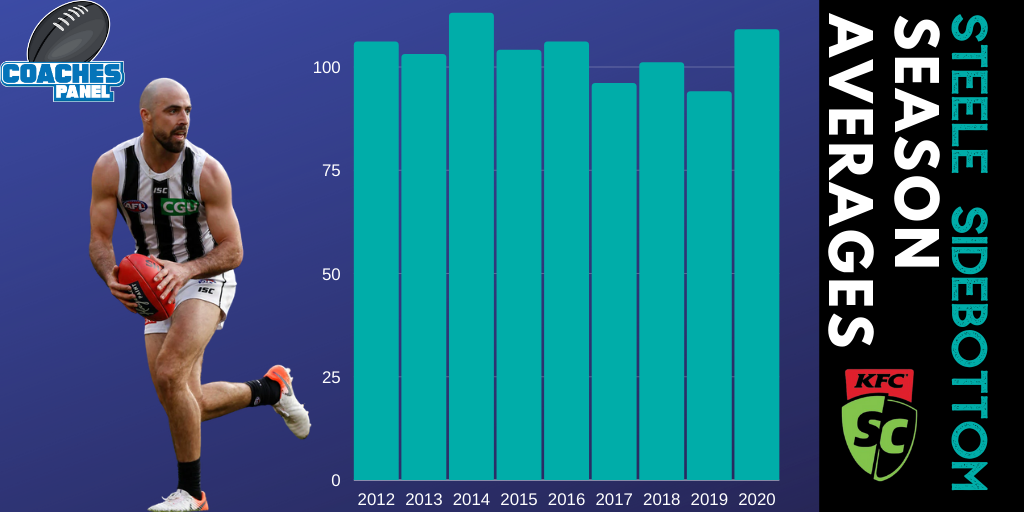 Between 2017-2019, Steele's missed just the one match. With Sidey, we've got ourselves one of the safest top tier options in our forwards. He's got a ceiling to match it with everyone else in the line, a high scoring floor and availability to give coaches confidence that he'll be available most weeks.
Embed from Getty Images
MY TAKE
Looking back at his averages over the past decade, Steele Sidebottom historically is a hiugh 90's – low 100's guy. We must consider if we are paying 'top dollar' for a guy who is more likely to regress that hold/grow on his average.
An argument could be stacked for that to be the case. But when you consider the other topline forwards, a case can be made that he might be the 'safest' if spending big bucks on an option.
Rowan Marshall is still ruck sharing with Paddy Ryder. All it takes is a few games for Ryder to hold the dominant ruck role and his scoring could slide. Josh Dunkley has 0 positional security. Patrick Dangerfield and Isaac Heeney are both coming off injury affected preseasons. Dustin Martin has a history of cruising in third gear for most of the year awaiting footy finals and the 'real season' to begin While Dayne Zokro is far from a spring chicken.
What does go against him, is he's yet another player with the dreaded round 14 bye. With Adelaide, Melbourne, Sydney, Melbourne, St Kilda, Fremantle, and Collingwood all missing that week, coaches could find themselves starved of points that round if not careful.
The bye round is annoying. But to be honest, you want the best scoring options on your side for as long as possible. It's why if you don't choose to start with him in your team, he is someone you do want as an upgrade target.
For me, I'm just biting the bullet and starting with him in DreamTeam. It might be an 'overpay', but at least I have the player I believe is the safest top tier forward in 2021. In AFLFanatsy, due to him being priced at an adjusted average of 113, I cannot start with him. With so much value in all lines in this format, I'm maximizing every dollar to get as many rookies off the field as possible. In this format as well as SuperCoach he's an early upgrade target.
DRAFT DECISION
There's no question that on draft day Steele Sidebottom will be F1 for their owner on draft day. It feels wrong, but in AFLFantasy he's likely going in the first round given the lack of top end forward options. In SuperCoach he's a 2nd round pick for the same reason.
JOIN THE CONVERSATION
Do you believe he is fantasy relevant?
Will you be starting with him?
Have your say at our Facebook, Twitter or Instagram.
WANT EARLY ACCESS?
Want access 24 hours early to the 50 Most Relevant podcasts? Join our Patreon and get ahead of the Crowd!
Become a Patron!